The King Of Staten Island's Most Action Packed Scene Has A Blink-And-You'll-Miss-It Cameo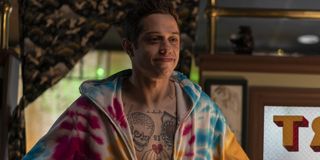 Having worked in Hollywood for the last three decades, writer/director Judd Apatow knows a hell of a lot of really funny people – and that's a fact that he regularly takes advantage of in the making of his films. Not only does he make starring vehicles for big names like Seth Rogen, Paul Rudd, Amy Schumer, and Adam Sandler, but his supporting casts are always filled to the brim with talented people, all of whom are given the freedom to bring their unique energies to the project. His latest, The King Of Staten Island, is no exception – and that even extends to actors in blink-and-you'll miss it roles.
Earlier this month I had the great pleasure of doing a video chat interview with Judd Apatow and Pete Davidson, and while talking about one of my favorite scenes in the new film – the pharmacy break-in sequence – and I confirmed that the owner of the shop is an actor very familiar to comedy nerds. Check out our discussion about the great bit in The King Of Staten Island by clicking play on the video below!
SPOILER WARNING: The video and the rest of this article contains super minor spoilers for The King Of Staten Island. If you're not looking to know too much about the new dramedy, continue at your own risk!
The King Of Staten Island scene in question here is in the second half of the film, and finds Scott (Pete Davidson) doing some shady work with his friends (Ricky Velez, Lou Wilson, Moises Arias). In hopes of financing their dreams, the group decides to try and pull off the robbery of a pharmacy, with Scott serving as the lookout. Unfortunately, things don't go smoothly as the burglars are surprised to learn that the owner of the store is in the backroom – and while there is never a clear shot of his face, those familiar with the actor/writer may recognize the great Robert Smigel in the role.
It's funny that Smigel – best known for his time writing for Saturday Night Live and Late Night With Conan O'Brien – would take what is really a very minor part in The King Of Staten Island, but all the same not terribly surprising. Their working relationship dates back to the late '00s, as the two first collaborated co-writing the script for 2008's You Don't Mess With The Zohan along with Adam Sandler (and we can't even say how far their personal relationship extends before that work). This isn't even the first time that Smigel has had a role in one of Apatow's films, as fans will remember that he played Barry, friend of Paul Rudd's character and a significant supporting role in This Is 40.
If you didn't catch it, there's also a little bonus that The King Of Staten Island fans can catch in this interview. It's never mentioned in the film, and Robert Smigel is simply credited as "Male Pharmacy Owner," but Judd Apatow actually gives his character a full name: Alan Moscowitz (and I'm really hoping that's not just something he made up on the spot).
In addition to the crazy brief Robert Smigel cameo, and the aforementioned roles played by Pete Davidson, Ricky Velez, Lou Wilson, and Moises Arias, The King Of Staten Island boasts an amazing cast that includes Marisa Tomei, Bill Burr, Steve Buscemi, Bel Powley, Maude Apatow, Jimmy Tetro, Kevin Corrigan, and Pamela Adlon. The movie was released on premium VOD this past Friday, and is now available for rental and/or purchase. Check it out, and head over to our YouTube page to check out more from my interviews with Judd Apatow and the film's stars.
NJ native who calls LA home; lives in a Dreamatorium. A decade-plus CinemaBlend veteran; endlessly enthusiastic about the career he's dreamt of since seventh grade.
Your Daily Blend of Entertainment News
Thank you for signing up to CinemaBlend. You will receive a verification email shortly.
There was a problem. Please refresh the page and try again.