Star Wars Has Cancelled Another Major Event Due To Health Concerns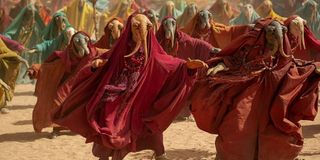 For many Star Wars fans, the Star Wars Celebration is not only a major event, but a once-in-a-lifetime experience to dress up as their favorite character and immerse themselves in the joys of a galaxy far, far away. Sadly for those fans, Star Wars has cancelled this fan experience due to health concerns.
Today, it was announced on social media that the Star Wars Celebration is cancelled in 2020 and would be pushed back to Anaheim in 2022. Here's the full statement of this disappointing news:
This is not the first major fandom event to be cancelled due to health concerns. It was reported back in April that San Diego Comic-Con is cancelled in 2020 and plans to return in July 2021.
Since 1999, the Star Wars Celebration has primarily been a vehicle for Lucasfilm to highlight the latest installment of the Star Wars franchise. Typically, fans expect to hear the director and actors talk about the latest project, and see some kind of trailer or sneak peek at a new installment in the beloved property.
But since Star Wars: The Rise of Skywalker has been released and is now on Disney+, and Bob Iger has stated that Star Wars projects will be taking a hiatus moving forward, the cancellation of the Star Wars Celebration might have come at a good time. It's hard to know what project Lucasfilm would want to highlight.
In the past, Disney and Lucasfilm hit the ground running with Star Wars: The Force Awakens, and initially planned to put out one Star Wars movie a year. However, plans have changed. There won't be a Star Wars movie in 2020, due to shifting tactics and a focus on Disney+'s live-action shows like The Mandalorian.
So, with the Star Wars Celebration cancelled and no imminent movie in the future, what does that mean for Star Wars as a whole? There's been several Star Wars projects up in the air. And while nothing has been officially announced, Rian Johnson previously revealed he's in talks with Lucasfilm about his own Star Wars movie. Another huge bombshell was dropped on May the 4th that Taika Waititi is helming his own Star Wars movie. There's no real details other than that, but that in and of itself is big news and an exciting and promising direction for the state of Star Wars.
It's been previously reported that fans can expect the next Star Wars movie in 2022. Which, if you've been paying attention, lines up pretty well with when the next Star Wars Celebration will take place. We have no idea what Star Wars project that is, but until we hear more the generations of fans will have to be content revisiting the plethora of Star Wars content available.
Your Daily Blend of Entertainment News
Thank you for signing up to CinemaBlend. You will receive a verification email shortly.
There was a problem. Please refresh the page and try again.