Ava DuVernay: 7 Fascinating Facts About The Filmmaker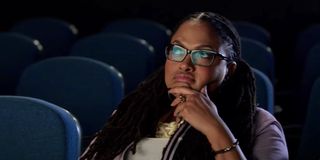 In the past decade there are few filmmakers who have released movies, television series, or documentaries that have as much cultural significance and long-term impact as Ava DuVernay. Since the 2014 release of Selma, DuVernay has taken on projects that share the untold, or under-told stories from the most important moments in the history of the United States. With her examination of modern-day slavery in 13th to the mistreatment and mischaracterization of a group of New York City youth in When They See Us, the critically acclaimed director has made her mark.
But in addition to speaking out against the injustices of the world, Ava DuVernay has become somewhat of a trailblazer in the world of filmmaking with the 2018 release of A Wrinkle in Time, her contributions to film academies, and even her work in comic book movies. And with several of DuVernay's projects being more meaningful now than ever, there's never been a better time to look at the life, career, and impact of the Academy Award-nominated filmmaker.
Ava DuVernay Originally Had A Career In Public Relations, With Film Work On The Side
Judging by the quality of her work in films like Selma and 13th, you would have thought that Ava DuVernay always aspired to be a filmmaker, but that's not the case. Shortly after the release of the 2014 civil rights drama about Martin Luther King Jr.'s historic march in Alabama, DuVernay revealed to Real Simple that she didn't become a filmmaker until she was in her 30s after spending more than a decade in public relations:
But that all changed when Ava DuVernay began working on her own script at night and finally decided to make the jump to filmmaking shortly after. And while the writer-director at one point felt her late start would hurt her, she later learned to take what she learned from her previous profession to make her a better filmmaker.
Disney Reached out To Ava DuVernay To Direct A Wrinkle In Time
The way that Ava DuVernay gave her all to the 2018 Disney adaptation of A Wrinkle in Time, you would think that the director was the one who pitched the idea to the "House of Mouse," but it was actually the other way around. During a 2018 interview with Collider, DuVernay revealed that Disney reached out to her as the studio was making a push to have a more diverse group of filmmakers attached to their latest projects, stating:
The Academy Award-nominated filmmaker also pointed to the likes of Ryan Coogler, Taika Waititi, and Niki Caro, who were all given an opportunity by Disney to bring new life and different perspectives to different projects involving the studio's various properties.
Ava DuVernay Became The First African American Female To Direct A Movie That Earned $100 Million At The Box Office
A Wrinkle in Time wasn't the critical or commercial darling that fans of Madeleine L'Engle's classic novel hoped it would be, but Ava DuVernay's 2018 adaptation was anything but a failure in terms of its impact on big-budget productions. The movie was the first time an African American female director was given a $100 million budget as well as the first time a movie of its kind crossed a special threshold at the box office.
According to Blackfilm, the 2018 adaptation hit the $100 million mark (domestically) after 101 days in theaters, which earned Ava DuVernay the distinction of being the first African American female director to earn a spot in the $100 million club. And even though the movie lost money when compared to its large production and marketing budgets, this shouldn't take away from the fact that DuVernay was able to help a movie reach such a historical milestone.
Ava DuVernay Almost Directed Black Panther
Back before Ryan Coogler was brought on to write and direct the landmark 2018 Marvel film Black Panther, Disney and Marvel Studios were looking for unique voices to bring on to tell T'Challa and Wakanda's story. Ava DuVernay was one of those voices, and it looks like she was close to signing on as she told The Hollywood Reporter in 2015, when talking about considering the film and asking herself if it was important enough to commit years to making, she said:
Despite having a desire to tell the story of one of the most culturally rich figures in comics, Ava DuVernay ultimately decided to pass on the offer, citing creative differences are her main reason.
Ava DuVernay Originally Started Working On When They See Us After One of The Central Park Five Tweeted Her
One of Ava DuVernay's most successful projects is her 2019 Netflix limited series When They See Us, which chronicles the events and aftermath of the 1989 Central Park jogger case and the five suspects who were falsely accused and vilified after the attack. But this groundbreaking miniseries never would have become a reality if it weren't for a tweet sent out by one of the Central Park Five.
Shortly after the series was released in the summer of 2019, Ava DuVernay told Forbes that she first started working on the project in 2015 after Raymond Santana Jr. sent her a direct message on Twitter asking about her next project with "CP5 #fingerscrossed" added at the end. A few months later, DuVernay and Santana met when the director was in New York City, and the rest is history.
Big Barda, One Of The New Gods, Happens To Be Ava DuVernay's Favorite Superhero
We will never get to know what the world of Black Panther would have been like with Ava DuVernay behind the camera, but fans of the DC Comics franchise New Gods will get to see the director's interpretation of the series when the upcoming movie finally hits theaters. And judging by a 2017 tweet from the Selma and 13th director, New Gods will be in a good set of hands as DuVernay's favorite comic book character is a New God herself:
That tweet about Big Barda was sent out several months before it was even announced that Ava DuVernay was attached to the DC project. It's safe to say that New Gods won't be anything less than a passion project for the remarkably talented and creative filmmaker.
Ava DuVernay Was Elected To The Academy Of Motion Picture Arts And Sciences Board In 2020
The Academy of Motion Arts and Sciences has long been accused of having a diversity problem, especially in the past few years. To combat this, the Academy recently started making a push to have more diverse members of its Board, including the March 2020 election of Ava DuVernay to the directors branch.
According to The Hollywood Reporter, Ava DuVernay was one of six first-time members elected to the board in 2020. The election established new records with the election of 26 women and 12 people of color. DuVernay's election is just one part of the Academy's push to have Oscar-eligible films to become more diverse and inclusive in the years to come.
The future is still very bright for Ava DuVernay, and it's safe to say that we haven't seen everything she has to offer the world of cinema as well as the world in general. And as the years go on and more of her projects see the light of day, the world will learn to appreciate the talent and determination of the critically-acclaimed filmmaker.
Philip grew up in Louisiana (not New Orleans) before moving to St. Louis after graduating from Louisiana State University-Shreveport. When he's not writing about movies or television, Philip can be found being chased by his three kids, telling his dogs to stop yelling at the mailman, or yelling about professional wrestling to his wife. If the stars properly align, he will talk about For Love Of The Game being the best baseball movie of all time.
Your Daily Blend of Entertainment News
Thank you for signing up to CinemaBlend. You will receive a verification email shortly.
There was a problem. Please refresh the page and try again.