The 10 Best Netflix Original TV Shows Of 2019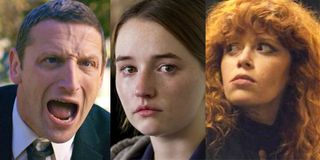 (Image credit: Netflix)
Netflix had some fantastic original TV shows in 2019, and they ranged across every genre. It's really hard to pick just 10 to name the "best" Netflix Originals of any year, since we all have our favorites for different reasons. Not to mention there being so many options from the past 12 months.
Here are my choices for the 10 best Netflix original TV shows of 2019, accounting for both brand new shows and the most current seasons of already established series. And please share your "best" lists in the comments!
10. Dead To Me Season 1
This Netflix comedy was a pleasant surprise for me. It still feels like more of a mystery-drama than a dark comedy, but the comedy that's in there is so sharp and witty -- especially from Christina Applegate. The twists are paced out perfectly across the 10 episodes, nothing is played out too long and the cliffhanger in the end is so tantalizing for Season 2. There are multiple layers to appreciate and so much to look forward to in its return. And Linda Cardellini? You are a gift.
9. I Think You Should Leave With Tim Robinson Season 1
As sketch comedy goes, nothing can ever top Monty Python for me. But every so often a broad sketch comedy show will get me laughing out loud -- from The Kids in the Hall and The State to the occasional SNL sketch, most of Key & Peele, Chappelle's Show, and Portlandia. And now, Netflix's I Think You Should Leave With Tim Robinson. There's a lot of Portlandia mixed with Kids in the Hall in the six star-studded but much-too-brief episodes of Season 1. I binged them all and was genuinely upset when I realized that was it. It's a must-watch and a must-return for Season 2, which should be coming in 2020.
8. BoJack Horseman Season 6, Part 1
We will soon be living in a world without new BoJack. Netflix's animated comedy is in the middle of airing its sixth and final season. Part 1 streamed eight episodes in October 2019, with Part 2 coming January 31, 2020. Critics and fans have pretty much been in agreement about the awesomeness of BoJack Horseman since Season 2. So far, Season 6 is continuing the trend of poignant brilliance. It's going to be hard to say goodbye, but I'm sure you'll find the final episodes back on this list for 2020.
7. Stranger Things Season 3
Stranger Things is like comfort food now. I delight in reliving the cheese of the 1980s, and Season 3 indulged that in every respect. Since the kids are no longer kids, we got to see their awkward dating rituals and spent A LOT of time at the mall. Stranger Things always has at least one new breakout star, and this year we had both Maya Hawke's amazing Robin and Alec Utgoff's Dr. Alexei with his Slurpee. I always love the show, but I'm glad Season 4 is poised to finally mix things up by moving forward out of Hawkins. And of course Hopper will be back. You knew that.
6. When They See Us
Some of the best Netflix shows of the year were based on real crimes, horrific ones, retelling those stories across several episodes. This is Netflix's true niche, even when some of the real-life events depicted are questioned by people who were really there, as happened in this case. Ava DuVernay created and directed this harrowing four-part examination of the 1989 Central Park Jogger case from the perspective of the five adolescents who were ultimately found to be wrongly convicted of rape and assault. The actors help us empathize with "the boys" -- as they're called -- and their families until it's almost too heartbreaking to watch. But I'm glad so many people did watch because, exact details or not, the crux of this really happened.
5. Santa Clarita Diet Season 3
For the love of Mr. Ball Legs, WHY did Netflix cancel this show after three seasons and that cliffhanger? I'm with Timothy Olyphant, I think the stars should just keep showing up on set to do scenes and if Netflix doesn't want to film them, so be it. I wasn't expecting to get so invested in this horror comedy, but it's probably the best work Drew Barrymore has ever done and the entire cast has impeccable comedic timing. Not every show has to have "likable" characters, but I loved just about everyone on this show and kept rooting for them -- even severed head Gary (Nathan Fillion, then Alan Tudyk). This show slowly became one of my favorite comedies, and I will forever be bitter that it's gone too soon.
4. Mindhunter Season 2
Netflix excels in several genres, and I'd put true crime toward the top. The streamer's documentary films and docuseries are among the best ever produced. In the past few years, Netflix has stepped into the scripted crime genre and this year they hit it out of the park on multiple fronts. Mindhunter premiered Season 1 in 2017, based on the true crime book Mindhunter: Inside the FBI's Elite Serial Crime Unit. David Fincher is one of the producers and directed several episodes. That was the same for Season 2, which had a lot to live up to when it released nine episodes in 2019. Season 2 was just as absorbing and disturbing and there's every expectation that Season 3 -- whenever it eventually arrives -- will continue to match the kind of quality you get when Fincher's name is attached.
3. The Crown Season 3
I'm of the opinion that The Crown Season 3 wasn't as strong as the first two seasons, but those were high bars. There's no stopping this show from being one of the greatest ever produced. Besides, there were several saving graces -- including the "Aberfan" episode, which might be the most powerful hour the Netflix show has ever done. And while I expected Helena Bonham Carter to shine as the new Princess Margaret, I found myself wanting to spend more time with everyone but the queen and princess. Tobias Menzies managed to steal the entire season as Prince Philip; I'm not surprised they gave him so much of a showcase, he was extraordinary. Here's looking forward to more from Erin Doherty's Princess Anne and Josh O'Connor as Prince Charles in Season 4. Plus Gillian Anderson as Margaret Thatcher!
2. Russian Doll Season 1
I went back-and-forth on making this #1 or #2. I'm still torn. This show is such an original triumph on every level. It's not the first show to put a protagonist through a mysterious time loop, Groundhog Day-style, but it's the first to star Natasha Lyonne and give her this outstanding showcase. It's ambitious, funny, moving, deep, quirky, mysterious, bizarre, addictive, everything. Russian Doll got plenty of attention when it came out in February 2019 but still not enough, to me. It probably would've still been a good show without Natasha Lyonne as Nadia, but her inimitable performance makes it an instant classic. Plus, we're getting more in Season 2!
1. Unbelievable
One of the best shows of the year, period, whether on Netflix or not. It was a great year for exploring real-life horrors, too, from When They See Us to HBO's Chernobyl. Unbelievable was eight episodes of brilliant, compelling, infuriating, heartbreaking, storytelling. Merritt Wever deserves every award ever created for her performance as Det. Karen Duvall, with Toni Collette elevating the material as she always does as Det. Grace Rasmussen. The detectives investigated a series of rape cases, with the story ultimately coming back to the amazing Kaitlyn Dever as Marie Adler, who was initially charged with lying about being raped. There are heroes and villains across the board here, but all but one are humanized. We understand why they made the decisions they made, including the flawed and very real Marie herself. Watch Unbelievable here on Netflix (opens in new tab).
Honorable mentions: I wish I could go on to 20 or 30! I'd also add the stellar new seasons from GLOW, Orange Is the New Black, Unbreakable Kimmy Schmidt, 3%, Marianne, Money Heist, The Dark Crystal: Age of Resistance, The OA, and Anne With an E, which is why so many fans are upset over The OA's and also Anne's cancellations. There are so many docuseries I could add too, including The Disappearance of Madeleine McCann, which was the most exhaustive and illuminating Netflix documentary series of the year, to me.
As much as I love Arrested Development, I wouldn't put Season 5, Part 2 on the list of the 10 best of 2019. I know a lot of people loved The Umbrella Academy Season 1, and I wish I was on that list. What about The Politician, The Punisher Season 2, Jessica Jones Season 3? What else would you add?
I know your list would look very different, so what were the 10 best Netflix Original Series of 2019 to you? And don't forget, there's plenty more to come next year. Keep up with all of Netflix's 2020 premiere and return dates with our handy schedule.
This poll is no longer available.
Gina grew up in Massachusetts and California in her own version of The Parent Trap. She went to three different middle schools, four high schools, and three universities -- including half a year in Perth, Western Australia. She currently lives in a small town in Maine, the kind Stephen King regularly sets terrible things in, so this may be the last you hear from her.