Taika Waititi: 7 Fascinating Facts About The Thor: Love And Thunder Director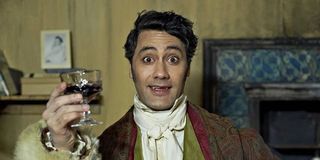 Filmmaker Taika Waititi has had one hell of a last couple years. 2020 alone has been one of the more eventful ones so far, from winning an Academy Award for writing Jojo Rabbit, to recently being confirmed to helm an upcoming Star Wars movie. All of that came after reports in 2019 that he would return to the Marvel franchise he reinvented for its fourth installment, Thor: Love and Thunder.
With the unbelievable amount of trust the two biggest fandoms in cinema have instilled in him (no pressure, buddy), the New Zealand-born filmmaker is one of the hottest names behind (and even in front of) the camera. Of course, in a career spanning more two decades and includes an onscreen debut in a candy bar ad, it clearly took the 44-year-old a little bit of time to get there, leaving many of his achievements that do not involve Norse gods, galactic conflict and historical satire criminally overlooked.
As fascinated as you may already be by Taika Waititi, believe me when I say you have not seen anything yet. Of the following seven mind-blowing facts, a few of them do relate to some of his more well-known work, but they are nonetheless equally astonishing.
Taika Waititi's Father Was A Founding Member Of Satan's Slaves
Born in Wellington, New Zealand, on August 16, 1975, Taika Waititi was already destined to be an artistic visionary as the son of a teacher (his mother) and a painter (his father). But that is not particularly why he referred to his parents relationship as "the weirdest coupling ever." In an interview with Elijah Wood and Daniel Noah for the premiere episode of their podcast Visitations, the Lord of the Rings actor was shocked when the the Jojo Rabbit director revealed that his father was also a founding member of notorious biker gang Satan's Slaves. After his parents split when Waititi was 5, they still remained very supportive of their son's artistic aspirations, which would eventually earn him the 2017 title of "New Zealander of the Year."
Taika Waititi Is Tight With Flight Of The Conchords
A film that brought Taika Waititi closer to the American mainstream (pre-Thor: Ragnarok) is the 2014 vampire mockumentary What We Do in the Shadows, which he co-starred, co-wrote and co-directed with fellow Kiwi, Jemaine Clement, whom some may recognize as the other half of Flight of the Conchords, with Bret McKenzie. He has been close with "New Zealand's fourth most popular folk parody duo" since they were all part of the five-man comedy troupe known as So You're a Man, which performed on stages throughout New Zealand and Australia in the mid-1990s. Waititi also collaborated with the musical comedians on several episodes of their short-lived HBO sitcom and re-teamed with Clement to produce two televisions series spun-off from What We Do in the Shadows, including the FX show of the same name and Wellington Paranormal, which follows two police officer characters from the original film.
Taika Waititi Once Tried His Hand At Architectural Design
Taika Waititi's artistic endeavors are not limited to creating laughter onstage or through exciting action films, having created the cover art the for the album Shanks' Pony by Kiwi band Age Pryor (who made an appearance in his 2007 film Eagle vs. Shark), and illustrated Jo Randerson's collection of short stories The Keys to Hell. In fact, he once attempted to bring his talent to his hometown's public by collaborating with New Zealand architectural firm Wraight & Associates to propose a sculpture for the Wellington City Council's Wellington Gateway project. While plans to erect the structure were eventually scrapped over budgetary and air travel safety concerns, Waititi's design still managed to win a New Zealand Institute of Landscape Architects Gold Award in 2010.
Taika Waititi Consulted An Actual Theoretical Physicist About Space For Thor: Ragnarok
I have rarely known anyone so bold to write off Thor: Ragnarok as just another mindless blockbuster spectacle. It would be ignorant to assume such a thing, especially when you consider how seriously the project was taken by director Taika Waititi, who also provides the voice of rock-skinned optimist Korg and performed motion capture for fire giant Surtur. I mean, he even went as far as double checking the comic book film's depiction of space travel for accuracy with help from someone who studies such topics for a living. That someone is Clifford Johnson, a Los Angeles physics professor and lifelong comic book reader whom Marvel Studios has come to with questions of how to make a universe of super-powered vigilantes more believable on numerous occasions.
Taika Waititi Directed Parts Of Jojo Rabbit While In His Hitler Uniform
To honor his career-long tradition of acting in the films he directs, for Jojo Rabbit, his Oscar-winning World War II Germany-set satire inspired by Christine Leunens' novel Caging Skies, Taika Waititi cast himself as the title character's (Roman Griffin Davis) doofy imaginary friend, Adolf Hitler. Of course, putting in double duty like that left the multitasker less opportunities for wardrobe changes, meaning he would spend at least some days leading the production dressed as the Führer. Waititi revealed to The Hollywood Reporter that certain characteristics shared with the infamous dictator made playing the hallucinatory comic relief feel "weird," and described publicly giving orders to crew members in full costume as "a sad day," which must have made working on The Mandalorian a therapeutic experience.
Taika Waititi Sometimes Directed The Mandalorian In His Pajamas
In addition to directing its first season finale, Taika Waititi made a sneaky appearance on the smash hit Disney+ series The Mandalorian as bounty hunting droid IG-11. Merely providing the voice of the mechanical rival-turned-ally to Pedro Pascal's titular hero gave the director a certain freedom that he took full advantage of while calling the shots for his episode. Star Carl Weathers, who plays Bounty Hunters' Guild agent Greef Karga, had the following to say to SyFy Wire about Waititi's unique directorial style:
I doubt pajamas will become part of the normalized dress code on Star Wars projects, but of all the people who can pull them off on set, Taika Waititi is surely one of the few.
One Of Taika Waititi's Inventions Makes Men's Fashion More Convenient
Taika Waititi has proved time and time again through the dazzling originality of films such as Boy or Hunt for the Wilderpeople that he has one of the most inventive minds in the movie business today. What's lesser known is his knack for creating inventions that would prove miraculously helpful or just utterly amusing. Waititi revealed in his own 2010 TEDx presentation his developments of an emory board guitar neck that sharpens your nails as your play music, a necktie that buttons into your shirt to prevent it moving with the wind, and a few other inventions that the world may not be ready for yet.
So, what do you think? Have I brought you out of the shadows and into a deeper understanding of Taika Waititi, or should I have conducted a more thorough hunt? Let us know in the comments and be sure to check back for more information and updates on the versatilely talented filmmaker as well as more in-depth trivia about your favorite celebrities here on CinemaBlend.
Jason has been writing since he was able to pick up a washable marker, with which he wrote his debut illustrated children's story, later transitioning to a short-lived comic book series and (very) amateur filmmaking before finally settling on pursuing a career in writing about movies in lieu of making them. Look for his name in just about any article related to Batman.
Your Daily Blend of Entertainment News
Thank you for signing up to CinemaBlend. You will receive a verification email shortly.
There was a problem. Please refresh the page and try again.