Hair Love's Matthew Cherry: 9 Things To Know About The Up-And-Coming Filmmaker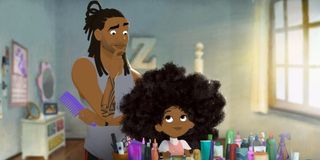 Earlier this year, Matthew Cherry became an Oscar-winning filmmaker when Hair Love, his newest movie, won Best Animated Short Film at the Oscars. The adorable, crowd-pleasing feature is certainly a winner, as it melted hearts everywhere with its simple, funny, and ultimately emotional story of a father who must do his young daughter's hair for the first time. Filled with heart and humor, it's easy to see why it won over the Academy. Hopefully, it'll continue to pave the way for Cherry's ongoing success as a storyteller. But in the year leading up to this achievement, Cherry has accomplished a great deal — going from professional athlete to up-and-coming director. Let's explore a few fun facts about the prolific writer/co-director of Hair Love.
Hair Love's Kickstarter Broke The Record For Highest Amount Of Money Raised For Any Short Film On The Platform
Before Hair Love became an Oscar-winning short film, it was an idea. Directed by Matthew Cherry, Everett Downing, and Bruce W. Smith, Hair Love was a passion project for Cherry, and when he wasn't able to fully finance the project through studio backing, he turned to Kickstarter to get it off the ground. This route proved to be very lucrative. As it was reported by Deadline, the filmmakers raised $300,000 through the site. That's the most money that any short film — animated or otherwise — would raise through the funding platform. Thankfully, Hair Love only continued to find more success, notably with Sony Animation Group picking up the short upon completion and put it front of The Angry Birds Movie 2, giving it a nationwide audience.
Matthew Cherry Was The All-Time Leading Receiver In University Of Akron's History And Played Football Professionally For Several Teams
Before he became an Oscar-winning director behind feature-length films, short films, and music videos, Matthew Cherry came to prominence as a football player. He went to the University of Akron where he got a media degree, but he played football for four seasons with the Akron Zips. He was a second-team All-Mid-American Conference wide receiver, and he became the all-time leading receiver in the school's history. This paved the way for Cherry to play professionally.
He first joined the Jacksonville Jaguars, then played for the Cincinnati Bengals. He'd go on to the Ottawa Renegades of the Canadian Football League, but Cherry left without playing any games, finding this team disorganized. He then played for the Carolina Panthers, the Hamburg Sea Devils, and the Baltimore Ravens before retired from the sport in 2007.
Matthew Cherry Directed Michelle Williams' Music Video "Say Yes"
Before he directed his first feature film, The Last Fall, in 2012, some of Matthew Cherry's first directing experiences were helming music videos. And he worked with several notable artists. His first directing credit came in 2008 when he directed the music video for "I'm Free" by Terry Dexter. Cherry later directed videos for Snoop Dogg, Kindred The Family Soul, The Foreign Exchange, Jazmine Sullivan, and several more artists. Most notably, Cherry directed Michelle Williams in the 2014 music video, "Say Yes," which featured fellow Destiny's Child members Beyonce Knowles and Kelly Rowland.
His Second Film, 9 Rides, Was Shot Entirely On An iPhone 6s
Oftentimes, artists need to go to extensive lengths to get their vision out into the world. When it came time for Matthew Cherry to make his sophomore feature, 9 Rides, the aspiring filmmaker made some unique creative decisions. As The Daily Dot reported, when the indie movie hit a roadblock after his female lead's pilot was picked up, Cherry had to come up with a quick way to get his movie filmed. Inspired by Sean Baker's Tangerine, which was shot on three iPhone 5S smartphones, and Locke, Steven Knight's character-driven drama, starring Tom Hardy, which takes place entirely within the lead character's car, Cherry decided to shoot his movie entirely in 4K on an iPhone 6s as a fast, cheap way to get the project into production. The largely-improvised movie was the first shot entirely on this phone.
Matthew Cherry Was A Set Production Assistant On NBC's Heroes
In 2007, Matthew Cherry retired from professional football and moved to Los Angeles to pursue a career in the entertainment industry. Some of his first jobs in Hollywood were working as a production assistant, notably on over 40 commercials, and Cherry also worked as a set production assistant on TV shows like NBC's Heroes, UPN/The CW's Girlfriends, and BET's spin-off series, The Game. Around this time, Cherry also jumped into the director's chair through a number of music videos (as noted above), and he started writing-directing short films and web series like Almost 30 and Almost Home.
Matthew Cherry Has Directed Episodes of Black-ish, Mixed-ish, The Unicorn, The Last O.G., and More
In addition to directing feature films like The Last Fall and 9 Rides and co-directing the short film Hair Love, Matthew Cherry has also called the shots on a few network and cable television shows. Specifically, the artist has directed episodes of ABC's Black-ish, Mixed-ish, and Whiskey Cavalier, CBS' The Unicorn and The Red Line, and TBS' The Last O.G. He is also directing an episode of the upcoming Saved by the Bell sequel, which will stream on Peacock. Television is certainly a great way to stay busy and active in the filmmaking field, and Cherry has experience in action, comedy, and drama.
Matthew Cherry Was An Executive Producer On Spike Lee's BlacKkKlansman
As Matthew Cherry's filmmaking profile continued to grow, the storyteller began working as a film executive for Jordan Peele's production company, Monkeypaw Productions. Through this studio, Cherry became an executive producer on Spike Lee's BlacKkKlansman. The period piece stars John David Washington, Adam Driver, Topher Grace, and more, and following its premiere at the Cannes Film Festival, where it won the Grand Prix, the film was met with warm reviews from critics and audiences alike, eventually garnering six Oscar nominations, including Best Picture and Best Director. The movie went on to win Best Adapted Screenplay. It was only the following year that Matthew Cherry would be nominated himself and win for Hair Love.
Matthew Cherry Predicted His Oscar Nomination And Win Years Prior
In 2012, Matthew Cherry made a tweet that proved to be foretelling. He wrote, "I'm gonna be nominated for an Oscar one day. Already claiming it." As it turns out, nearly ten years later, Cherry and producer Karen Rupert Toliver would become Oscar nominees with their animated short film, Hair Love. Did Cherry have a crystal ball? Or did he just will this prophecy into existence through talent, hard work, or persistence? You decide. But that's not all. In 2016, Cherry asked his Twitter followers if he knew any 3D artists because he had an "Oscar worthy short film idea" to go with the accompanying CG image. Sure enough, while Hair Love would be 2D animated, Cherry did tell the truth. His idea was Oscar-worthy, as Cherry proved on Oscar night.
Hair Love Was Inspired By A Viral YouTube Video
Inspiration can come from a variety of sources. Especially in our media age, when content is available, an artist has many different ways they can be amused and influenced to make great work. When it comes to Matthew Cherry, as it was revealed in an interview with Black Girl Nerds, one of the key inspirations for Hair Love came from a viral YouTube video from Darrell L Hines II which showed a dad doing his daughter's hair. The dynamic between this young daughter and her good-natured father sparked the idea that would lead to Cherry's award-winning short film. So, if someone ever gets on your case for watching YouTube, tell them that you're just looking for the inspiration for your next great project. You can check out the viral video here.
If you haven't seen it already, be sure to check out Matthew Cherry's Oscar-winning short film, Hair Love, at this link. We look forward to seeing what projects the rising filmmaker has in store in the future!
Will is an entertainment writer based in Pittsburgh, PA. His writing can also be found in The Playlist, Cut Print Film, We Got This Covered, The Young Folks, Slate and other outlets. He also co-hosts the weekly film/TV podcast Cinemaholics with Jon Negroni and he likes to think he's a professional Garfield enthusiast.
Your Daily Blend of Entertainment News
Thank you for signing up to CinemaBlend. You will receive a verification email shortly.
There was a problem. Please refresh the page and try again.