Rocketman And 12 LGBTQ Movies To Stream During Pride Month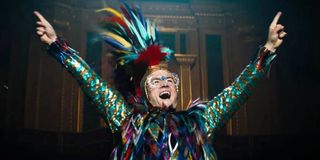 If you're looking for a variety of LGBTQIA+ movies currently available to stream or rent, we're here to help. To celebrate Pride Month, we've compiled a list of movies available on Netflix, Hulu, Amazon Prime, HBO Max, and various other streaming platforms. From musical biopics like Rocketman to acclaimed indies like Best Picture winner Moonlight, we have a wide variety of titles available for your streaming pleasure. Here are just a few LGBTQIA+ films you can stream throughout the month of June.
Rocketman (2019)
A fantastical musical adaptation of Elton John's early years, Rocketman is a heartfelt, winning tribute to the musical icon, played quite wonderfully by Taron Egerton. While it takes more than a few liberties with John's life story, particularly with the artist/inspiration on-board as an executive producer, this entertaining, grandiose musical origin story is splashy and sensational, filled with moments of inspiration and whimsy that certainly puts colder, less inspired biopics to task. It hits a few tired tropes and it doesn't always stick the landing, but it has style and sincerity in its favor, resulting in a charming, moving look at the musician who has given us several classic songs throughout the years. It's as poppy and passionate as some of John's most recognizable tunes, and it has charm and energy for days.
Stream it on Hulu here.
Rent it or Stream it on Amazon here.
Also Consider: Behind the Candelabra (HBO Max)
Milk (2008)
In his Oscar-winning performance, Sean Penn plays Harvey Milk, the late San Francisco gay rights politician and activist who was the first openly-gay person elected into public office in California, in 2008's Milk, director Gus Van Sant's stirring and moving portrait of this important political figure. Told with tender observation and smart craftsmanship, Van Sant's confident direction and assured, elegant storytelling provide a captivating and engrossing look at this lost political advocate, one who was taken much too soon and under deeply tragic circumstances. But even with the tragedy present in this sad story, it's still filled with hope, optimism, and a clear desire to inspire positive change into the world. As a result, Milk is a rousing, impactful tribute to Milk's legacy. You should also check out the 1984 documentary, The Times of Harvey Milk.
Stream it on Starz here.
Rent it on Amazon here.
Also Consider: Brokeback Mountain (Starz)
Moonlight (2016)
In Barry Jenkins' poignant, personal sophomore film, Moonlight, we get a revealing, engrossing look at a young African-American man's life from three different stages: youth, adolescence, and early adulthood. Exploring in stark detail the difficulties he faces with his sexuality and identity, it's a heart-wrenching story filled with profound moments of spellbinding emotional honesty, captured vividly and beautifully by a trio of actors — Alex Hibbert, Ashton Sanders, and Trevante Rhodes, respectively — in the lead role.
Though the circumstances surrounding its Best Picture win might've overtaken the story, Moonlight's extraordinary award season success (including Best Adapted Screenplay and Best Supporting Actor for Mahershala Ali) was a major achievement for representation and artistic expression. This immensely gorgeous and riveting adaptation of Tarell Alvin McCraney's unpublished play is one of the finest films of the 2010s.
Stream it on Netflix here.
Rent it on Amazon here.
Also Consider: Pain & Glory (Starz)
Philadelphia (1993)
Jonathan Demme's legal drama, Philadelphia, is often referenced as the movie where Tom Hanks won his first Oscar, but more than that, this 1993 film is also one of the first mainstream Hollywood movies to address homosexuality, homophobia, and HIV/AIDS, brining more awareness and perspective. Also starring is Denzel Washington as Joe Miller, a homophobic small-time lawyer who is the only willing advocate to take on Andrew Beckett's (Hanks) case after he's fired from his law firm because of his HIV condition. While it's not without a few cliches, Philadelphia is celebrated as a meaningful and moving drama with sensitive direction and impactful performances, notably from Washington and Hanks.
Stream it on Netflix here.
Rent it on Amazon here.
Also Consider: The Normal Heart (HBO Max)
Blue Is The Warmest Color (2013)
In 2013's three-hour, Palme d'Or-winning controversial NC-17 romance epic, Blue is the Warmest Color, we follow Adèle (Adèle Exarchopoulos), a French teen who later befriends an aspiring painter named Emma (Lea Seydoux), with whom she discovers personal freedom and romantic desire. Following the character as a teenager through her early life and career as a school teacher, Blue is the Warmest Color provides a vivid, expansive story, one filled with perspective, romance, and captivating performances from our dynamic two leads. Compiled from over 800 hours of footage, it's certainly a long sit, but the movie's sweeping romance and prolonged scope provides an engrossing, immersive look at this young woman's life in the midst of self-discovery.
Stream it on Netflix here.
Rent it on Amazon here.
Also Consider: The Kids Are All Right (HBO Max), The Half of It (Netflix)
Tangerine (2015)
Though it first gained press for the way it was filmed, as it was shot on three iPhone 5S smartphones, Tangerine's success derives not merely from how it was made but through its smart writing, inventive filmmaking, engaging characters, picturesque locales, and its winning performances from Kitana Kiki Rodriguez and Mya Taylor. Taking place over the course of a single-day, Tangerine follows Sin-Dee Rella (Rodriguez), a transgender sex worker who recently finished a 28-day prison sentence, and her friend, Alexandra (Taylor), who is also a transgender sex worker, who discover that Chester (James Ransone), Sin-Dee's boyfriend, is cheating on her.
From director Sean Baker (The Florida Project), Tangerine is filled with warmth, humor, heart, and tremendous insight, providing an entertaining, engaging and immensely heartfelt indie darling that provides key representation for its trans characters.
Stream it on Hulu here.
Rent it on Amazon here.
Also Consider: Looking: The Movie (HBO Max)
Boy Erased (2018)
Based on Garrard Conley's memoir of the same name, Boy Erased, director Joel Edgerton's sophomore feature, Jared Eamons (Lucas Hedges), the son of Baptists (Russell Crowe, Nicole Kidman), including a preacher, who is forced into gay conversion therapy after his sexuality is discovered. Though often a somber and harrowing film, Edgerton's drama is also filled with quiet moments of empathy and reflection. It's also benefitted greatly by its strong ensemble, which also includes Edgerton in a supporting role, Xavier Dolan, and a rare dramatic performance from Red Hot Chili Peppers' Flea.
Though it's ultimately Hedges' central performance that proves to be the most impacting, providing a nuanced and quietly compelling look at this tormented character. This dark-yet-earnest drama is intimate and contemplative, providing a tender, carefully-realized examination on sexuality, religion, individuality, and self-discovery.
Stream it on HBO Max here.
Rent it on Amazon here.
Also Consider: God's Own Country (Tubi)
Paris Is Burning (1990)
Filmed throughout the second half of the 1980s, Paris is Burning is a pivotal and heavily influential documentary that chronicles New York City's ball culture and the African-American, Latino, gay, and trans communities involved therein. Particularly as a cinematic exploration of race, class, gender, and sexuality in America, Paris is Burning is consider an essential and powerful documentary, and it was included in the National Film Registry by the Library of Congress in 2016. In the years since its release, it has only continued to gain cultural significance and relevance, particularly as more people discover the movie for themselves. While it's no longer available to stream, at least for the moment, you can rent this powerful documentary on Amazon. You can also stream its unofficial sequel, 2016's Kiki, on Hulu.
Rent it on Amazon here.
Also Consider: Kiki (Hulu)
Transamerica (2005)
In Transamerica, Duncan Tucker's feature directorial debut (and, sadly, still his only movie to date), Felicity Huffman stars as Bree, a trans woman who embarks on a road trip with Toby (Kevin Zegers), her long-lost son. Though the movie is often recognized for Huffman's lead performance, which won a Golden Globe and received an Oscar nomination, Tucker's empathetic film is also touching and sympathetic, providing a smart, charming family drama with humor and heart. It hits a few conventional beats along the way, but its touching, likable, and life-affirming story makes it an enjoyable watch.
Rent it on Amazon here.
Also Consider: Boys Don't Cry (HBO Max),Watermelon Woman (Amazon Prime)
Hedwig And The Angry Inch (2001)
In John Cameron Mitchell's kinetic, exhilarating film adaptation of his stage musical, Hedwig and the Angry Inch, the actor-writer-director makes an extraordinary film debut, providing an accomplished, energetic, entertaining, and ultimately poignant look at gender fluidity and exploration. With its stunning camerawork, passionate filmmaking, catchy musical numbers, and entirely brave, bold lead performance from Mitchell, Hedwig and the Angry Inch tells the story of Hedwig Robinson, a genderqueer European rock singer, and the character's complicated past and complex gender identity.
While the movie didn't find success in its original run, it was quickly (and rightfully) adopted as a cult classic, bringing more attention to this inspired story and providing more stage productions in recent years. There aren't too many directorial debuts more stunning and inspiring than this one.
Stream it on HBO Max here.
Rent it on Amazon here.
Also Consider: But I Am A Cheerleader (Tubi)
Portrait Of A Lady On Fire (2019)
Easily among the finest, most gorgeous movies of 2019, Celine Sciamma's exquisite romantic-drama Portrait of a Lady on Fire is an astonishing accomplishment, like a canvas painting come to life before you. Anchored by its incredible lead performances from Noemie Merlant and Adele Haenel, this elegant, immersive tale of lust and love is a powerful piece of work reflecting on art and the power of an image, and the layers and depths found therein. Whether it's a film or a drawing, or any artwork in-between, there's so much vibrant life found in every great, meaningful portrait or painting. Portrait of a Lady on Fire is such a clear, enriching example of how art and love can enrapture and engulf us in its ever-profound beauties.
Stream it on Hulu here.
Rent it on Amazon here.
Also Consider: Can You Ever Forgive Me? (Cinemax), The Handmaiden (Amazon Prime)
Beach Rats (2017)
In Beach Rats, the sophomore film from director Eliza Hittman, we follow Frankie (Harris Dickinson), a young man in Coney Island, as he balances his life with his friends, his girlfriend, and the older men he chats with online and later meets with for sex. Through its empathetic filmmaking, which is at once lyrical and starkly real, we get an acutely-realized tale of adolescence and self-discovery.
Though there's ambiguity when it comes to the main character, Hittman's assured direction is graceful and keenly-realized, providing an intimate, layered tale of youth and masculinity. It might not work for everyone, but it's a poignant, intriguing tale of maturity and yearning. In addition to Hittman's commendable filmmaking, Beach Rats is aided immensely by its gorgeous 16mm cinematography and its strong performances.
Stream it on Hulu here.
Rent it on Amazon here.
Also Consider: BPM (Beats Per Minute) (Hulu), Henry Gamble's Birthday Party (Hulu)
A Single Man (2009)
After years of building his name and his legacy as a fashion designer, Tom Ford made his feature directorial debut with 2009's beautiful, evocative drama, A Single Man. Starring Colin Firth in one of his greatest performances as George Falconer, a middle-aged English college professor who lives in L.A. in 1962 and, following the death of his longtime partner, Jim, plans to commits suicide before the evening's end.
Though certainly a somber story, Ford's first film is filled with splendidly gorgeous imagery, exquisitely patient filmmaking, and a sharp, honed eye for style that doesn't overtake the substance while also never allowing the narrative to be too overtaken by its darkness. Based on the novel of the same name Christopher Isherwood, Ford takes this private tale of grief and mediation and paints a haunting, powerful reflection.
Stream it on Netflix here.
Rent it on Amazon here.
Also Consider: Beginners (Starz)
What are some other LGBTQlA+ movies you recommend watching during Pride Month? Let us know in the comments below!
Will is an entertainment writer based in Pittsburgh, PA. His writing can also be found in The Playlist, Cut Print Film, We Got This Covered, The Young Folks, Slate and other outlets. He also co-hosts the weekly film/TV podcast Cinemaholics with Jon Negroni and he likes to think he's a professional Garfield enthusiast.