Why Gremlins 2 Is Just As Hysterical 30 Years Later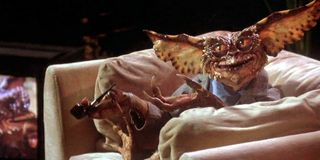 CinemaBlend participates in affiliate programs with various companies. We may earn a commission when you click on or make purchases via links.
Recently, the world honored the 30th anniversary of director Joe Dante's underrated sequel, Gremlins 2: The New Batch. As usual, the film's fans came out of the woodwork, and the age-old debate of whether the 1990 follow-up or the 1984 original was the better film came back into focus. Rather than take that discussion to task and provide the viewpoint that both films are equals, I'd like to take a page from the Brain Gremlin playbook and dig a little deeper into a key subject: the fact that Gremlins 2's laughter has not dimmed in the least with age.
Comedies are notorious for aging poorly, as humor is one of the hardest sources of entertainment to keep evergreen. Audiences find some things funny in the moment, but might sour on them depending on changing society attitudes. Also, some jokes just don't hold up to multiple retellings. But somehow, Gremlins 2 perseveres in its classic, yet contemporary humor, and I'd like to discuss why.
Gremlins 2's Humor Doesn't Chase Dated Trends
For sure, the things being parodied in Gremlins 2: The New Batch are very much a sign of the times this film was made in. Industrial titans who gobble up New York real estate and colorize black and white classics were two huge sources of comedy back in 1990, as they were dominating headlines for a good part of the '80s. Gremlins 2 most assuredly draws from the well of then-contemporary pop culture.
However, what keeps things fresh is the fact that Joe Dante and writer Charlie Haas have an eye for the sort of parody they set out to bottle up in Gremlins 2: The New Batch. The contemporary jokes are never the endgame, as the Gremlin-fueled antics dominate the film's horror and comedy, as they rightfully should. Rambo jokes are definitely funny, but the running gag of Gizmo becoming a Gremlin slaying Mogwai with the strains of Jerry Goldsmith's score from that very franchise is part of what's really making the audience laugh.
The Sequel Never Tries To Recapture Or Outdo The Original's Success
If it wasn't for Warner Bros wanting a Gremlins sequel so bad that it let Joe Dante and his crew have total creative control, Gremlins 2: The New Batch might have become another carbon copy sequel common for this era of filmmaking. Even if you enjoy films like Lethal Weapon 2, Ghostbusters II and plenty of other second installments of a similar ilk, you have to admit that those films are somewhat working off a similar blueprint to that of the films that originated them.
Gremlins 2: The New Batch was born from the intent to parody the first film with an over-the-top comedy, straight from the director who helped make that first film a surprise success. Joe Dante consciously didn't want to fall into the sequel trap of going "bigger and better" on the same foundation; he wanted to go funnier and more outrageous. To just deliver a Gremlins movie in New York would have been the approach of any other director. But Dante and his team decided a self-conscious laugh riot was the way to go, and it made all the difference.
Various New Types Of Gremlins Inspire All Sorts Of Laughter
In Gremlins, there was definitely a variety of personalities on display throughout the army of titular beasties, and that made for some pretty hysterical action. Some of the highlights of that movie, amidst the actual terror that was at work with Stripe and his scaly green minions, are the moments of sheer laughter when gathering a huge sample of these creatures together. And yet, I've never seen a Gremlin play to the camera as effectively as the ones that are included in the menagerie that Gremlins 2: The New Batch let loose upon the screen.
Thanks to the Christopher Lee-run genetics laboratory that the sequel brings in on the fun, we get various different Gremlins to fear and fall down laughing over. For every Spider Gremlin that strikes terror into the audience's hearts, there's an Electro Gremlin to make them chuckle shortly after. Most notably, characters like the Daffy Gremlin and the Tony Randall-voiced Brain Gremlin are creative spins on a creature that already had some pretty solid footing in pop culture. More Gremlins aren't the key to making Gremlins 2 pop, it's their vastly different personalities that keep the action going.
The Comedy Influences In Gremlins 2 Never Get Old
Throughout his career as a filmmaker, Joe Dante has never hidden the fact that he's a huge fan of two entertainment staples: B-movies and Looney Tunes cartoons. Gremlins 2: The New Batch indulges in these inspirations even further than the original film ever did, literally opening and closing with Daffy Duck trying to hijack the film for his own egomaniacal means. It only signals that the movie sandwiched between those bookends is going to get wacky, and in all the right ways.
By time the third act of Gremlins 2: The New Batch really lets the crazy out of the bag, we've already seen a fourth-wall breaking gag where Hulk Hogan (or John Wayne, depending on which version you're watching) intimidates the Gremlins to let the rest of the film play for the audience. Plus, as previously mentioned, there's an entire Gremlin character inspired by/named after Daffy wreaking havoc all throughout the Clamp Premium Regency Trade Centre & Retail Concourse. Throw in some Mad Magazine-style grab bags of jokes and easter eggs, and you've got the sort of jokes that'll keep the usual gang of idiots laughing for decades.
Embracing Chaos Helps Keep Gremlins 2's Jokes Fresh
If I were to distill the essence of Gremlins 2: The New Batch into one word, it would be "chaos." While there's a basic story to be followed from point A to point B, looking too closely at the plot may leave some wanting more. And yet, if you came to Gremlins 2 seeking a "Gremlins movie," that's exactly what you got. Chaos is the name of the game when dealing with Gremlins, and this film never forgets it.
The first movie dabbled in that field a little bit, but Gremlins 2: The New Batch went full throttle into that sort of comedic madness. Even when knowing where the film is going after its decades long legacy in pop culture, it's still an absolute joy to behold every single time. To see such a live wire of excitement wrangled onto film, and with little interference, still mystifies me, because a major studio signed on for this and mostly kept its hands off of the ins and outs it weaves through.
Gremlins 2: The New Batch is a prime example of what happens when you give someone like Joe Dante carte blanche to make a wholly unique sequel. While the finished product may have seemed to underperform in a summer that was, quite frankly, overstuffed as hell, the end result is a timeless comedy classic. If it wasn't for the key components above being allowed to flourish without interference, the world could have had another number 2 that lived up to the more popular definition of "number 2."
In light of this discussion, knowing that Joe Dante served as an advisor on the upcoming HBO Max cartoon series, Gremlins: Secrets of the Mogwai, suddenly makes the prospect of this new chapter in the Gremlins lore much less scary. Dante knows the Gremlins franchise better than almost anyone, and that makes all the difference. Nowhere is that more pronounced than in the fact that Gremlins 2 still kills me 30 years since I first watched it on VHS, and it'll probably keep me laughing well into the future.
That's a cause for celebration if there ever was one, so take this moment to raise a glass to a film that probably didn't mean to be a classic, but became one anyway. Here's to Gremlins 2: The New Batch: the sequel so nice, they could never make it twice. And it's a sequel you could watch, along with its predecessor, on HBO Max! If you're not a subscriber, check out the 7-day free trial (opens in new tab) available to bring this madness home to your very living room.
CinemaBlend's James Bond (expert). Also versed in Large Scale Aggressors, time travel, and Guillermo del Toro. He fights for The User.
Your Daily Blend of Entertainment News
Thank you for signing up to CinemaBlend. You will receive a verification email shortly.
There was a problem. Please refresh the page and try again.