Alita: Battle Angel And 15 Other Great Sci-Fi Options Streaming On HBO Max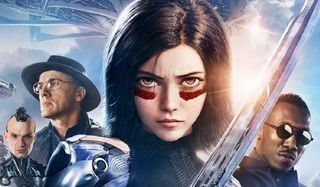 CinemaBlend participates in affiliate programs with various companies. We may earn a commission when you click on or make purchases via links.
HBO Max has finally opened its doors, and there's more than you could have imagined lying within. However, if you're a fan of sci-fi movies, like last year's blockbuster Alita: Battle Angel, there's definitely a fantastic cache of films that are within the reach of your remote of choice.
Sixteen movies jump out at any keen eyed genre fiend upon booting up this platform for the first time. So naturally, with this service in its earliest of days, it's a good time to point out the biggest and brightest stars in HBO Max's constellation of movies. The world of the fantastic and the beyond awaits in these great sci-fi movies!
Alita: Battle Angel
Since we've already invoked the name of the battle angel herself, Alita: Battle Angel is a good place to kick things off. Already a fan favorite that has taken the internet by storm, Robert Rodriguez's adaptation of the classic manga Gunnm made a huge splash after it sat for decades of development.
The story of a female cyborg (Rosa Salazar) who wakes up with no memory of her past life, Alita: Battle Angel's protagonist battles the forces of evil in the name of love, friendship, and family in a far flung future. Produced by legendary sci-fi storyteller James Cameron, it's a movie that invokes old school blockbusters in a very modern execution.
Stream it on HBO Max (opens in new tab).
The Abyss
Speaking of James Cameron, a couple more of his iconic sci-fi movies happen to also be included on the HBO Max platform. One is a rather elusive film, as The Abyss has yet to see itself released on Blu-ray, despite undergoing a recent, extensive remastering.
Perhaps the origins of Cameron's obsession with cinematic seafaring, what starts as a race against time to recover a lost U.S. submarine turns into a sci-fi masterpiece over time. Sadly, the theatrical cut is the only one available on HBO Max, with the superior Special Edition cut still waiting for its big HD revival.
Stream it on HBO Max (opens in new tab).
The Alien Franchise
One last dose of Cameron magic awaits in this next grouping of four films you're probably familiar with. Despite the absence of the two prequels, Prometheus and Alien: Covenant, the original four Alien franchise films are available for fans that want to see Sigourney Weaver tangle with danger among the stars.
1979's Alien through 1998's Alien: Resurrection are all available, following Weaver's legendary sci-fi ass kicker through her four adventures. This also includes 1986's Aliens, which was written and directed by James Cameron, and helped nail this particular franchise into the public consciousness.
Start with Alien on HBO Max (opens in new tab).
The Animatrix
While we've seen The Matrix trilogy go to streaming before, one conspicuous entry has always been absent: The Animatrix. An animated anthology of stories that take place within the universe of The Matrix, various visual styles are showcased in this collection of tales inspired by The Wachowski's classic film.
Notable entries are the two-part prequel explaining the history of The Matrix universe, entitled "The Second Renaissance", as well as the CGI short "The Final Flight of the Osiris", which plays a direct part in the story of The Matrix Reloaded. This might be an indication that in the months to come, the rest of The Matrix will join this animated counterpart in the HBO Max library. The feature trilogy is currently streaming on Netflix right now, but all three movies are on Netflix's list to leave that platform on June 30, so who knows? For now though, just being able to watch The Animatrix on streaming is a delight of its own.
Stream it on HBO Max (opens in new tab).
Armageddon
It's rare to see a sci-fi blockbuster with as much swagger as director Michael Bay's Armageddon. A certified classic that's even found its way into the Criterion Collection, 1998's cinematic fireworks display is ready to please audiences yet again through the magic of HBO Max's streaming platform.
The sweeping story of a group of oil drillers looking to crash the party on an asteroid headed for Earth, a team led by action hero Bruce Willis and heartthrob Ben Affleck is going to have to work their hardest if they think they can save the world. The Aerosmith song is already playing in your head, so you may as well carve out some time to watch Armageddon again.
Stream it on HBO Max (opens in new tab).
The Island
Many of Michael Bay's sci-fi output has gone on to become big ticket blockbusters the world still talks about to this day. But even the man who knows how to make an explosion look sexy has his share of underrated products. Case in point is 2005's underlooked gem, The Island.
Following Ewan McGregor and Scarlett Johansson's pair of naïve citizens hailing living among a community inside a facility, this action-adventure packs a bit of a twist. Of course, that twist is nestled in some stunning car chases, fist fights, and shootouts, making for quite the hit for those who are looking for some Bayhem that's off the beaten path.
Stream it on HBO Max (opens in new tab).
Godzilla (1954)
Don't worry, the Godzilla we're about to discuss isn't the 1998 dud with Matthew Broderick marveling at a surplus of seafood. Rather, as HBO Max is partially born from the previous Warner Bros streaming service, Filmstruck, some licenses from the Criterion Collection side of the house are apparently still valid.
This means that if you're an HBO Max subscriber, but don't happen to also have a Criterion Channel membership, you can still see 1954's Godzilla origin story in your streaming universe. The grim and timely story of atomic testing creating a creature humanity would eventually grow to love, director Ishir? Honda's sci-fi classic is the most grounded of the original run.
Stream it on HBO Max (opens in new tab).
The Gremlins Franchise
While it's still unknown when the HBO Max animated series Gremlins: Secrets of the Mogwai will be up and running, there's still something for fans of Gizmo and his evil cousins to enjoy. More specifically, both Gremlins and Gremlins 2: The New Batch are available for those who have missed their charms.
Whether you're in the mood for the horror-comedy thrills of the 1984 blockbuster, or if you're looking for director Joe Dante's screwball parody of his own work in the 1990 follow-up, both options are open for your enjoyment. Knowing that Dante actually helped shepherd the new animated series is good reason to revisit both of these movies, so your memory is nice and fresh when that 1920's set prequel finally drops.
Stream it on HBO Max (opens in new tab).
Little Shop of Horrors
While a lot of people have been celebrating the fact that HBO Max is bringing Zack Snyder's Justice League to their platform, it isn't that surprising if you're a deep cut HBO fan. As it turns out, plenty of alternate cuts are already available as extras to enjoy on the platform, with Little Shop of Horrors' Director's Cut being one of them.
If you choose to enjoy the Rick Moranis/Ellen Greene starring horror musical on HBO Max, you can choose the original cut for sure. But if you want to see the film with 10 additional minutes, and the original ending restored, then the Director's Cut of this horticultural horror is the way to go. Either way, prepare to sing along with the doom and gloom on Skid Row.
Stream it on HBO Max (opens in new tab).
Paul
Here's something you might not have known, or might just need a firm reminder on: Paul isn't an Edgar Wright movie. While it does have Simon Pegg and Nick Frost playing to their absolute strengths, partially because of the fact that they wrote the screenplay themselves, it's actually directed by Superbad helmer Greg Mottola.
But between the film's deep cut geek references, and the patter between Pegg, Frost, and Seth Rogen's character of Paul, it's a movie that feels like an unofficial part of the Cornetto Trilogy. If anything, this alien road trip comedy is the perfect sundae topping or waffle cone that accentuates the entire nerdy confection.
Stream it on HBO Max (opens in new tab).
Rise of the Planet of the Apes
The current Planet of the Apes trilogy stands as one of the best examples of refreshing a classic film series in such a way that it's allowed to do its own thing. At the same time, the franchise that started with Rise of the Planet of the Apes fits into the structure of the classic films well enough that you could watch it alongside those originals.
Andy Serkis' first time out as Caesar, the ape that would be king, is a heartbreaking origin story that shows his relationship with James Franco's medical researcher as the cornerstone of his entire legend. Rise of the Planet of the Apes might be a bit of an extra downer, considering the oddly relevant direction that the story takes in the third act, but it's still a sci-fi blockbuster worth revisiting.
Stream it on HBO Max (opens in new tab).
War of the Worlds (2005)
Closing out the lineup is another underrated gem from a titan of sci-fi movies. Director Steven Spielberg's modern remake of the H.G. Wells classic, War of the Worlds has always been an example of a film that, while qualifying as a hit on paper, has largely evaded the mass appeal of other Spielbergian efforts.
Another collaboration between Steven Spielberg and Tom Cruise, this version of the iconic sci-fi tale is very much a response to the post-9/11 era of thrillers. Using the bones of War of the Worlds to tell a new tale of fear and disaster, it's a movie that stands up to most of Spielberg's other filmography, and even towers over some of the 2005 film's contemporaries.
Stream it on HBO Max (opens in new tab).
While it's early days for HBO Max, and the lineup is bound to change in new and exciting ways each month, this initial wave of winners is quite impressive. But just to be sure, you'll want to double check the platform's listing for accuracy, as these titles are subject to availability and change.
If you're ready to plunge into one of, if not several, of these notable titles, you can sign up for your own subscription (opens in new tab) and begin your epic journey!
Your Daily Blend of Entertainment News
Senior Movies Contributor
CinemaBlend's James Bond (expert). Also versed in Large Scale Aggressors, time travel, and Guillermo del Toro. He fights for The User.
Your Daily Blend of Entertainment News
Thank you for signing up to CinemaBlend. You will receive a verification email shortly.
There was a problem. Please refresh the page and try again.