Surprise, Chicken Run's Sequel Is Heading To Streaming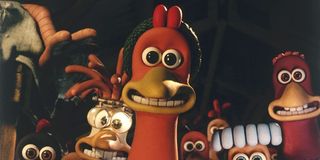 Chicken Run is twenty years old and despite several, high quality stop motion movies releasing over those years, it still remains the top-grossing stop motion movie of all time. While you'd think such a success would earn Chicken Run's sequel a place in the theaters, it's heading to streaming instead.
Aardman Animations made this surprise announcement on their website today, which also marks the 20th anniversary of Chicken Run's release, saying that Chicken Run 2 is planned to go into full production in 2021 and will be released on Netflix. This is no doubt exciting for the generations of movie fans who grew up with the original.
Of course, this isn't entirely surprising, considering Netflix also released Aardman Animations' well-liked Shaun the Sheep: Farmageddon. So Aardman clearly sees a winning relationship between them and the streaming giant, especially since they closed a deal with Studiocanal and Pathé to make it happen.
We've also got some good story details. Chicken Run 2 will be about Ginger and the rest of the flock as they settle on a remote peaceful island, away from dangerous humans. Ginger and Rocky have a little girl Molly and their life seems complete until it's learned that chickens off the island face a new threat. Ginger and Rocky decide to leave their paradise to save the rest of the chickens.
Aardman Animations has been wanting to put Chicken Run 2 into development for a while now, but it seems like progress has been slow. Reports of a sequel came out a couple of years ago, and it sounded like back then they wanted to go full steam ahead with production. While it's unknown at this point who of the old cast will return, we do know one voice actor won't be returning—Mel Gibson. According to The Wrap, Mel Gibson will not be asked to return and the part of Rocky will be recast, seemingly in response to his controversial history.
And it makes total sense why they would want to get Chicken Run 2 into high gear, considering the film made $224.8 million on a $45 million budget. But with such a long gap between movies, perhaps the studio feared it might not have the same success in theater and decided to opt for Netflix, instead? It's hard to know for sure.
With movies like Early Man and Shaun the Sheep, Aardman Animations has an impressive and successful track record of putting out stop-motion animated movies that do well critically and at the box office. For Chicken Run 2, Sam Fell, known for directing ParaNorman, will be taking the helm as director and writer.
The official title for Chicken Run 2 as well as the release date is unknown right now. As always, we'll keep you updated on the latest movie news.
Your Daily Blend of Entertainment News
Thank you for signing up to CinemaBlend. You will receive a verification email shortly.
There was a problem. Please refresh the page and try again.