Hear Me Out: Why Alita: Battle Angel Should Be One Of The Movies Helping To Reopen Theaters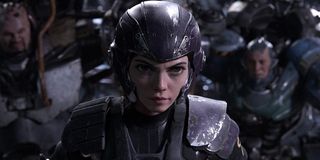 Whether it's happening in your region or not, movie theaters are starting to reopen their doors after being shut down for several months due to current events requiring such action. With that momentous push, some old favorites, like Jaws, the Lord of the Rings trilogy and Jurassic Park are being enlisted to attract folks into their local movie houses, hoping to rekindle the magic of cinema with those familiar haunts. However, there's a pretty big opportunity staring us all right in the face, as Alita: Battle Angel could potentially be another returning title that could spark some serious theatrical business.
Robert Rodriguez's manga-adapting blockbuster had some modest success in its cinematic debut last February, and a steady following has been building around the film on the internet that could lead to even more money rolling in the door. It's a notion that's too intriguing to pass up, which is why it's time to talk about why Alita: Battle Angel should return to theaters, in the charge to help reopen the market nationwide.
The Potential Success Of Alita: Battle Angel's Reissue Could Justify A Sequel
If you're an Alita: Battle Angel fan, you know there's been a huge internet campaign underway to get a potential sequel on track with 20 Century Studios and Disney. A lot of philanthropic efforts have been tied to that push, and there's even been some advice from folks like producer Jon Landau on how fans need to keep letting their voices be heard in support. What could be a greater show of support than to re-release Alita: Battle Angel into movie theaters, allowing fans to once again vote with their wallets in favor of a second chapter? At the very least, there'd be a better return of investment on that already finished film, but at best, the results could signal how ready the world is to return to the far flung future worlds of Iron City and Zalem.
3D And IMAX Screens Would Have A Champion With Alita: Battle Angel
Standard theater screens aren't the only enterprise that'll need a boost when it comes time to throw the doors open to eager patrons. While Tenet is certainly primed for IMAX glory, and Mulan may still release with a 3D version intact, it wouldn't hurt to have another film ready to stoke those particular fires at local theaters. Both formats saw some pretty spectacular play with Alita: Battle Angel, especially since the now rare combination of the two was used to great effect in the film's initial theatrical run. The world could use a grand spectacle that uses both large format and 3D exhibition to show just what theaters can do in their finest hour.
Newcomers Could Experience Alita: Battle Angel The Way It Was Meant To Be Seen
A lot of Alita: Battle Angel fans probably experienced the film in the theatrical release, displaying Rosa Salazar's memorable central performance in the format it was truly meant to inhabit. Those folks would obviously relish the movie's potential return to cinemas in a heartbeat. However, there are those who were a little late to the party, being exposed to Alita's adventures through the home video and cable premieres that followed. If anyone was to truly benefit from sending Alita: Battle Angel back to movie screens, it would be the loyal Alita Army troops that didn't get the full theatrical experience the first time around. This sort of reissue could lead to not only returning patrons shelling out some money to see a big screen return, but for newcomers to the entire experience to finally jump into the fray.
Alita: Battle Angel Could See That Deleted Scene Finally Finished
If you're going to bring a movie back to the multiplex, it's usually a good idea to try and make it into an event of sorts. Even when Avengers: Endgame went back into theaters, there was some additional content and a deleted scene added to make the trek out to movie theaters a little more worth the effort. While director Robert Rodriguez teased a deleted scene that Alita: Battle Angel fans would never see finished, due to the financial constraints involved in completing the effects, committing to that sort of effort just might be the ticket to getting people back into those theater seats that'll need filling on opening day. Though if you're going that far with the reissue of Alita: Battle Angel, there's one more extra mile left to be run.
Added Content From Alita: Battle Angel Could Sweeten The Deal
When Fathom Events reissues the various Hollywood classics and fan favorites it brings back to theaters, there's usually added content that's thrown into the mix to pad out the adventure. Host introductions, special features from home video releases and even additional interviews are all tactics that have been employed to spice things up for a movie people could very easily watch at home. Should anyone in power be entertaining the potential for a theatrical return of Alita: Battle Angel, they should most definitely keep this in mind, as the motion comics/concept art reel from the home video release would be killer added value for theater audiences. Plus, some pre-recorded interviews with James Cameron, Robert Rodriguez and Rosa Salazar talking about the fan response to the film would be the cherry on top. The studio could even throw in a first look featurette themed to Avatar 2's recently resumed production as further justification for such an event.
Ultimately, that's what a theatrical reissue of Alita: Battle Angel needs to be: an event. This would be a celebration of a fandom that's seen itself grow stronger through the powers of the internet. Being able to see that very movie in theaters, whether it's a first or fifth viewing on the big screen, would bring everyone closer together, and allow anyone curious about what all the fuss is about to join in as well. While a lot of old favorites and recent releases are getting a place at the table when it comes to theaters reopening, it's worth considering giving that same treatment to a movie the internet can't stop talking about.
As of now, there's no plan to release Alita: Battle Angel into theaters again; but that could change. If the fans demand it, it could become a crucial reality that would push the cause of a potential sequel further. Even if that prospect should fail, the chances that movie theaters would receive a much needed boost by showing this big screen worthy epic yet again are too good to pass up. So if you really want to make this dream a reality, let us know in the poll below, and keep making all the noise you can to bring Alita back to the moviegoing masses.
This poll is no longer available.
Your Daily Blend of Entertainment News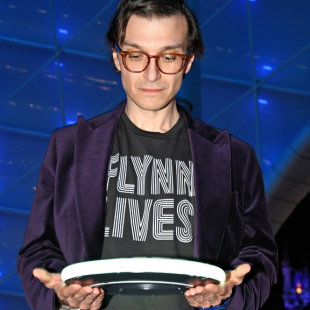 Senior Movies Contributor
CinemaBlend's James Bond (expert). Also versed in Large Scale Aggressors, time travel, and Guillermo del Toro. He fights for The User.