Why Helena Bonham Carter Takes So Many Weird Roles In Hollywood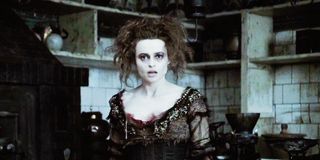 Helena Bonham Carter has made bold choices throughout her career. From playing a talking ape in Planet of the Apes to helping Johnny Depp murder barbershop customers in Sweeney Todd, she's had a knack for playing some pretty weird characters -- in fact, the only thing you can really expect from her is that she'll do something unexpected. If you ask Helena Bonham Carter why her career has unfolded this way, she has a pretty interesting answer.
Not many people can say they've starred in one of the biggest cult classics of all time and gone wand-to-wand with Harry Potter. Helena Bonham Carter can, though, because she's built her career on taking on some bizarre characters and completely owning them. In a recent roundtable discussion with THR, she explained that from the get-go, she found it challenging to fit into the Hollywood scene:
Her uncertainty over what a career in Hollywood would look like sounds like it must have been frustrating. She eventually found a way, though, to take roles in movies and still feel like she was staying true to herself, no matter how weird the role was:
It's cool to hear her perspective on this -- that she knows who she wants to be as an actress and that her decisions have been driven by that knowledge. It's also an important reminder that Helena Bonham Carter's filmography is stacked with a wide range of roles. For every Fight Club or Dark Shadows, there's a The King's Speech or Howard's End. So yeah, maybe she can be a little weird sometimes -- that's just more proof of her immense talent.
What's your favorite Helena Bonham Carter movie? Let us know in the comments!
Your Daily Blend of Entertainment News
Thank you for signing up to CinemaBlend. You will receive a verification email shortly.
There was a problem. Please refresh the page and try again.