How Helena Bonham Carter Changed Her Call Of Duty: Black Ops 4 Character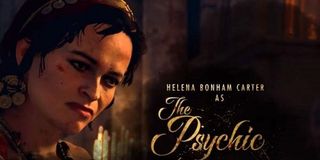 Gearing up for her role in Call of Duty: Black Ops 4's Dead of the Night zombies DLC, actress Helena Bonham Carter had fun shaping the phony psychic into a familiar charlatan with some new tricks up her sleeve.
Asked about the pronunciation of Madame Mirela's name during our chat to promote the game, Bonham Carter said the woman is a fraud and probably pronounces it differently every day. But she's certainly an interesting character, one who is perfectly suited to the latest chapter of Zombies for Call of Duty.
Dead of the Night is actually a prequel to the base game's "Voyage of Despair" map from the Chaos storyline. In this latest adventure, the characters are invited to a big party at the estate of Alistair Rhodes, father of Scarlett from the "Voyage" chapter and generally pegged as a big reason for all of this supernatural tomfoolery going on.
This was Bonham Carter's first role in video games, but she said the process of creating the character wasn't so different from her past work.
Bonham Carter's psychic is joined by a military man known as "The Brigadier," a butler by the name of Godfrey and Gideon Jones, a disgraced stage gunslinger. While attending a party at Alistair Rhodes' mansion, these folks happen to be the only ones not turned into crazed creatures of the night. If they want to survive, they'll need to explore the grounds, solve some puzzles and rely on all sorts of cool weapons and magical abilities they find along the way.
For folks familiar with the Zombies mode in Call of Duty, it's a familiar formula at this point. But learning each map's interlocking mechanics is a big part of the fun, with character banter helping flesh out the story and explain who these people are and how they got sucked into a living nightmare. Bonham Carter said it was a new experience, rolling through more than 800 lines of dialogue to tackle all of the events that could be triggered within the map, but one she enjoyed.
If you're looking to invest some of your own time in that "imaginative world," the Dead of the Night DLC is available now as part of the Black Ops 4 season pass. This first major piece of DLC also includes a couple new maps for competitive multiplayer, some new player skins and a re-imagined Zombies map called "Five," pulled from the original Black Ops.
Your Daily Blend of Entertainment News
Staff Writer for CinemaBlend.