Dwayne Johnson's Photographer Makes Emotional Video Detailing The Star's Career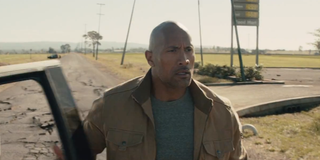 There's cool jobs, and then there's being Dwayne Johnson's personal photographer. What's even cooler? When your boss shows off your work to his millions of Instagram followers by sharing an emotional video tribute you made highlighting his journey so far.
Most people who know who Dwayne Johnson are likely aware that he knows what it's like to start from the bottom. The college athlete-turned-pro-wrestler-turned-A-list actor seems happy to share his platform with others who are trying to make a name for themselves as well. Case in point: he offered up his Instagram and shared some work from Jon Brandon Cruz, who would also send out an inspirational message to aspiring filmmakers.
Jon Brandon Cruz begins the video showing us a photo of himself in the audience at Wrestlemania in 2000, watching his idol, Dwayne "The Rock" Johnson on stage. Well, sort of a photo of him - let's just say he's in the background. He goes on to say that when you fast forward 20 years, he's now become Dwayne Johnson's personal photographer. That means gone on all kinds of adventures with him and has been there through all his highs and lows. Check out the amazing video below.
The video offers up a montage of some of the many moments he's captured for the Hollywood icon. Footage of his day to day life is there, with photos and videos of Dwayne Johnson relaxing at home and working out. We also see him on the job, goofing off with Kevin Hart and taking shots on the red carpet.
But Jon Brandon Cruz also shows some emotional moments from Dwayne Johnson's personal life that we often aren't privy to. He shows fans a video clip from when the actor crashed a wedding with Danny DeVito (what?!). We see video clips of him watching his oldest daughter wrestle and photos from his 2019 wedding to Lauren Hashian, including some adorable moments with their daughters. He also revealed footage of when Dwayne Johnson stood "with his people in protest" last year against the construction of a telescope on Hawaii's Mauna Kea volcano.
All together, the short clip offers a more personal glimpse at Dwayne Johnson than we're often used to. The actor has made himself available to fans in a lot of ways, especially recently, going live on social media to answer questions during the COVID-19 lockdown. But this video gives us a chance to see him through the eyes of someone who knows him well
Jon Brandon Cruz ends the video by encouraging fans to share the post so that other up-and-coming filmmakers can be inspired to follow their dreams. Given the fact that Dwayne Johnson has a bit of a larger reach on social media than his photographer, it was really cool of him to share the video to help him get the word out.
Your Daily Blend of Entertainment News