Every Judd Apatow Movie Including The King Of Staten Island, Ranked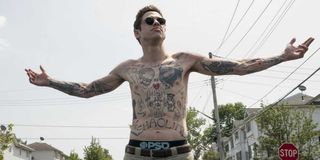 Whether you love or hate his style, Judd Apatow has undeniably influenced comedy. As a writer/producer/director or mere influence, Apatow's loose, lighthearted sensibilities— adopted from James L. Brooks, John Cassavetes, and more— are both irreverent and emboldening, shaping a comedy era that's as emotionally resonant as it's richly funny.
It's a tricky balance, but Judd Apatow makes it look easy, allowing his talented performers to influence his scripts with extensive improvisation and other creative freedoms. The results can be shaggy and overly-sentimental, but more-often-than-not, they work. Apatow's movies bring something present and appealing to their tales of adolescent people in self-discovery. He receives his share of criticism, both warranted and not, but we're here to celebrate.
Here's how we'd rank Judd Apatow's directorial efforts in feature length films.
8. This Is 40 (2012)
Over the course of Judd Apatow's first three features— The 40-Year-Old Virgin, Knocked Up, and Funny People, respectively —our central characters elevated from emotionally/sexually/intellectually-stunted man-children to more psychologically-tormented influential people in showbiz. While Apatow's work became more personal, it strained from his relatable focus and reliable easy-going comedy. We watched characters struggle with concerns outside most people's problems, related to wealth and ego, that didn't connect with mainstream audiences. With This Is 40, his fourth film, the results weren't poor, but its indulgent, navel-gazing perspective lost what made Apatow's previous films more winsome and personable.
Centered around Pete (Paul Rudd) and Debbie (Apatow's real-life wife, Leslie Mann), previously Knocked Up's supporting characters, This Is 40 is a not-so-subtle look at Apatow's marriage/parenthood struggles. It follows a wealthy couple's growing insecurities, i.e. worries regarding their upper-class well-being, coinciding with their 40th birthdays. While our leads remain dependable as comedic/dramatic performers, finding emotional truths despite the therapeutic film's inconsistent tone and hit-and-miss jokes, This Is 40 falters from numerous problems that plagued other Apatow films. Namely, it's too long, shapeless, and self-involved. While Apatow's agreeable filmmaking offsets some annoyances that deprive from wallowing in privileged problems, it falls short compared to his past glories.
7. The King Of Staten Island (2020)
Having used his influence to boost the careers of several now-superstars, including Steve Carell, Seth Rogen, and Amy Schumer, Apatow's eighth film, The King of Staten Island, sees the co-writer/director telling a semi-autobiographical account of Pete Davidson, a troubled personality who impressed many with his raw, self-effacing, open-hearted comedy. Exploring Davidson's bizarro world, where he still lives at home but didn't find success with Saturday Night Live (or elsewhere), The King of Staten Island is a character study on Scott Carlin, a 24-year-old high school dropout with aspirations of becoming a tattoo artist but no honest drive or ambition. Notably following his firefighter father's tragic death, Scott lacks direction.
But things change when Scott's single mom (Marisa Tomei) dates Ray (Bill Burr), a hard-nosed firefighter who provides clarity about Scott's instability. From there, Davidson's cinematic avatar searches for himself. Like many Apatow movies, there's something hopefully cathartic with this film, which Davidson co-wrote. The lead character mirrors many of Davidson's traumas and tragedies; he lost his father in 9/11 and has a history of mental illness. This makes Staten Island more directly dramatic than other Apatow movies, exploring heavy sadness in his familiar themes of stunted masculinity and repressed personal growth. Unfortunately, this story fumbles into formula and cliches. But Robert Elswit's cinematography is gorgeous, Apatow's world-building remains lived-in, and it's a standout cast. It appropriately showcases Apatow's own mature growth.
6. Trainwreck (2015)
While Trainwreck doesn't reach the same heights as Apatow's earlier triumphs, it's a clear step up. The director gained a greater sense of style and a greater understanding of his sensibilities, notably following his adrift This Is 40. Although he's working off a traditional rom-com's model, like Knocked Up, Apatow's more finely-tuned balance of raunchy humor, personable drama, and earthbound characters find success. Similar to Staten Island, Apatow focuses on elevating Amy Schumer's profile, though he works from her own script (his first-time directing another person's screenplay) and provides a woman's perspective — notably following criticism regarding his portrayals of the opposite sex.
While Schumer's screenplay doesn't break new ground, it's a refreshing template for Apatow in many respects.
Telling the story of Amy, a fictionalized version of the actress-screenwriter's persona, a hard-drinking, free-spirited writer who enters a serious relationship with straight-laced orthopedic surgeon Aaron (Bill Hader) after multiple unstable courtships and one-night-flings, Trainwreck adopts Schumer's irreverent brand of crass, self-deprecating humor and allows this irreverent personality to combat rom-com cliches in an entertaining, eventually accessible fashion.
The relationship is winning and thankfully more relatable than This Is 40, capturing NYC's vibrant personality filtered through this romantic-yet-tough-to-please woman. While tighter than most Apatow movies, it's overlong at 125 minutes. If Trainwreck was trimmed to 105 minutes, it might've been Apatow's most solid, cohesive film. Nevertheless, Trainwreck is Apatow's polished return-to-form and Schumer's strong leading woman introduction.
5. May It Last: A Portrait Of The Avett Brothers
Admittedly, one doesn't naturally associate Judd Apatow with The Avett Brothers. The comedy filmmaker and the acclaimed folk-rock band don't appear too similar on paper; Apatow's brash characteristics contradicting to Avett Brothers' gentle, smooth sounds. Yet, through HBO's documentary, May It Last: A Portrait of the Avett Brothers, you discover unexpected similarities in their processes. Specifically, each of them digs for what feels ethereal and emotionally profound, finding their own euphorias in their creative endeavors. Above all else, The Avett Brothers strive not only for harmony but emotional honesty. They want songs to connect deeply to their listeners' souls. They do this by creating songs as extensions of their souls — deriving from their pain, failures, fears of inadequacies, and reflections on lives lived.
While that's true for many artists, this music documentary does a fine job of discovering this inherent humanity in the band's tunes, particularly as they're crafting their album, True Sadness. Made with Michael Bonfiglio (Apatow's first directing collaboration), May It Last explores the relationships between art and the artists, and how one's life interweaves with their work. When it comes to insights gleaned, Avett Brothers fans might not learn anything new. But this documentary's approach is uniquely intimate-yet-refrained — allowing the performers to expose the nakedness to their song-making. It's not eye-opening but vividly authentic, and the music-making sequences— evocative of '70s documentaries —stun. Alas, as the subtitle suggests, it's merely a portrait.
4. Funny People (2009)
With his third feature, Funny People, Judd Apatow dived deep into Hollywood, making something more observant and unreserved than anything else he's done before OR since. It follows George Simmons (Adam Sandler), a once-revered comedy legend who gained great wealth as a middling movie star but lost his voice along-the-way. When he's diagnosed with a terminal illness, the depressed comedian goes on-the-road, hoping to reconnect to what he once loved about comedy. He's also haunted by a long-lost love (Leslie Mann), whom he disconnected with while searching for fortune and fame. Unabashedly moody and heartbreaking, Funny People isn't uplifting, but that's not to suggest its title is false. It finds the humor in the tragedy, and how comedy branches from that root.
Funny People represents many of Apatow's lows and highs. As his longest film, it's the most prone to meandering; a judicious editor could cut a solid 30-40 minutes. But it's among Apatow's most mature, reflective works, exploring one's place from a humane, rewardingly layered perspective. While it didn't elevate Sandler's career (he was already A-list), Funny People instead allowed Apatow to explore a more wistful side to Sandler's persona unseen throughout Happy Madison productions. It's hard to know how much truth factors into Sandler's performance, but there's an honesty here that seems authentically sincere, showcasing once again how good Sandler is at drama. It's among his most emotionally revealing works — a refreshing change-of-pace after several half-inspired comedies.
3. The 40-Year-Old Virgin (2005)
Once a burgeoning writer/producer behind several cult favorite (albeit not long-running) sitcoms, The 40-Year-Old Virgin jumpstarted Judd Apatow's exceptional Hollywood path, while also helping Steve Carell find his leading man status. In Apatow's feature directorial debut, we follow Andy (Carell), a lowly electronics store clerk who remains a virgin, even at 40. His colleagues (Paul Rudd, Seth Rogen, Gerry Bednob, Romany Malco) help Andy trade in his v-card, but it's not easy. While raunchy sex comedies were frequently found in the years (and decades) leading to its success, what separated 40-Year-Old Virgin from other R-rated comedies in this vein wasn't merely its crudely outrageously material but its unexpectedly charming sweetness.
Through our hapless protagonist and Carell's winning performance, we're given a lead who's delightfully unlike the ribald, uber-horny teenagers typically found in sex comedies. While lacking experience, Andy's age brings a (slight) maturity that's unique to this typically youth-centered genre. Carell also provides his usual humanity and likability, even during broader moments, which informed every Apatow comedy to follow. Alas, as Apatow's debut, Virgin is patchier and less polished than his later work, which says something. But its improv-heavy workplace environment invited more consistent, uproarious laughs than most movies, pushing against a sterilized PG-13 standard and inspiring more freely/frequently risqué comedies.
2. The Zen Diaries Of Garry Shandling (2018)
In 2016, many Hollywood personalities were heartbroken by Garry Shandling's passing. The Emmy-winning voice behind It's Garry Shandling's Show and The Larry Sanders Show influenced several aspiring comics, including Apatow. The showrunner adopted Apatow under his wing, making him a writer-director on Larry Sanders. This mentorship informs early segments of Apatow's HBO documentary, The Zen Diaries of Garry Shandling, but this two-part analysis/retrospective sees several personalities offering their memories/perspectives into this troubled mind. While this extensive documentary risks oversimplifying/over-glorifying Shandling's life and influence, it's to Apatow's credit that it's a thorough as it is without lionizing or demonizing him.
Zen Diaries is as personal/self-reflective as any Apatow film, and he uses his history/reflections with Shandling to produce a sweet, affecting portrayal of this idiosyncratic personality. Apatow's familiarity with the interviewees, likewise, allows them to open up freely, giving us a genuine warts-and-all examination of Shandling's tough-to-read internal dialogue.
Poring through decades of diaries, we gain profound reflection, introspection, and nuance into Shandling's legacy, personality, and sense of self-worth. The results are vulnerably emotional but not too sentimental or assumptive. While it's Apatow's longest film at 259 minutes, it's surprisingly investing and rewarding, despite its intense focus on a deeply depressed, distressed individual. Its beating heart empowers— rather than detracts from —its emotional searching. Shandling influenced nearly every self-referential modern-comedy but rarely found peace. Thankfully, Apatow provides a lovely, thoughtful, soulful tribute.
1. Knocked Up (2007)
While 40-Year-Old Virgin established Apatow's ascension, it was Knocked Up, his sophomore feature, that informed his future. Ironically, this involved delving into his past. In this fresh, funny take on the rom-com format, we follow an unwitting couple— stoner slacker Ben (Seth Rogen) and career-focused Alison (Katherine Heigl) —who partake in a drunken one-night-stand that turns serious with Alison's pregnancy. Opting to keep the baby, they spend months together, finding a spark they never expected. There's a grounded realism to Knocked Up separating it from several broader, more bombastic comedies.
Like 40-Year-Old Virgin, Judd Apatow infused warm affability to his crudely funny/specifically down-to-earth stylings, creating an enjoyable blend of improvised raunchiness and winning rom-com sentimentality. Aided by Rogen and Heigl's sparkling chemistry, which found the honesty and poignancy which made these two unexpected lovers so likable, Knocked Up discovered the premise's heart and humor, particularly when focused on naturalistic moments during this nine-month time-lapse.
This attention-to-details made Knocked Up more disheveled than other comedies. But, in this case, for the better. These moments weren't merely funny but effectively tender, giving an uncommon slice-of-life feel. Though not faultless, this formula created an immensely endearing rom-com, solidifying Apatow as a premiere filmmaker.
This poll is no longer available.
Your Daily Blend of Entertainment News
Will is an entertainment writer based in Pittsburgh, PA. His writing can also be found in The Playlist, Cut Print Film, We Got This Covered, The Young Folks, Slate and other outlets. He also co-hosts the weekly film/TV podcast Cinemaholics with Jon Negroni and he likes to think he's a professional Garfield enthusiast.