Pete Davidson Recalls The Sweet Moment His Mom Saw The King Of Staten Island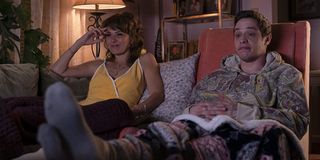 Though funnyman Pete Davidson has made a career out of getting laughs on Saturday Night Live, his latest leading role in Judd Apatow's The King of Staten Island looks to be a bit of a dramatic change for the actor. He's said before the story is close-to-home, since the movie is based on aspect of his life. Now, Pete Davidson recalls the sweet moment after his mom saw the movie.
For those unaware, many of the story details in The King of Staten Island are pretty similar to Pete Davidson's own personal life, including the main character living with his mom and the loss of his father on September 11th, 2001. Now, in an interview with ET, Pete Davidson reveals the moment when his mom saw The King of Staten Island. Here's what he said:
Pete Davidson has talked in the past about how personal The King of Staten Island is to him. He tragically lost his real-life father who was a fireman on 9/11. And, in the movie, his character, Scott, loses his father in a firefighter accident. So when he says this is a love letter to his family, he absolutely means it.
Pete Davidson's fame has been a tricky issue with his mom. Shortly after The King of Staten Island trailer released, someone came to her front door and gave her a bag of weed and said, "I heard your son needs this." To which, Pete Davidson adamantly asked everyone to stop doing. Hopefully, seeing The King of Staten Island made up for the issues.
The King of Staten Island was originally going to be released in theaters, but Universal shifted gears and announced it would be released directly to VOD, instead, due to global health concerns.
As a reminder, you can check out the trailer for The King of Staten Island below.
Critical reviews of the movie have released today. So far, overall it looks like its being warmly received, saying Pete Davidson gives a strong performance, but that it's heavy on drama and light on laughs. Cinema Blend's own Sean O'Connel gave it three out of five stars and said:
Which, considering all that, it sounds like this movie is a big jump from Pete Davidson's usual comedy brand. Though he's said he has no intention of leaving Saturday Night Live anytime soon, it makes you wonder if he wants to stretch his legs a bit and see what comes of it.
The King of Staten Island releases June 12th on VOD.
Your Daily Blend of Entertainment News
Thank you for signing up to CinemaBlend. You will receive a verification email shortly.
There was a problem. Please refresh the page and try again.