What Does Margot Robbie's Pirates Of The Caribbean Movie Mean For Birds Of Prey 2?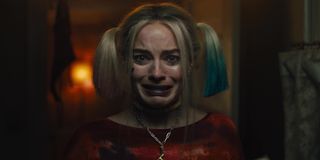 (Image credit: (Warner Bros))
Margot Robbie is stealing so many of Hollywood's biggest roles right now and we're completely okay with watching it happen. Aside from embodying Harley Quinn with grit and grace in the DCEU, the actress is gearing up to play Barbie and Maid Marian, and she also just signed on to be the star of a Pirates of The Caribbean reboot for Disney. As reported on Friday, Robbie will front the film to be written by Birds Of Prey's Christina Hodson as the House of Mouse attempts to keep its swashbuckling franchise afloat, this time without Johnny Depp's Jack Sparrow.
Margot Robbie's Pirates movie is said to be "a wholly original story with new characters under the Pirates moniker," that is separate from another movie from the franchise which is in the works under Chernobyl writer Craig Mazin and Pirates alum Ted Elliot. Both projects are being overseen by producer Jerry Bruckheimer, who has been part of the franchise since the beginning. Other details are thin on Margot Robbie boarding a new movie based on the classic Disneyland ride, but the news does raise questions about the future of the Birds of Prey franchise. Let's talk it out.
Margot Robbie's Pirates Movie Could Affect The Return Of Birds Of Prey
The key point of worry Birds of Prey fans can clearly note from the Pirates of the Caribbean news is both the star and writer from the early 2020 film are attached to the upcoming Disney film. The latest DCEU flick was released over five months ago – you'd think we would have heard something about the followup if it was happening shortly after. Instead, we're hearing about a completely new project from the pair. Now we don't know about internal plans of the if/when of Birds of Prey 2, but the fact that Christina Hodson and Margot Robbie have gone as far as to jump studios to work on something completely new could indicate a move back to the drawing board.
Then there's also how otherwise busy Margot Robbie and Christina Hodson both are right now. As previously alluded, Margot Robbie has a lot on her plate between five projects she'll be filming in the next few years. The actress is attached to a David O. Russell film with Christian Bale and Michael B. Jordan, a war thriller called Ruin and the live-action Barbie movie, and she might still be working on the new take on Robin Hood's love-interest, Maid Marian (the two latter films she is also producing as well). And Hodson has moved on to work on other DC projects, with solo writing credits on the in-the-works The Flash and Batgirl.
The Likelihood Of Birds Of Prey 2 Is Slim As Is
On top of the Birds of Prey ladies being busy as is, before their female-fronted Pirates of the Caribbean film was even announced, the prospect of another film starring Harley Quinn, Huntress, Black Canary, Cassandra Cain and Renee Montoya had been looking bleak. The February release was a commercial disappointment for the studio when it became the lowest-grossing DCEU flick to date with just over $200 million of worldwide box office earnings to its name. As Birds of Prey director Cathy Yan opened up about earlier this year, Warner Bros had "really high expectations" on a mid-budget movie with a female-led cast and director whi is a woman of color. Plus, it was R-rated.
One downfall of Birds of Prey may have been how unfamiliar many audiences are with the particular team of ladies the film features. Many fans were excited for the previously announced Gotham City Sirens film that would have featured Catwoman and Poison Ivy, and Yan has showed interest in bringing out Ivy for a potential sequel. If you ask me, I'd love to see the studio follow up the movie with Birds of Prey vs. Gotham City Sirens. And since Harley left the Birds at the end of the film, it would make for the perfect setup.
Margot Robbie's Pirates' Life Could Spell Good News Too
Birds of Prey aside, Margot Robbie and Christina Hodson having their hands in Disney's Pirates franchise is ultimately a compliment to Harley Quinn's latest outing. Even though the team-up movie didn't make as much money as the studio would have liked, something about the pairing between Christina Hodson's writing and Margot Robbie's acting sold a Disney executive for another take on the Pirates franchise, which has been one of the Mouse House's most lucrative properties over the last several decades.
If this Pirates movie does well, down the line, audiences might be warmer on checking out Birds of Prey, and it could see new life yet. Another byproduct of the Pirates news is perhaps the film hiring some of the cast from Birds of Prey to board the ship with the Harley Quinn actress. If a sequel for the DC movie is dead in the water, Christina Hodson's take on the material could leave room for it to spiritually live through a more mainstream title.
The Future Of Margot Robbie's Harley Quinn Is Still Bright
Keeping on a more positive note, while Margot's Pirates movie could mean bad news for the continuation of Birds of Prey saga, that doesn't mean Harley Quinn is going anywhere. The character is still very much an important element of the DCEU. She is already returning for James Gunn's The Suicide Squad, and rumors suggest she'll continue to portray the character after the summer 2021 release. The Birds of Prey could still appear in another capacity in the DCEU as a callback to the movie, but maybe they will not get the same spotlight as they did this year.
There's also the possibility of another writer taking on the material as Christina Hodson moves on to other projects. However, that's slim without the marketability of Harley Quinn, since she seemingly saved the title with her presence, but we'll have to see how it all shakes out. Stay tuned here on CinemaBlend for more updates on Margot Robbie's upcoming movies and vote in our poll below about your thoughts on what the actress is prioritizing. Pirates or Birds?
This poll is no longer available.
YA genre tribute. Horror May Queen. Word webslinger. All her writing should be read in Sarah Connor's Terminator 2 voice over.
Your Daily Blend of Entertainment News
Thank you for signing up to CinemaBlend. You will receive a verification email shortly.
There was a problem. Please refresh the page and try again.