One Thing Martin Scorsese And Quentin Tarantino Have In Common When Making A Movie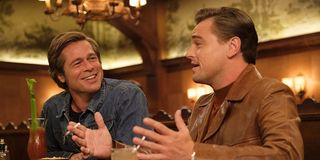 If you wanted to, you could likely write an entire book on the differences and similarities between Martin Scorsese and Quentin Tarantino's directorial styles and choices. At times, it seems like their approaches are wildly different, but believe it or not, they do have one thing in common.
Recently, Empire released reader questions that received a response from Quentin Tarantino, ranging from his favorite shot from The Good, The Bad, and The Ugly to how many films he watches a week. When asked the latter, he said he rarely watches movies while making his own movies, and as it so happens, Martin Scorsese shares the same habit. Here's why:
It's fascinating to hear how once great directors such as Anthony Mann can sit so heavy on contemporary great directors like Martin Scorsese. For Scorsese and Quentin Tarantino, watching movies that are too good could inhibit their own creative process when making a movie. The stress might just be too much.
While he can't watch great movies while making his own, Quentin Tarantino seems perfectly fine watching the movies and TV shows he doesn't hold too highly. They sound like perfect fodder to help him prepare for his films, such as Once Upon A Time in Hollywood.
And no doubt, for both iconic directors, the stress of making movies is heavy. Martin Scorsese, for instance, once seemed to want to throw up his hands and give up making movies altogether after working on his masterwork The Aviator, and that isn't the only time. He's also threatened to call it quits after making The Irishman. So the last thing he probably wants is to watch a movie from a director he respects knock it out of the park while he's in the thick of it.
Equally, Quentin Tarantino has given quite a bit to Hollywood, putting out many hit films and carving out a niche all of his own. Seemingly tired and ready to hang up his hat, he's said he might only have a few more movies left in him and could call it quits after his 10th film.
Either way, there's a lesson to be had here for aspiring artists—keep your heroes at a distance when crafting your own work. Otherwise, the stress might be too much and you'll end up hanging up your artistic hat.
Your Daily Blend of Entertainment News
Thank you for signing up to CinemaBlend. You will receive a verification email shortly.
There was a problem. Please refresh the page and try again.