7 Questions We Have About Quentin Tarantino's Next Movie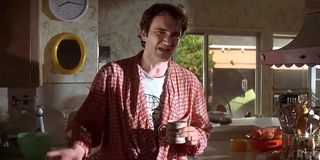 At the Sundance Film Festival in 1992, attendees witnessed the introduction of a writer/director who would become one of the most influential filmmakers of the modern era. This is the origin story of Quentin Tarantino, who, nearly 30 years later, has made eight features to go along with his debut, Reservoir Dogs. His latest, Once Upon A Time In Hollywood, arrived in theaters everywhere last summer, and, because we can never get enough, since then the clock has been ticking as we await news of what will be Quentin Tarantino's next movie. Unfortunately, right now we have a lot more questions than answers.
While there have been hints and suggestions in recent months and years about what the tenth Tarantino film could be, it has not yet been confirmed in any capacity. More than just not knowing what the project is, however, we also have some big questions regarding what it could be – and we're using the real estate of this feature to explore those possibilities.
When Can We Expect Quentin Tarantino To Announce His Next Film?
There are some filmmakers who make and release a movie annually, and there are some that take a full decade between projects. Quentin Tarantino falls somewhere in the middle of that spectrum. Averages say that he puts out a new film every three years, but there isn't any kind of pattern in his output, and he's never really worked on anyone's time table other than his own. This is a long way of saying that we really have no idea when he will fully commit to his next idea. It's possible that we could wake up tomorrow with the title of his next feature in headlines, and it could just as easily be another two years before he pulls the trigger. There's no San Diego Comic-Con-like event where the news could be made – we simply have to wait.
Will Quentin Tarantino's Next Film Be His Last Film?
Since 2014, about a year prior to the release of The Hateful Eight, Quentin Tarantino has touted the idea of "10 and done, leaving them wanting more" – and that's a particularly significant idea now that he is on the verge of making what will be his tenth movie. To be blunt, there is a lot more anticipation than normal for what the project will be simply because it may be his last. But will it actually be his last? Not only has Tarantino added the caveat that a great idea could bring him back to the medium, but it's also rare for any successful creative person to ever really fully retire (just look at recent examples like Steven Soderbergh and Joe Pesci). More than just being a question about the writer/director's next project, it's a question that really can't be answered until either A) Tarantino makes an eleventh movie, or B) he dies.
Will Quentin Tarantino's Next Film Be A Franchise Film?
While clearly heavily inspired by decades of cinema, the films of Quentin Tarantino are almost exclusively original creations – with the Elmore Leonard adaptation Jackie Brown being the exception. That being said, there have been numerous instances over the course of his career where he has expressed an openness to the possibility of making a franchise project. The most recent example is the Star Trek movie he talked up for a long time, but fans have also heard stories in the past about his ideas for a James Bond adventure with Pierce Brosnan, and even discussions that were had about Green Lantern. Could his tenth feature finally see him go that route?
What Genre Will Quentin Tarantino's Next Film Fall Into?
At the start of his career, Quentin Tarantino was almost exclusively known for crime films, not only making Reservoir Dogs, Pulp Fiction, and Jackie Brown, but also writing the original scripts for True Romance and Natural Born Killers. Since the start of the 21st century, however, he has been a tad more eclectic in his genre choices, ranging from western, to war movie, to period drama, to kung-fu flick. As a result, his next project could really be anything, from ground he's tread into the past, to something brand new like – horror and/or science-fiction.
Which Of The Two Tarantinoverses Will It Be In?
Decades before the creation of the Marvel Cinematic Universe, Quentin Tarantino started construction on his own big screen continuity when he decided that Michael Madsen's Vic Vega from Reservoir Dogs and John Travolta's Vincent Vega from Pulp Fiction were brothers. What makes the Tarantinoverse extra special, however, is that there are actually two universes: the main universe (with movies like Pulp Fiction, Django Unchained, and Once Upon A Time In Hollywood), and then the universe of movies that exist within that main universe (the list including Grindhouse, Jackie Brown, and Kill Bill). Every movie that Tarantino makes has this distinction, but we don't presently know where the next one will fit.
Could We See Quentin Tarantino Reunite With Uma Thurman?
For a nice long time, Quentin Tarantino and Uma Thurman made for an impressive pair. The duo first worked together on Pulp Fiction (earning her a Best Supporting Actress nomination at the Oscars), and their collaboration led to the amazingness that is Kill Bill. What's sad, however, is that their story together seems to end there. The writer/director has made five features since the release of Kill Bill Vol. 2, and Thurman is in none of them. But that's a streak that could potentially come to an end with Tarantino's next movie. The actress has said that she would be onboard reuniting with the filmmaker for the right part, so all that's really required is for him to write it. And on that note…
Is Kill Bill Vol. 3 Totally Off The Table?
As discussed earlier in this article, there are a number of ideas that Quentin Tarantino has that don't ultimately come together as finished projects, but one that he never seems to want to let go is Kill Bill Vol. 3. It's been 16 years since when saw The Bride find freedom with her daughter after taking down her former mentor, and Tarantino has continued to talk up a sequel as a possibility – most recently saying that it is "definitely in the cards." The set-up featuring Vernita Green's daughter all grown up and looking for vengeance against Beatrix Kiddo is too good to let die, so hopefully even if the follow-up isn't the writer/director's tenth movie we fill still find some way to get it made in the future.
What are your expectations for Quentin Tarantino's next movie? Do you think he'll make another original title, or perhaps go the sequel/adaptation/franchise route? Do you think it will be the last film he makes? Hit the comments section with your own speculation, and be on the lookout for future updates about the future career of the filmmaker here on CinemaBlend.
Your Daily Blend of Entertainment News
Assistant Managing Editor
NJ native who calls LA home and lives in a Dreamatorium. A decade-plus CinemaBlend veteran who is endlessly enthusiastic about the career he's dreamt of since seventh grade.
Your Daily Blend of Entertainment News
Thank you for signing up to CinemaBlend. You will receive a verification email shortly.
There was a problem. Please refresh the page and try again.