The Surprising Way Star Wars: The Rise Of Skywalker's Babu Frik Was Inspired By Nintendo Gameboy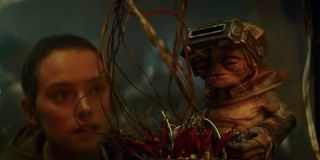 Over the years, Star Wars films have drawn from various places for inspiration. George Lucas drew from places like Flash Gordon, Rian Johnson was influenced by Twelve O'Clock High for Star Wars: The Last Jedi. And now we've learned Star Wars: The Rise of Skywalker, in a surprising way, was inspired by Nintendo Gameboy for Babu Frik.
This surprising revelation comes from Star Wars concept designer Matthew Savage, who recently went to social media to share some Babu Frik concept art. In the art, the adorable Babu Frik is working on C-3PO in his workshop. And in the image, there's a gadget that was inspired by the classic Nintendo gameboy tech. Check it out:
As you can see, there are several computers called "hack terminals" surrounding Babu Frik that look very similar to the classic version of the Nintendo Gameboy. This is a pretty cool homage to the iconic video game system. Still, no sign of Tetris or Pokemon anywhere.
Babu Frik, of course, practically stole the show on Star Wars: The Rise of Skywalker. Like Yoda and the Porgs before him, his character perfectly achieved the silly alien persona that is typical in each Star Wars movie, acting as the occasional comic relief. And it sounds like actress Shirley Henderson, who voiced and puppeteered Babu Frik, had the crew in stitches behind-the-scenes when the cameras weren't rolling as well.
But Babu Frik is more than a simple alien meant for comic relief. While acting as the beloved alien, Shirley Henderson crafted a small backstory for the character. Here's what she said:
As it so happens, the now fan-favorite Babu Frik might have been killed off in Star Wars: Rise of the Skywalker, which now seems unfathomable. According to Neal Scanlan, the creature effects creative supervisor, after Steven Spielberg screened the movie, he asked J.J. Abrams what happened to Babu Frik. This led to filming an extra sequence showing Babu Frik on Zorri's ship.
As for who inspired the creation of Babu Frik, Neal Scanlan provided some details on that as well. Apparently, when they approached the character, they decided to use a mixture of Ernest Borgnine and Joe Pesci as inspiration. Then, they shrunk that down to a creature only 8 inches tall. Sounds about right.
Even though Star Wars is taking a bit of a break right now, there are already calls from celebrities like Josh Gad for Babu Frik to get his own spinoff. While that sounds a touch silly, I wouldn't mind seeing him re-appear whenever Star Wars decides to take off again.
Your Daily Blend of Entertainment News