Brie Larson Auditioned For Star Wars And So Many Other Non-Marvel Franchises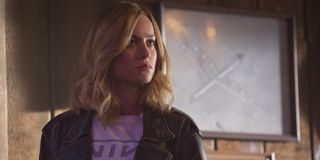 Though we now know Brie Larson for her role as Captain Marvel, you might be surprised to hear that in some alternate reality, she could have ended up in a totally different franchise. Before nabbing the Captain Marvel role, Brie Larson actually auditioned for Star Wars and many other Non-Marvel franchises.
If you haven't heard yet, Brie Larson started her own YouTube channel, and, in her first video ever, she shared a few things about her attempts to nab roles in popular franchises. Believe it or not, she tried out for a ton of different big movie franchises before eventually becoming Captain Marvel. Here's what she said:
Brie Larson didn't the roles she auditioned for in these movies but, if I had to guess, I'd say Rey, Katniss Everdeen, and Sarah Connor, respectively. Of those, I could probably see her playing Sarah Connor, but all that seems to be water under the bridge now.
Of the movie franchises Brie Larson listed, Star Wars is likely the one she wants the most. It's been known for a while that she's a huge Star Wars fan. Early last year, she posted on social media about holding Samuel L. Jackson's lightsaber and wanting to be a Jedi.
And it didn't stop there, as she continued to post more photos of herself holding lightsabers, likely hoping it would garner enough attention to get her a spot in a galaxy far, far away. After all, that tactic seemed to work for Samuel L. Jackson, who said he landed the role of Mace Windu after expressing his desire to be in Star Wars during a TV interview.
Auditioning for a lead role in a Star Wars movie is no small feat. The competition is fierce and the length of time to audition is grueling. John Boyega, for instance, said it took seven months of auditions before he finally nabbing the role of Finn. Imagine auditioning for that long and not getting the part.
Though she didn't get a role in Star Wars, The Hunger Games, or Terminator, it's probably for the best. The Terminator franchise is currently facing an uncertain future, while The Hunger Games ended with a thud. And for some fans, Star Wars: The Rise of Skywalker had a disappointing ending. With the epic conclusion in Avengers: Endgame, the MCU couldn't be going stronger, putting Brie Larson and Captain Marvel in a prime position.
Your Daily Blend of Entertainment News