John Boyega's Star Wars Auditions Took An Insane Amount Of Time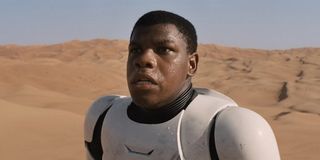 Choosing the cast of a new Star Wars movie was not a task that director J.J. Abrams and the crew at Lucasfilm took lightly. If the constant stream of names that were rumored to be in contention during casting of The Force Awakens is any indication, they left no stone unturned. And even after they narrowed the field, it still took one hell of a long time to make the final decision, just look at the audition process took John Boyega endured before he finally landed his part.
There may be some minor Star Wars: The Force Awakens SPOILERS past this point if you're sensitive to such things.
The newest issue of the British GQ has an in depth profile of Boyega, who's highest profile role before landing a part in The Force Awakens was the awesome sci-fi actioner Attack the Block. When he talked about the arduous rounds of auditions he went through, he said:
That's one hell of an undertaking, but given the level of devotion and obsession many fans heap onto the Star Wars franchise—and Boyega has made his own personal love for the saga known many times—you can imagine many of those involved subjected themselves to this rigorous screening with a smile on their face. If nothing else, as a fan, it's nice to know that those in control were committed to finding the perfect person for each role, determined to get it right, and not just grabbing random names out a hat.
Because it's both a Star Wars movie and a J.J. Abrams joint, The Force Awakens has, as we expected, been shrouded in secrecy since day one. As a result, we don't know much about John Boyega's character. What we do know is that his name is Finn and he was a former stormtrooper, one who, according to some rumors and leaks, goes AWOL from the First Order, the new version of the Empire. He teams up with Daisy Ridley's character, Rey, presumably on the desert planet Jakku, and the two set off on an adventure across the galaxy.
Aside from that, we've also heard he spends some time incarcerated with Poe Dameron (Oscar Isaac), and according to the most recent footage, he has a faceoff with the villainous Kylo Ren (Adam Driver), and even gets to wield a lightsaber, one that presumably belongs/belonged to Luke Skywalker. Check it out.
Right now, almost all of this, except the name Finn, is based on unofficial rumblings, though the closer we get, the more information we get, and the clearer the picture becomes. Like most things involving Star Wars: The Force Awakens, we won't know any of this for sure until it opens on December 18.
Your Daily Blend of Entertainment News