What To Watch On Streaming If You Like Mark Wahlberg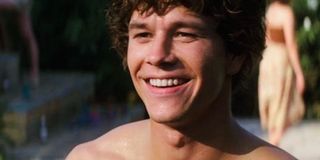 Throughout the past two (coming on three) decades, Mark Wahlberg has established himself as an A-list Oscar-nominated actor/producer through his dedicated work ethic, his collaborations with many high-level directors, including Martin Scorsese, Paul Thomas Anderson, Peter Jackson, David O. Russell, Ridley Scott, Adam McKay, and more, and his unexpected acting range. He can play both lighthearted and serious, action-friendly or something more casual, and he's certainly made some exceptional films throughout his extensive career (and a few not-so-good ones along the way).
Whether you're looking for a suspenseful drama, a nuanced character study, a buddy comedy, a dynamic thriller, a massive action blockbuster, or practically anything else in-between, Mark Wahlberg has you covered. He's made a variety of movies throughout his career, and you can watch quite a few of them on various streaming services. If you're a Mark Wahlberg fan, this is where you can stream some of his biggest movies.
The Departed (2006)
An undercover cop (Leonardo DiCaprio) and a mole for the mob (Matt Damon) must identify each other while infiltrating an Irish gang run by crime boss Frank Costello (Jack Nicholson) in South Boston.
Why It's A Good Option for Mark Wahlberg Fans: In Martin Scorsese's Best Picture-winning crime drama, Mark Wahlberg was surrounded by an ensemble filled with acting pedigree, including Leonardo DiCaprio, Matt Damon, Jack Nicholson, Martin Sheen, Vera Farmiga, Ray Winstone, Anthony Anderson, and more. Yet, Wahlberg was the only one to walk away with an Oscar nomination through his fiery, hot-tempered supporting performance. This profane, tough-love character allows Wahlberg to play to his strengths and command the room, even as he's surrounded by top-brass actors, and it's understandable why he walked away with a nomination. It might not be his best performance, but it's certainly one of his best films.
Stream it on HBO Max here. (opens in new tab)
Boogie Nights (1997)
The story of Eddie Adams (Mark Wahlberg), a young, well-endowed man who enters California's pornography industry in the '70s under the name Dirk Diggler.
Why It's A Good Option for Mark Wahlberg Fans: For my money, Boogie Nights remains Mark Wahlberg's best film and his best performance. In the lead role of writer/director Paul Thomas Anderson's sophomore feature, Wahlberg shed his Marky Mark and the Funky Bunch image and revealed himself to be a bold, fearless, and fascinating actor, capable of unexpected dramatic range and compelling liberation (even if he might now regret it). While it's certainly a risque performance, it was worth it in the long run. Through this sprawling journey exploring a porn star's rise and fall in the shady world of Hollywood's ever-shifting landscape, we see the vulnerability, confidence, and dynamism that paid off in some of his future A-list roles.
Stream it on Showtime here.
Invincible (2006)
The true story of Vince Papale (Mark Wahlberg), a 30-year-old bartender who overcame the odds to play professional football with the Philadelphia Eagles in 1976.
Why It's A Good Option for Mark Wahlberg Fans: While it doesn't escape several of the cliches you're bound to expect in a mainstream Hollywood sports biopic, especially one produced by Disney, Invincible goes the distance thanks to its admirably endearing and winning lead performance from Mark Wahlberg. The underrated sports drama hasn't been remembered as fondly or as frequently as some other movies in the same vein, but it holds its own through its grounded, good-natured presentation, one that allows us to relate earnestly with our down-on-his-luck lead before he eventually — and expectedly — goes the extra mile. It doesn't break any new ground in this well-worn genre, but Invincible does become a winning family-friendly vehicle for Wahlberg.
Stream it on Disney+ here (opens in new tab).
We Own The Night (2007)
A nightclub manager in 1988 Brooklyn (Joaquin Phoenix) must attempt to save his NYPD Deputy Chief father (Robert Duvall) and Captain brother (Mark Wahlberg) from Russian Mafia hitmen.
Why It's A Good Option for Mark Wahlberg Fans: In his third feature, writer/director James Gray made a familiar-but-engaging family crime drama benefitted by its talented ensemble, notably including Joaquin Phoenix, Robert Duvall, and Mark Wahlberg. While the A-list actor (reuniting with his The Yards director and co-star) played his fair share of cops throughout his career, there's a depth and nuance to this particular character that makes it a little more compelling and engrossing. This old-fashioned drama gives our family dynamic complexity and intrigue that makes it worthwhile; it's easy to see how this movie continued Gray's career ascension, notably with Two Lovers, The Immigrant, The Lost City of Z, and Ad Astra.
Stream it on Starz here. (opens in new tab)
The Gambler (2014)
A character study on Jim Bennett (Mark Wahlberg), a literary professor with an intense gambling habit.
Why It's A Good Option for Mark Wahlberg Fans: As a remake of the acclaimed 1974 crime drama starring James Caan, the odds were certainly stacked against The Gambler (2014). Nevertheless, while many would argue that it shadows in comparison, Mark Wahlberg brings his own brand of gruff charm to the role, providing a slick, enjoyable (if not exceptional) retelling with a modern setting but old-fashioned aesthetics. With the added benefit of its standout supporting cast, including (but not limited to) Brie Larson, Jessica Lange, Michael K. Williams, Emory Cohen, and a menacing bald-headed John Goodman (notably in Badman mode here), an energetic pace, and some thrilling sequences, this might not have been the award favorite the studio beat on, but it proves to be a solid reliable.
Stream it on Tubi here.
Contraband (2012)
A former smuggler (Mark Wahlberg) heads to Panama to get millions in counterfeit bills in order to protect his brother-in-law (Caleb Landry Jones) from a drug lord (Giovanni Ribisi).
Why It's A Good Option for Mark Wahlberg Fans: In my view, Contraband is an ideal Redbox movie. Maybe a worthwhile FX lazy watch. It doesn't necessarily do anything particularly smart, crafty, or original with its familiar premise, but it's commendable for what it is, serving as an enjoyable star vehicle for Mark Wahlberg, who gets to do his thing and kick some butt along the way. It won't be fondly remembered in the history of cinema, but for an enjoyably no-nonsense action-thriller with dramatic heft and a committed lead performance from our central star, you can certainly do worse — especially in this genre. If you have time to kill, it's worth a watch.
Stream it on Max Go here.
Lone Survivor (2013)
A dramatization of Navy SEALs counter-insurgent mission Operation Red Wings, a four-man team tasked with tracking down Taliban leader Ahmad Shah.
Why It's A Good Option for Mark Wahlberg Fans: In the first of several collaborations with director Peter Berg, including Spenser Confidential from earlier this year, Mark Wahlberg gives one of his most commanding performances in this gripping, intense war drama/action-thriller. Joined by Taylor Kitsch, Emile Hirsch, and Ben Foster, Wahlberg leads with tact and skill, allowing the taunt, well-directed movie to carry its engaging tension throughout. The results aren't flawless, but Lone Survivor proves to be a thrilling, visceral war film that's unafraid to show the hard-hitting realities of the men and women who put their lives on the line for their country, even if it means providing the ultimate sacrifice. That said, Wahlberg and Berg's follow-up, Deepwater Horizon, was even better.
Stream it on TBS here.
The Other Guys (2010)
Lampooning action movie tropes, The Other Guys follows two mismatched NYC detectives (Will Ferrell, Mark Wahlberg) who must seize their chance to become the good guys after the city's best cops (Samuel L. Jackson, Dwayne "The Rock" Johnson) are no longer in the picture.
Why It's A Good Option for Mark Wahlberg Fans: While he's better known for his dramas and his action flicks, Mark Wahlberg has proven himself to be a surprisingly well-versed comedic performer, capable of playing against his muscle-bounded image and unleash his inner goofy child. That was notably the case with I Heart Huckabees, Ted, and The Other Guys. The first of three Will Ferrell collaborations, which Daddy's Home and Daddy's Home Two to follow, Wahlberg proved himself willing to go toe-to-toe with the familiar funnyman, not boxing himself into the straight man comedy trope, allowing himself to fly.
Stream it on Netflix here. (opens in new tab)
The Fighter (2010)
A biopic centered around professional boxer Micky Ward (Mark Wahlberg), as well as his older half-brother Dicky (Christian Bale), and how he tries to escape his brother's shadow on his path to greatness.
Why It's A Good Option for Mark Wahlberg Fans: In his third and presently final collaboration with writer/director David O. Russell, Mark Wahlberg made a passion project worth celebrating. While the actor/producer can occasionally be outshined by his co-stars, including Amy Adams, Christian Bale, and Melissa Leo, the latter two winning Oscars for their portrayals, this is undeniably Wahlberg's baby, and he carries the movie with this steely demeanor shielding his beating heart. After doing some of their best work together with Three Kings and, to a lesser extent, I Heart Huckabees, it's a shame that these two haven't worked together again, though they provided a knockout with this one.
Stream it on HBO Max here. (opens in new tab)
Patriots Day (2016)
A dramatization of the 2013 Boston Marathon bombing and the city-wide manhunt to find the people responsible for this devastating massacre.
Why It's A Good Option for Mark Wahlberg Fans: Though it didn't make its money back at the box office and it wasn't the awards contender that the studio hoped it would be given its heavy true-life subject matter, Patriots Day has notably found an audience in the years since its theatrical run. In his third collaboration with Peter Berg, completing their loose trilogy of retelling tragic true stories from our recent history, this account of the Boston Bombing hits many expected bits and plays out how people expect. But from Berg's typically taut, suspenseful direction, and Wahlberg's dedicated lead performance, it's easy to see why it gained an audience on Netflix — notably over the most recent 4th of July holiday weekend.
Stream it on Netflix here. (opens in new tab)
Rock Star (2001)
Inspired by the true story of Tim "Ripper" Owens, Rock Star follows Chris "Izzy" Cole (Mark Wahlberg), a tribute band singer who becomes the lead star in his favorite band, Steel Dragon.
Why It's A Good Option for Mark Wahlberg Fans: Garnering mixed reviews and not earning a lot of dough at the box office, Rock Star can be easily forgotten in Mark Wahlberg's continuously extensive filmography. Nevertheless, this plucky musical dramedy does have its strong suits, most notably Wahlberg's appealing lead performance. The movie itself falls into several cliches and its depiction of the heavy metal scene might leave some folks wanting more, but Wahlberg's good-natured performance in this loose retelling of an incredible true story helps the movie become charming and engaging throughout its agreeable runtime. The results aren't masterful, but it's certainly enjoyable if you're a fan of Wahlberg.
Stream it on HBO Max here. (opens in new tab)
Instant Family (2018)
A married couple (Mark Wahlberg, Rose Byrne) get in over their head when they adopt three foster children (Isabela Moner, Gustavo Escobar, Julianna Gamiz).
Why It's A Good Option for Mark Wahlberg Fans: Though it ultimately falls into the familiar mainstream family comedy model you expect from a movie like this, Instant Family, which was inspired by director Sean Anders' own history with foster parenting, does have a good message and a good heart.
Stream it on Hulu here (opens in new tab).
What are some of your favorite Mark Wahlberg movies? Let us know in the comment section below!