11 Hamilton Behind-The-Scenes Facts To Know Before The Musical Hits Disney+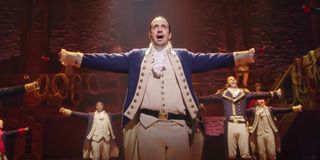 On July 3rd, the world will finally have its shot to see Hamilton. Lin-Manuel Miranda's celebrated musical has become a global sensation, earning an abundance of accolades and no shortage of acclaim, the likes of which have rarely — if ever — been seen before. Certainly, it's been a hot ticket both on Broadway and beyond, selling out shows at a clip that would make even freshman musicals jealous. And if you haven't had a chance to see the hit musical sensation for yourself — or you want to relive the experience from the comfort of our home — Disney+ has got your covered.
Starting in July, a taped recording of Hamilton, starring the original Broadway cast, will be available at the click of the button. Its theatrical plans were sadly scrapped, but few will complain about the early access. Before Hamilton hits Disney+, here are some fun behind-the-scenes facts!
Lin-Manuel Miranda Bought Ron Chernow's Alexander Hamilton Biography At The Airport On A Whim
Big things have small beginnings. In 2007, in the airport on his first vacation after wrapping up In the Heights, Lin-Manuel Miranda stumbled upon Ron Chernow's biography, Alexander Hamilton, and bought it on the whim, needing something to read during his travels to Mexico.
As he read, as it was reported in a profile by The New Yorker, Miranda's imagination went into hyperdrive. He began to imagine a musical centered around this founding father's life, and this is the start of Hamilton, the smash-hit international sensation. As he told folks about his plans to make a musical interpretation of Hamilton's story, some were understandably skeptical. Nevertheless, Miranda was richly inspired and intensely worked on it in the years to follow. And Miranda kept true to the source material. He hired Chernow to be a historical consultant.
It Wasn't The First Time Hamilton's Story Was On Broadway
Believe it or not, Hamilton is not the first time Alexander Hamilton's story appeared in stage form. While researching the history of dramatizations about Hamilton's life, he learned about a play from 1917 which was also called Hamilton. Written by Mary Hamlin, it was a better-than-modest success when it was released. It even got a film adaptation, called Alexander Hamilton, which was released in 1931 with George Arliss reprising the title role he played on stage.
As the years went on, though, the play and its creator went more into obscurity — even though the show received good notices from critics and audiences alike. Alas, while Hamilton (1917) didn't receive the same notoriety as the show that came out close to a hundred years later, the modern Hamilton's popularity did bring awareness to this other show of the same name.
It Took Lin-Manuel Miranda Two Years To Write The First Two Songs
If you ever feel discouraged as an artist or writer, take this information to heart. Lin-Manuel Miranda didn't write Hamilton overnight. The Tony-winning actor/musician took his time crafting his phenomenal musical, to the point where it took a whole year to write "Alexander Hamilton," the musical's first number, and another year to write "My Shot."
Granted, Miranda didn't take the other songs a year at a time, but the artist certainly put a lot of time and effort into making sure his first two major singles were as good and sharp as could be. As these were the first two songs audiences would hear from this unconventional look at the founding father's life, Miranda wanted to make sure they were not only as good as he could make them but also properly conveyed his vocabulary, intellect, and personality.
Lin-Manuel Miranda First Performed "Alexander Hamilton" In The White House In 2009
While it did take a long time for Lin-Manuel Miranda to tweak "Alexander Hamilton, Hamilton's opening musical number, the musician wasn't afraid to showcase an early version of the song in an appropriately historic place. Indeed, in 2009, as part of the White House Evening of Poetry, Music, and the Spoken Word, Miranda used this opportunity to showcase this song that we was working on, essentially workshopping it in a very public fashion. But it is only appropriate, one imagines, that the first time the song "Alexander Hamilton" was unveiled in a public fashion, it would be in the White House. In any case, if you want to see this early rendition of the song, check out the clip.
Lin-Manuel Miranda Wrote "You'll Be Back" During His Honeymoon, And He Wrote "Wait For It" On The Subway
The writing process is a curious thing. Inspiration can come in unlikely times and sometimes even inconvenient places. Case-in-point, as Lin-Manuel Miranda was writing the music that would become Hamilton, the actor/writer found himself writing King George III's satirical song, "You'll Be Back," during his honeymoon in 2010. This information was revealed by Miranda himself in a tweet. Furthermore, at the time, Manuel didn't have a piano on hand (go figure), so that proved to be a challenge during what was meant to be a fairly relaxing trip.
Additionally, the inspiration for "Wait For It," came at an unlikely time in an unlikely place. As The New Yorker reported, Miranda came up with the song while on the subway to a friend's home. He spent the subway ride home writing the tune.
Lin-Manuel Miranda Wrote Portions Of Hamilton In Morris-Junel Mansion
Everyone has their own individual ways of getting into the mindsets of their characters. Location is often key, though, and one's surroundings can help to inform your text. Certainly, it proved beneficial to Lin-Manuel Miranda to visit the Morris-Junel Mansion, where he completed work on "Wait For It" and wrote "The Room Where It Happened," fittingly enough.
Not only did he write these songs inside this mansion, but Miranda also wrote them in Aaron Burr's bedroom. In 1776, General George Washington used the mansion as his temporary headquarters after his army was forced to evacuate Brooklyn Heights. Additionally, Aaron Burr was married in front of this house. Alexander Hamilton was a dinner guest in this now-historical landmark.
The Show Packs On Average 144 Words Per Minute
Even though Hamilton runs nearly three hours with one 15-minute intermission, Lin-Manuel Miranda's acclaimed musical runs as an exceptional quick clip thanks to the quick, fast-moving energy of the writing and its delivery.
While three hours might seem like a long time, it's not really that long when you're trying to condense a man's life story into one quick evening of entertainment. Therefore, the cast needs to convey a lot of information in a rapid fashion, and through the cast's linguistic talents, the actors/musicians can say a lot in a short amount of time. Literally. As it was researched by FiveThirtyEight, Hamilton has 20,520 words uttered throughout two hours and 23 minutes. That means that, on average, the cast says 144 words per minute. That's a lot of words in not a lot of time! What else is there to say?
Hamilton's Choreography Has Aaron Burr Walking In Straight Lines Whereas Alexander Hamilton Walks In Arcs, Representing Their Worldviews
While it's easy to lavish praise onto Lin-Manuel Miranda for all his work on Hamilton, he's not the only person who made the show what it is today. In addition to the fabulous cast of actors who did great work in their respective parts, as well as Alex Lacamoire for directing, Andy Blankenbuehler's role as a choreographer definitely helped inform the show's visual artistry. Sometimes, in ways audience members might not have noticed.
For instance, there is a very purposeful way both Aaron Burr and Alexander Hamilton walk. As it was noted by NPR, Burr moves in straight lines, because he sees "no other options," whereas Hamilton walks in arc because he sees "all possibilities." It's a small-but-important distinction that allows us to visualize the worldview of these characters through their movements.
Lin-Manuel Miranda Tried To Rip An IV Out To Perform Hamilton For Beyonce And Jay-Z When He Was Sick
As a writer, musician, and actor, Lin-Manuel Miranda worked intensely on Hamilton, playing a pivotal role in every production he could — particularly in the title role. Alas, nobody can do everything. On the rare instance he was sick, Miranda needed to step away and let his understudy take over. Alas, the timing was unfortunate. When he got sick "once in the year" he performed it, it happened to be the night Beyonce and Jay-Z came into town.
Even though the bedridden star had a fever of 104, Miranda said on The Graham Norton Show that he was "pulling the IV out of" his arm to make his way to the stage. In any case, Beyonce was a big fan. She incorporated King George's funny walk into her own music performances.
The Success Of Hamilton Kept Alexander Hamilton On The $10 Bill
In addition to all of Hamilton's other achievements, including 11 Tony Awards and a Pulitzer Prize (to name a few), Hamilton also had an odd impact on our U.S. currency. As it turns out, in 2015, there were talks of removing Alexander Hamilton from the $10 bill. But as Hamilton's massive success continued to grow, drawing more interest in the politician's life story, the government opted to keep the $10 bill with Hamilton's face intact.
Instead, as The New York Times reported, Harriet Tubman would replace Andrew Jackson on the $20 bill. The new $10 bill was set to feature various heroines of the Women's Suffrage Movement, including Susan B. Anthony, Alice Paul, Sojourner Truth, Elizabeth Cady Stanton, Lucretia Mott, and the participants of the 1913 Woman Suffrage Procession. Later on, plans to change the $20 bill were changed.
Hamilton Was Originally Going To Be A Concept Album
Before Lin-Manuel Miranda turned Hamilton into the multi-award-winning musical mega-hit that it is today, the artist originally had smaller intentions for this project. Specifically, Miranda initially conceived the project as a concept album, to be titled The Hamilton Mixtape. He saw it as an interactive but also educational experience, though as time went on, the show's live theater presentation became more apparent.
Miranda was already coming off the success of In the Heights, which won Best Musical during the 2008 Tonys Awards, so Miranda certainly had built a reputation as a bright talented musical performer. The show gained prominence during its run off-Broadway, and the cast recording was released only a few months after it appeared on Broadway, helping the show become the incredible success that it became. Sure enough, this small project evolved into a major accomplishment.
Do you love Hamilton? Are you looking forward to watching the movie when it's finally available to stream on Disney+ on July 3rd? Let us know your thoughts on Hamilton in the comment section below.
Will is an entertainment writer based in Pittsburgh, PA. His writing can also be found in The Playlist, Cut Print Film, We Got This Covered, The Young Folks, Slate and other outlets. He also co-hosts the weekly film/TV podcast Cinemaholics with Jon Negroni and he likes to think he's a professional Garfield enthusiast.