Why One Key No Time To Die Crew Member Left The Movie For Dune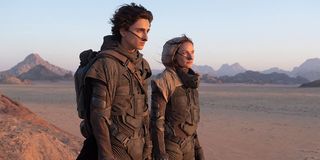 It's not easy having to pick between working with Denis Villeneuve on Dune and Daniel Craig in his last time playing James Bond in No Time to Die. But, that's exactly the kind of choice veteran makeup artist and key No Time to Die crew member Donald Mowat had to make.
Donald Mowat has been working in the industry as a makeup artist for over thirty years and has worked on prior James Bond movies, like Skyfall and Spectre. He recently spoke with Inside The Film Room about what he's currently working on and why he left No Time to Die for Dune. Here's what he had to say:
Indeed, that's an incredibly hard choice, considering Dune and No Time to Die are two of the most hotly anticipated films of the year. However, while the choice was very difficult, it sounds like as time went on the choice became more clear for Donald Mowat. He later added:
When comparing the makeup challenges of Dune versus No Time to Die, I'd bet Dune would be the more challenging movie to work on for a makeup artist. Dune, after all, is a sprawling science-fiction epic based on the groundbreaking novel by Frank Herbert. David Lynch's Dune absolutely had bizarre makeup for some of its characters, so it wouldn't be surprising if Denis Villeneuve followed suit.
And, if what Oscar Isaac says is true, Denis Villeneuve's Dune won't be a light-hearted, family friendly cinematic experience à la Star Wars, but something nightmarish and brutal. With that in mind, Donald Mowat likely has his work cut out for him.
Dune will be split into two movies and is expected to land on December 18, 2020.
Your Daily Blend of Entertainment News