Tom Hanks Is Disappointed In Most Navy Movies, Believes Star Trek Is To Blame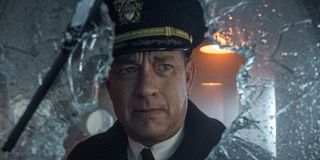 Thanks to Saving Private Ryan and Band of Brothers, Tom Hanks has earned a bit of a reputation for being one of Hollywood's more prominent World War II buffs. As both a film buff and a history buff, he's admittedly found many war films to be lacking, at least as far as their portrayal of the U.S. Navy is concerned. And interestingly enough, he at least partially attributed the misconceptions surrounding our naval forces may have come from, of all places, Star Trek.
In Greyhound, Tom Hanks plays a World War II officer in command of a ship that's in hot pursuit of Nazi U-Boats. It's not his first film that takes place on the water, nor his first time playing a military officer, but this is his first time portraying a member of the Navy -- and it seems like he was excited for the movie to reveal some lesser-known details about that branch of the military.
During a virtual press conference for Greyhound, which CinemaBlend attended, Tom Hanks told reporters that he's found most films about the U.S. Navy to be disappointing in some respects because they don't always get the basics right:
It's an interesting idea to consider. Hollywood has a long history of making historical dramas that are not all that historically accurate. There's also definitely something to be said about movies and TV series influencing how we perceive many different topics, for better or for worse.
So in that respect, part of the appeal of Greyhound may be that it offers us a closer look at how the Navy operates. Though critics aren't in love with Greyhound so far, there don't seem to be too many complaints about the accuracy of how it portrays the ins and outs of the Navy.
Have you had a chance to check out Greyhound yet? Let us know what you thought of it in the comments!
Your Daily Blend of Entertainment News
Thank you for signing up to CinemaBlend. You will receive a verification email shortly.
There was a problem. Please refresh the page and try again.