Clint Eastwood: 8 Fascinating Things To Know About The Actor/Director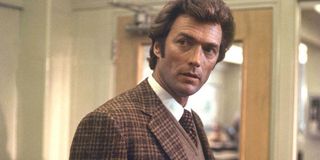 It's hard to think of too many actors/directors with more extraordinary lives and careers than Clint Eastwood. The superstar is a genuine movie icon, particularly in an era where that term can be overspent, and he continues to remain active even in his ninth decade. There's no doubt that Eastwood has accomplished a lot with his time in Hollywood and beyond. Here are some fun facts that you should know about the Oscar-winning moviemaker!
Clint Eastwood Was Fired By Universal Because Of His Looks, According To Burt Reynolds
In an industry that's often defined by how good you look and how you present yourself, it's hard to excel if high-level executives don't care for the cut of your jib. Eastwood is a handsome man but he's also known for his rough-and-tumble look. That's part of his appeal that made him a cinematic icon, though it provided rough beginnings. He was hired and subsequently fired by Universal as a contract player because they didn't like his looks, particularly his prominent Adam's apple. Burt Reynolds, who was also fired — albeit for different reasons -- revealed this information. In any case, despite this setback, these two stars found their way. Here's what Reynolds told Larry King (via CNN):
Clint Eastwood Was Only Paid $15,000 For A Fistful Of Dollars
As an actor making his way on Rawhide, Clint Eastwood was becoming a familiar face, though he wanted to expand himself into moviemaking. He got that opportunity with A Fistful of Dollars, the spaghetti western which helped cement his cinematic stardom. But when he agreed to star in this low-budget western, he didn't get a big payday. As Deseret News reported, Eastwood earned a mere $15,000 for the job, which is a fraction of what he earned for Rawhide overall— and it was certainly minuscule compared to what he rakes in today. Nevertheless, it was a success. Though when it came time to shoot the third film, The Good, The Bad, and the Ugly, Eastwood made out like a bandit.
As James L. Neibaur's biography, The Clint Eastwood Westerns, revealed, the then-rising actor earned $250,000, 10 percent of the film's box office, and a Ferrari for reprising his role as The Man With No Name following some initial reluctance to return to westerns at that stage in his career.
Clint Eastwood Wore The Same Poncho For The Dollars Trilogy, Plus Never Washed It (And Might Still Own It)
The next time you watch the Dollars trilogy, here's something to consider: throughout the making of these three Western classics, Clint Eastwood wore the same poncho. Not only that, but he never washed it. As he later explained, if you washed it, "it would fall apart." The actor also admitted in this interview that he still owns this piece of movie memorabilia, though it's hard to know if that's still true since he said this in 2002.
The Sully Director Survived An Emergency Plane Landing
In Sully, Clint Eastwood recreated the harrowing rescue of Flight 1549 on the Hudson River performed by Captain Chesley "Sully" Sullenberger. While Sullenberger's autobiography is the credited source material, there was an incident in Eastwood's past that might've informed these sequences. As Mirror reported, at some point during the 1950s, Eastwood was looking to spend time with his girlfriend and see his parents in Seattle, so he hitched a ride in a twin-engine Beechcraft. As the plane flew, the door popped open and wouldn't stay shut. He later jerry-rigged it with loose cables. As a storm approached, they flew above it. But oxygen was limited and the plane ran low on fuel. The air vehicle crashed landed in the sea, and Eastwood and the pilot swam through shark-infested waters to shore. Thankfully, they made it to shore safely.
Clint Eastwood Got Into Acting Because He Thought It Would Be Easy Work, According To Fritz Manes
The best actors make it look easy. When you watch movies or TV, you might think acting is a cakewalk. You say a few lines and hit a few marks, right? While those elements do come into play, the truth is that acting is tough stuff. But Clint Eastwood didn't realize that when he strolled into Hollywood. As a high school dropout working several odd jobs throughout his early life, film historian Richard Schickel noted in 1996's Clint Eastwood: A Biography that Eastwood was averse to hard work at that time. Fritz Manes, his longtime friend/producer, claimed he got into this business to avoid hard work like firefighting, lumberjacking, and steelworkers (his previous professions) before discovering the hard way that acting ain't as easy as it looks in the pictures.
Clint Eastwood Received Some Of France's Highest Honors
Clint Eastwood has received many honors throughout his life, including four Oscars, five Golden Globe awards, the Golden Lion award, and several other distinctions. But some of his biggest accolades came from France. In 2007, Eastwood was awarded French Ordre National de la Légion d'honneur, France's highest civilian distinction. French President Jacques Chirac claimed Eastwood embodied "the best of Hollywood." In 1994, Eastwood received the French Commander of the Ordre des Arts et des Lettres — another one of France's greatest, most prestigious honors.
Clint Eastwood Got The Role Of Dirty Harry Because Frank Sinatra Couldn't Hold A Gun
Believe it or not, Clint Eastwood wasn't the first actor considered for the title role in Dirty Harry. Or, at least, he wasn't the only actor considered. As Eastwood revealed in an MTV interview (of all places ...), Frank Sinatra very nearly got cast for the part, but he turned down for a specific reason: he couldn't hold a gun. Or, at least, that was the reason given to Eastwood. No matter. He accepted the role. The rest is history.
Clint Eastwood Passed On Playing Superman, John McClane, Bond, And Apocalypse Now
Just as it's hard to imagine anyone besides Clint Eastwood playing Dirty Harry or The Man With No Name, it's difficult to envision Eastwood playing John McClane in Die Hard, the Man of Steel, or James Bond. Yet, apparently, all those roles were on the table for Eastwood at different points in his career. As MTV News reported, Eastwood was approached to play Superman, but he said, "Superman? Nah, that's not for me." He didn't think it was a bad role, but he thought it was for "somebody" else. Similarly, as Collider reported, Eastwood was offered James Bond, but he turned it down, claiming it "didn't feel right" to take it shortly after Sean Connery's departure.
Additionally, as James Egan's book, 1,000 Facts About The Greatest Movies Ever Vol. 2, reported, Clint Eastwood owned the rights to Nothing Lasts Forever, the source material for Die Hard, and he intended to produce/star in an adaptation, but the time never became convenient. He was also offered the role of Captain Benjamin L. Willard (Martin Sheen's role) in Apocalypse Now, but he didn't want to spend four months in the Philippines, so he declined.
There are several other fun facts available about Clint Eastwood, including his musical history (and his composer resume), his eight children with six women (opens in new tab), how he once owned the largest hardwood tree in California, his twice-daily mediation practice over the past 40+ years, his avid golf fandom and his golf club, and his stint as the mayor of Carmel-By-The-Sea, California in 1986, but that's a credit to Eastwood's ever-expansive and diverse life/career, filled with many different triumphs and odd detours. Are you a fan of Eastwood as an actor-director? Let us know in the comment section!
Will is an entertainment writer based in Pittsburgh, PA. His writing can also be found in The Playlist, Cut Print Film, We Got This Covered, The Young Folks, Slate and other outlets. He also co-hosts the weekly film/TV podcast Cinemaholics with Jon Negroni and he likes to think he's a professional Garfield enthusiast.
Your Daily Blend of Entertainment News
Thank you for signing up to CinemaBlend. You will receive a verification email shortly.
There was a problem. Please refresh the page and try again.