What To Watch on Streaming If You Like Steve Carell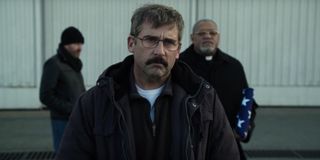 CinemaBlend participates in affiliate programs with various companies. We may earn a commission when you click on or make purchases via links.
Throughout the past 20 years, Steve Carell has gone from a recognizable standout to one of our biggest leading men in comedy. This transition didn't happen overnight, though it has allowed the actor to challenge himself and take on different roles throughout his career. Some of them were entirely lighthearted affairs. A few others were very serious, even jokeless, by design. And quite a few of them found humor and tragedy in equal measures.
It is a credit to Carell that he has allowed himself to try different things and explore different layers of comedy and drama throughout his career. His best projects tend to be smaller, more refined works, which includes The Office, though he has also succeeded in making some broader comedies shine. If you are a fan of Steve Carell, you should know that a number of his movies and shows are available to stream right now.
Little Miss Sunshine (2006) - Starz
A dysfunctional family lead by patriarch Richard (Greg Kinnear) takes a cross-country road trip when their young daughter (Abigail Breslin) enters the finals of a beauty pageant.
Why It's A Good Option for Steve Carell Fans: Following years of scene-stealing supporting roles, Steve Carell finally found his leading man status in 2005. When he returned the following year to play a supporting role in Sundance darling Little Miss Sunshine, it wasn't to prove his comedy chops, but rather to demonstrate his understated potential as a dramatic performer — a side of the newly-minted star that's since been seen in a few roles we'll mention later in this article. While this indie drama is often uproariously funny, there's a soft melancholy to its presentation that helped it stand out compared to other, more mainstream comedies. The results are as hilarious as they are heartfelt.
Stream it on Starz here.
Last Flag Flying (2017) - Amazon Prime, IMDB TV
Former Navy Corpsman Larry "Doc" Shepherd (Steve Carell) reunites with his Vietnam War friends, Marine Sal Nealon (Bryan Cranston) and Reverend Richard Mueller (Laurence Fishburne), to bury his son, who died in the Iraq War.
Why It's A Good Option for Steve Carell Fans: By most measures, Last Flag Flying flew under the radar, which is a shame because it's a terrific little movie and it features one of Steve Carell's best performances to date — dramatic or otherwise. Under the commendable helm of Richard Linklater, we get one of Carell's most nuanced, understated performances, which tend to be the roles where the actor excels. While he's known to play things big and hammy in a few recent performances, including Battle of the Sexes and The Big Short, these gentle roles oftentimes bring out his best work.
Stream it on IMDB TV here and on Amazon Prime here.
Despicable Me (2010) - Netflix
Criminal mastermind Gru (Steve Carell) uses a trio of orphans (Miranda Cosgrove, Dana Gaier, Elsie Fisher) as pawns for his latest grand scheme, only to discover that their unwavering love for this unlikely father figure melts his ice-cold heart.
Why It's A Good Option for Steve Carell Fans: It's weird to think that we're now 10 years removed from Despicable Me. The rambunctious animated comedy from once-unknown Illumination Entertainment has notably impacted modern family movies. The springy, goofy trilogy inspired many studios to remodel their movies into jokier, more cartoonish affairs, attempting to go toe-to-toe with the money-making animation house. Whether you like it or not, it's not terribly hard to see why Despicable Me made an impact. With its warm mix of Looney Tunes-esque goofiness and its big beating heart, Despicable Me became an instantly lovable new addition to many family movie collections.
Stream it on Netflix here.
Crazy Stupid Love (2011) - HBO Max
A recently divorced middle-aged man (Steve Carell) gets advice from a charming young bachelor (Ryan Gosling) on how to reclaim his manhood and pick up women at the bars.
Why It's A Good Option for Steve Carell Fans: Before the screenwriter became the showrunner behind NBC's This Is Us, Dan Fogelman wrote another interwoven ensemble piece with its own unexpected family twist. But this studio dramedy is notably much more lighthearted in its approach, with Steve Carell's character written with him in mind and playing to his charmingly awkward strengths as a lead star. Playing off of Ryan Gosling's charismatic confidant, these two actors. make for an enjoyable pair, with Carell, in particular, providing a nice balance of comedy and drama to this comfortable look at the complexities of relationships. It's not a must-see, but it's worth watching on a casual afternoon.
Stream it on HBO Max here.
Foxcatcher (2014) - Tubi
Based on the true story of Olympic wrestlers Mark (Channing Tatum) and David Schultz (Mark Ruffalo), who joined Team Foxcatcher, led by the elusive, eccentric millionaire John du Pont (Steve Carell), to train for the 1988 Olympic Games, with dire consequences.
Why It's A Good Option for Steve Carell Fans: Unquestionably one of Steve Carell's darkest, bleakest performances, the comedy actor sheds his warm demeanor and personable charm for this chilling portrayal of the late John du Pont, an heir to the E.I. du Pont with an unhealthy investment in Mark, played with chiseled-jaw determination by Channing Tatum. The results are a coldly compelling tale of fixation and obsession, paving the way for somber reverberations. Hidden under layers of make-up, Carell's moody, intense portrayal of Du Pont captures the psychopathy of this character to haunting results. It earned him his first and only Oscar nomination.
Stream it on Tubi here.
The Dana Carvey Show (1996) - Crackle
A short-lived sketch comedy show centered around SNL's Dana Carvey.
Why It's A Good Option for Steve Carell Fans: Through its irreverent attempts at counterculture humor, The Dana Carvey Show didn't find its audience on the air, only showing seven of its 10 intended episodes (an eighth was made but not released until later on), but it eventually became a cult favorite. Though its topicality prevents it from aging gracefully (it's also a product of the '90s in other ways), the show's wacky, off-kilter blend of absurdist and subversive comedy was better appreciated once it left primetime. The irony-laced show didn't find its crowd on ABC, though it'd fit comfortably with the likes of Comedy Central and Adult Swim. It was also a launching pad for Steve Carell and Stephen Colbert. The show's history was documented in Hulu's Too Funny To Fail.
Stream it on Crackle here.
Vice (2018) - Hulu
A darkly satirical biopic centered around Dick Cheney (Christian Bale) and how he became the most powerful Vice President in U.S. history.
Why It's A Good Option for Steve Carell Fans: As a scattershot and broad-reaching dissection of this modern political figure, Vice doesn't hit all of its targets with equal precision. Nevertheless, this vicious, unreserved cinematic attack on Dick Cheney isn't without its ferocious bits of impassioned indignation, particularly thanks to writer/director Adam McKay's liberated filmmaking and Christan Bale's excellent performance as our central focus. It could use another edit, and its reach doesn't always meet its grasp, but its punchy presentation is benefitted by its strong ensemble, including Amy Adams, Alison Pill, and Jesse Plemons. Additionally, Sam Rockwell and Steve Carell won over select critics with their performances as President George W. Bush and Donald Rumsfeld, respectively, particularly with the former's Oscar nomination.
Stream it on Hulu here.
Cafe Society (2016) - Amazon Prime
A starry-eyed young man (Jesse Eisenberg) moves to Hollywood in the 1930s and falls in love with a young assistant (Kristen Stewart) who is in an affair with his uncle (Steve Carell), a powerful talent agent.
Why It's A Good Option for Steve Carell Fans: Filling in for Bruce Willis following his departure from the project mid-production, Steve Carell wasn't given the luxury of time when it came to finding his character in this period dramedy. Nevertheless, in a starry cast that also includes Jesse Eisenberg, Kristen Stewart, Blake Lively, Parker Posey, Corey Stoll, Anna Camp, and more, Carell found his way in the prominent role, playing up the character's brash, pompous demeanor with dry wit and his own brand of arrogant bullishness. The results aren't as memorable or remarkable as a few other roles listed here, but Carell hurdles a tough gig.
Stream it on Amazon Prime here.
Seeking A Friend For The End Of The World (2012) - Starz
With the world set to end, a lonely man (Steve Carell) goes on a road trip to reunite with his long-lost sweetheart. Accompanying him along the way is his free-spirited neighbor (Keira Knightley).
Why It's A Good Option for Steve Carell Fans: A darkly funny, earnestly poignant cinematic reflection on humanity and human connection as seen by characters embracing (or, rather, learning to embrace) the world's ensuing demise, Seeking a Friend for the End of the World is an assured, morbidly entertaining directorial debut from Lorene Scafaria (Hustlers), aided by its smart screenplay, sharp cinematography, an inspired premise, and strong performances from our intentionally mismatched leads. While never comfortably finding its balance between the humor and tragedy of its story, that mix of hilarity and sadness informs it rather than detracts, giving it a gentle, sympathetic honesty.
Stream it on Starz here.
The Office (2005-2013) - Netflix
The Office is the NBC remake of the acclaimed BBC series of the same name which follows the day-to-day activities of Dunder Mifflin Paper Company, located in Scranton, PA, run by the incompetent boss, Michael Scott (Steve Carell).
Why It's A Good Option for Steve Carell Fans: If you're reading this list, it's likely that you're already familiar with The Office. Especially if you're a fan of Steve Carell. Previously serving as a standout in Anchorman, Bruce Almighty, and The Daily Show, Carell was already gaining notice, though it was with the one-two punch of The 40-Year-Old Virgin and The Office in 2005 that Carell cemented his leading man status. The mockumentary sitcom's universal appeal has made it a beloved hit even years after it left the air, sparking some intense streaming service bidding wars, and its continued appeal is certainly tied to Carell's endearing, Emmy-nominated performance.
Stream it on Netflix here.
Beautiful Boy (2018) - Amazon Prime
Based on the memoirs by father David Sheff and his son, Nic, Beautiful Boy chronicles a father (Steve Carell) struggling to cope with his son's (Timothee Chalamet) debilitating drug addiction.
Why It's A Good Option for Steve Carell Fans: Though the process of adapting two separate memoirs simultaneously produces some narratively uneven results, Beautiful Boy is a tender, quietly reflective family drama that's appropriately sobering. Guided by its central two performances, we're given an intimate, revealing look at addiction and the consequences it brings for not only the ones afflicted by the disease but those who must watch and/or worry about their loved one's well-being. While Chalamet's performance is ultimately the showier of the two, resulting in the rising star gaining more award attention, Carell's performance is affecting in its remorseful, somber examination of a patriarch who only wants to help his son.
Stream it on Amazon Prime here.
Alexander And The Terrible, Horrible, No Good, Very Bad Day (2014)
Based on the beloved children's book of the same (very long) name by Judith Viorst, our titular misfortuned character (Ed Oxenbould) wonders why only bad things happen to him, only for the rest of his family to experience their own terrible, horrible, no good, very bad day.
Why It's A Good Option for Steve Carell Fans: It's hard to compete with the classic source material, but this adaptation has a good cast, including Steve Carell, Jennifer Garner, Dylan Minnette, and more, and there are plenty of goofy antics found in this family-friendly movie from director Miguel Arteta (Chuck & Buck, The Good Girl).
Stream it on Disney+ here.
What's your favorite Steve Carell movie or show? Let us know in the comment section below!
Your Daily Blend of Entertainment News
Will is an entertainment writer based in Pittsburgh, PA. His writing can also be found in The Playlist, Cut Print Film, We Got This Covered, The Young Folks, Slate and other outlets. He also co-hosts the weekly film/TV podcast Cinemaholics with Jon Negroni and he likes to think he's a professional Garfield enthusiast.