Russell Crowe's Best Movies, Ranked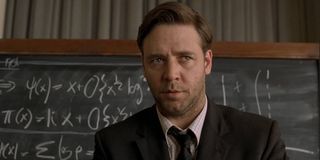 From L.A. Confidential to Gladiator, the list of Russell Crowe movies that have made a mark on the film industry and culture as a whole largely goes unmatched. Over the course of the New Zealand-born actor's sensational career, Crowe has given some of the most quotable lines, transformed his body, mind, and soul, and laid it all out on the line in order to give the best performance possible.
But deciding on which one of the Academy Award-winning actor's roles is the best is no easy task, even for someone who lived through Russell Crowe's heyday at the top of Hollywood. When you consider that Crowe continues to give great performance after great performance year after year all these years later, you begin to realize how much of a treasure he is. And with Crowe's upcoming road-rage thriller Unhinged being one of the first movies to hit theaters in several months with a July 31, 2020 release date, it doesn't look he is planning on stopping anytime soon.
10. Romper Stomper (1992)
Some people may think that Russell Crowe came out of nowhere with the 2000 release of Ridley Scott's Gladiator, but the man who would play the soldier-turned-gladiator had a noteworthy career for more than a decade before becoming a household name. First, let's consider Crowe's performance as Hando, the leader of an Australian white nationalist gang in the 1992 neo-Nazi skinhead drama Romper Stomper. Although extremely violent and ruthless, Crowe's portrayal of the conflicted and confused gang-leader gave audiences a little taste of what was to come from the talented and convincing actor.
The subject matter of the movie (a skinhead gang viciously attacking groups of Asian immigrants) is a little hard to swallow, especially in today's climate, but this visceral Australian drama does offer some hope for change as one of the main characters sees the fault in his ways. Too bad it was too late for Russell Crowe's Hando, who found himself caught in a vicious cycle of hate and violence.
9. 3:10 To Yuma (2007)
Russell Crowe was no stranger to the western genre by the time he appeared in James Mangold's 2007 action thriller 3:10 to Yuma, and it showed in his captivating performance as gang leader Ben Wade. The movie follows Christian Bale's Dan Evans as he's tasked with delivering Wade over to the authorities to be sent to prison, but the movie is really about honor and redemption as the two characters learn to overcome their pasts and attempt to turn a new leaf. This is especially true about Wade, who despite being a ruthless bandit with some pretty deplorable outlaws in his gang, has a moral compass not like anything else seen in the genre.
And if the drama of 3:10 to Yuma isn't enough, Russell Crowe's Ben Wade is also part of some amazing action sequences involving multiple shootouts, chases on horseback, and plenty of fights and scuffles. The way Crowe dedicates himself to the conflicted gang leader is something that few actors could pull off in a manner that comes off so effortlessly.
8. The Nice Guys (2016)
In the last 15 or so years, Russell Crowe has become primarily known for more dramatic roles, so it was a breath of fresh air to see him play a tough enforcer by the name of Jackson Healy against private eye Holland March (Ryan Gosling) in Shane Black's 2016 neo-noir comedy The Nice Guys. Seeing Crowe as a middle-aged, down-on-his-luck, but tough criminal with a strange sense of humor was one of the best surprises the year it came out, and stands toe-to-toe with anything he's done before or sense.
The pairing of Russell Crowe and Ryan Gosling is like something right out of Shane Black's buddy cop scripts from the 1980s and '90s, and is just as fun and enjoyable as anything from the first two Lethal Weapon movies and his directorial debut with Kiss Kiss Bang Bang in 2005. And watching the movie you can see just how much fun Crowe is having riffing with Gosling and bringing one of Black's best characters to life. And though it's often forgotten, The Nice Guys is worth digging up.
7. Mystery, Alaska (1999)
Released the same year as one of Russell Crowe's biggest roles at the time (more on that later on), the 1999 sports comedy Mystery, Alaska came out just before the actor took his career to the next level. Often forgotten thanks to being overshadowed by bigger and better sports movies of the era, the story of a small group of amateur hockey players taking on the New York Rangers in an outdoor exhibition game is still a fun one to watch thanks to Crowe's performance as local sheriff and team captain John Biebe.
Russell Crowe's Biebe lacks the sophistication and smoothness that he brought to some of his other characters later on in his career, but this fiery leader of a group of local outcasts and young talent is enough to get the team and town behind him even when the odds are stacked against them.
6. Cinderella Man (2005)
Just six years after starring in Mystery, Alaska, Russell Crowe went back to the sports genre with the 2004 historical drama Cinderella Man in which he plays James J. Braddock, a former Irish-American boxer who is forced to return to the ring after an injury to provide for his family during the Great Depression. Anyone less talented or charismatic would have gotten lost in the fold when paired up against Renée Zellweger and Paul Giamatti, but not Crowe. Throughout the Ron Howard-directed sports biopic, Crowe is lights out in his portrayal of the former heavyweight champion of the world.
Russell Crowe is able to pull off bot the physical and emotional side of this torn athlete as he struggles to make things right for his family in one of the toughest periods in American history, and the actor carries that weight better than most could even dream of pulling off. Each punch, bruise, and broken bone can be felt thanks to his astounding performance by one of Hollywood's greatest actors.
5. Master And Commander: The Far Side Of The World (2003)
Who knows if we'll ever get a sequel, but the 2003 epic Master and Commander: The Far Side of the World is one of the most riveting and enjoyable additions to Russell Crowe's extensive filmography. Set during the Napoleonic Wars, Crowe's portrayal of Captain Jack Aubrey is leaps and bounds better than most movies primarily set on a 19th Century warship. With intense battles, tense dialogue, and some pretty great musical numbers, Crowe is in peak form as the fictional member of the Royal Navy.
Crowe's performance is fueled both by a desire to best the enemy ship Acheron as well as look after the men on his ship, especially Dr. Stephen Maturin (Paul Bettany) who wants nothing more than to explore the Galapagos islands before they journey back home. The tenderness exhibited by Crowe's Aubrey in these scenes adds another level to the performance that makes this one of his best.
4. The Insider (1999)
Despite not being talked about enough in the 21 years since its 1999 release, Michael Mann's The Insider is one of the best written and directed corporate crime thriller to hit theaters, and that's before taking the phenomenal performances by Russell Crowe and Al Pacino into consideration. Based on the 60 Minutes segment about the man who uncovered the Brown & Williamson cigarette company's role in making their products more addictive, the film served as a taste of what was to come from Crowe in his performance as Dr. Jeffrey Wigand.
Russell Crowe would master the art of portraying someone dealing with paranoia several years later in A Beautiful Mind, but his work in The Insider laid the groundwork for his depiction of John Nash. The role even netted Crowe his first Academy Award nomination, which was one of seven the movie received ahead of the 72nd annual award show.
3. L.A. Confidential (1997)
The final three movies on this list are the heavy hitters of Russell Crowe's career and helped lay the groundwork for everything that would come in the years to come. Starting off we have the 1997 noir crime thriller L.A. Confidential, which was based on the outstanding James Ellroy novel of the same name. With a cast that also included Kevin Spacey, Guy Pearce, Kim Basinger, and Danny DeVito, nothing compares to Russell Crowe's portrayal of Officer Wendell "Bud" White who is tasked with investigating a vicious and mysterious homicide case.
Watching Russell Crowe's face as he tries to solve the "Nite Owl" homicides only to uncover a deeper and darker mystery never gets old, and there isn't anyone better to ride along with as White navigates the darkened alleys and lit-up avenues of the 1950s Los Angeles in search of truth, no matter where that path leads.
2. A Beautiful Mind (2001)
Russell Crowe was firing on all cylinders in his portrayal of the acclaimed yet troubled American mathematician John Nash in Ron Howard's 2001 biographical drama A Beautiful Mind. Following the talented and world-renown Nash from his early days at Princeton up to his 1994 Nobel Prize ceremony, the movie doesn't hold back on his battle with paranoid schizophrenia, which is painfully shown in Crowe's heartbreaking and uplifting performance.
And while some of the details of John Nash's mental illness were stretched to be more dramatic for the Academy Award-winning film, that shouldn't take away from the masterful depiction of a man in crisis carried out by Russell Crowe, especially when he is being carried away in mental hospital or when cracking the Soviet codes at the Pentagon.
1. Gladiator (2000)
And then finally there is Ridley Scott's 2000 epic Gladiator which turned Russell Crowe into an international superstar seemingly overnight, and for good reason. Crowe's performance as Maximus Decimus Meridius as he is transformed from a Roman general into an enslaved gladiator fighting to survive only long enough to get vengeance against the man responsible for the brutal murder of his wife and child is the stuff of legend. Seriously, there's nothing better than when he finally reveals himself in middle of the Roman Coliseum with the iconic "My name is Maximus" speech.
Throughout the entire movie, the audience can't help but root for the charismatic and pained depiction of the enslaved gladiator as he finds a reason to fight and inspire his fellow fighters and the thousands of Romans watching from the stands. It should come as no surprise that Russell Crowe took home the Oscar for Best Actor for this performance, a performance that is still unmatched.
I don't see how any other Russell Crowe movie could top Gladiator, but if you don't agree, make sure to leave a comment and complete the poll found down below.
This poll is no longer available.
Your Daily Blend of Entertainment News
Philip grew up in Louisiana (not New Orleans) before moving to St. Louis after graduating from Louisiana State University-Shreveport. When he's not writing about movies or television, Philip can be found being chased by his three kids, telling his dogs to stop barking at the mailman, or yelling about professional wrestling to his wife. If the stars properly align, he will talk about For Love Of The Game being the best baseball movie of all time.