10 Great Hockey Movies And Where To Stream Or Rent Them Online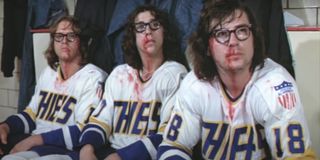 CinemaBlend participates in affiliate programs with various companies. We may earn a commission when you click on or make purchases via links.
There are a lot of great hockey movies out there, but sometimes finding them online can be harder than getting a Gordie Howe hat trick (score a goal, record an assist, and get in a fight in a single game), but lucky for you, there are plenty of places streaming some of the classics. And if that fails, you can always rent them on Amazon.
I've scoured pretty much every streaming service known to man and come up with a list of 10 great hockey movies and where you can stream or rent them right now. There are great hockey movies out there, so make sure to check these out on Amazon, Netflix, HBO, and other services before it's too late.
Slap Shot (1977)
The 1977 cult classic Slap Shot is probably one of the most beloved hockey movies out there. With a cast headlined by Paul Newman as Reggie Dunlop, the down on his luck player/coach of the minor league outfit Charlestown Chiefs, this violent, raunchy, and all around fun hockey movie follows what is believed to be the final season of downtrodden team before it folds after the local mill plans to cut 10,000 jobs. Things change, however, when Dunlop brings in the Hanson Brothers (Steve Carlson, Jeff Carlson, and David Hanson), who debut a brutal and unorthodox style of hockey, bringing in droves of fans.
What this movie lacks in glitz, glamour, and big name hockey stars in a movie, it makes up for it with punchy dialogue, a great underdog story, and buckets of blood and broken teeth. Plus, the "Old-time hockey" speech remains to be one of the greatest locker room speeches in sports movie history.
Stream it on Starz here (opens in new tab).
Rent it on Amazon here.
Miracle (2004)
The "Miracle On Ice" will forever go down as one of the quintessential moments in Olympic history. With a squad made up of mostly college players, the United States National Hockey Team took down the heavily-favored Soviet Union in a matchup that, despite what you might think, wasn't the final round of the 1980 Winter Olympics hockey tournament. The event was brought to the big screens with the Disney-produced Miracle in 2004, which follows Kurt Russell as U.S. coach Herb Brooks as he puts together his team all the way to the iconic game in Lake Placid.
Miracle is about as inspirational as a family-friendly sports movie gets. To call this movie (and the story on which it is based) an underdog story would be doing the team and this emotional movie a disservice of epic proportions. If you want to feel good about and see some great hockey action, give this one a shot.
Stream it on Disney+ here (opens in new tab).
Rent it on Amazon here.
The Mighty Ducks (1992)
Say what you will about the legality of the Flying V play displayed in the 1992 children's sports movie The Mighty Ducks, but you'd be lying if you said you didn't jump to your feet and pump your fists at your local theater when you first saw that scene. Everyone and their mother was obsessed with the team of outcasts, misfits, and a high-profile attorney trying to avoid jail time as they pull together and take on the fearsome Hawks to the delight of just about everyone.
Another fun game to play with The Mighty Ducks is to imagine that the hockey story is just the b-plot and that the movie is really about Charlie (Joshua Jackson) really wanting his mom, Casey Conway (Heidi Kling) to marry Gordon Bombay (Emilio Estevez). Try it next time you watch The Mighty Ducks. It changes everything.
Stream in on HBO here.
Rent it on Amazon here.
Goon (2011)
Co-written by Jay Baruchel and Evan Goldberg (writer of films like Superbad, Pineapple Express, and This Is The End), the 2011 surprisingly good comedy Goon is probably one of the most hard-hitting and raucous minor league hockey movies since Slap Shot more than 30 years earlier. Starring Sean William Scott as Doug "The Thug" Glatt, a dim-witted bouncer who is hired by a Canadian hockey team as an enforcer, the movie shows the greasy and unsophisticated side of the violent sport. And with a cast that also includes Liev Schreiber, Alison Pill, and Jay Baruchel, there are as many laughs as punches.
Fans of minor league hockey will surely enjoy this cult classic in the making, especially for how it accurately portrays the teams and leagues where skill on the ice isn't the most important quality of a hockey player.
Stream it on Netflix here (opens in new tab).
Rent it on Amazon here.
Mystery, Alaska (1999)
Although it may not be the most well-remembered hockey movie to come out in the past 20+ years, Mystery, Alaska is a damn good time. Set in a small town in Alaska that is thrown into the spotlight when the New York Rangers announce an exhibition game against a local team, the 1999 film follows the town's residents as they come to terms with their pasts and look towards taking on a professional team on their home ice.
What the movie lacks in as much hockey action as others on this list, it makes up for it with engaging stories involving characters brought to life by names like Russell Crowe and Burt Reynolds. And who doesn't love seeing professional sports teams playing games on a makeshift outdoor hockey rink?
Stream it on Cinemax here.
Rent it on Amazon here.
Sudden Death (1995)
Okay, okay, the 1995 Jean-Claude Van Damme thriller Sudden Death isn't the typical hockey movie. Hell, it's not even really a sports movie. Answer me this… what other hockey movie features one of the most ridiculous action stars of the 1980s and 1990s disguising himself as a goalie in the middle of an NHL game? In the movie, Van Damme plays a former fireman Darren McCord who happens to be at the right place at the right time when a group of terrorists holds the vice president hostage at the Stanley Cup Finals.
Like pretty much every other Jean-Claude Van Damme movie, only the Belgian martial artist can save the day, the vice president, and thousands of hockey fans before the whole building is destroyed. And with some of the biggest names in hockey of the era, names like Mario Lemieux and Luc Robitaille, what's not to love about this campy action flick?
Stream it on Starz here (opens in new tab).
Rent it on Amazon here.
Canadian Bacon (1995)
Academy Award-winning filmmaker Michael Moore only made one non-documentary film, and that happens to be Canadian Bacon, a 1995 comedy that depicts a fictional war between the United States and Canada that is partially the result of John Candy's character, Bud Boomer, starting a fight between Canadian and American hockey fans after making fun of Canadian beer during an international game. The conflict also might have something to do with the President of the United States (Alan Alda) trying to improve his approval rating by starting a war.
The hockey might be minimal in Canadian Bacon, but it is central to the plot, and we see one of the greatest hockey style fights in all of movies when the Americans and Canadians start a massive brawl. Plus, this is the final release starring John Candy following his 1994 death.
Stream it on Amazon here.
Happy Gilmore (1996)
Purists may argue that Happy Gilmore isn't a hockey movie, but come on, if Adam Sandler's character wouldn't have been rejected from joining his local squad (can't skate, no accuracy, but can fight and has one hell of a slap shot), he never would have been invited to join the Pro Golf Tour and defeat the greatest villain of 1996, Shooter McGavin (Christopher McDonald). Hell, Happy even uses a hockey stick/golf club hybrid throughout the movie. And he's wearing a Boston Bruins jersey while getting his ass kicked by Bob Barker.
With all the attitude and none of the skill of hockey, Happy Gilmore is one of the most hilarious movies and don't listen to anyone that tells you otherwise.
Stream it on Cinemax here.
Rent it on Amazon here.
The Rookies (1989)
There are some pretty popular hockey movies out there and then there are ones like the 1989 made for TV drama The Rookies, which centers around Cory Dyson (Yannick Bisson), a 17-year-old hockey standout who leaves his small town in hopes of earning a spot on the Canadian National Team. This movie has it all — a hotshot teenager learning that the world is bigger than his hometown, a rivalry with an enemy turned friend who wants to get back to the NHL, and a love story.
The Rookies is pretty hard to find, and most people probably haven't even heard of it before now, so don't miss your opportunity to check it out on Amazon before it disappears for another 30 years.
Stream it on Amazon here.
The Cutting Edge (1992)
And then there is the 1992 romantic comedy The Cutting Edge from David Starsky himself, Paul Michael Glaser. The film follows Doug Dorsey (D.B. Sweeney), a hockey player sidelined by a nasty injury as he is paired with Kate Moseley (Moira Kelly) for figure skating at the 1992 Winter Olympics. Okay, this isn't your traditional hockey movie, it's not even really a hockey movie, but Dorsey brings some of his skills behind the stick to the figure skating world with tremendous success.
Anyone who loves hockey but has a soft side will probably enjoy The Cutting Edge. And plus, you don't have to tell anyone that you're watching it, just go to Showtime and you're good to go.
Stream it on Showtime here (opens in new tab).
Those are just 10 of the great hockey movies available for streaming or online rental. Some of these are classics while others will maybe one day be seen in the same light. In the meantime, make sure to check back on everything streaming here at CinemaBlend.