Jon Hamm Is Making A New Fletch Movie With A Cool Director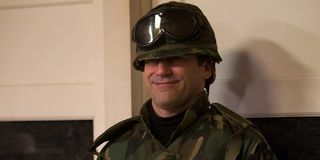 Throughout his career, Jon Hamm has shown a great deal of range, from his smooth-talking ad man days as Don Draper to his sillier performances in movies like Tag. Now, it looks like he's going to be flexing his comedic and witty muscles again in a new Fletch movie alongside cool Superbad director Greg Mottola. Here's the latest.
According to Deadline, Jon Hamm has signed on to star and produce in Fletch as a full-length feature. Like the Chevy Chase films in the '80s, this Fletch movie will be based on the mystery novels by Gregory McDonald about an investigative reporter. In this specific case, Jon Hamm's Fletch will be based on Gregory McDonald's second novel Confess, Fletch, where the title character gets involved in a case with multiple murders and he's the prime suspect. On top of that, he has to find his fiancée's stolen art collection.
The first Fletch movie starring Chevy Chase did well at the box office and received warm reviews, helping it kick off a sequel in Fletch Lives. That sequel didn't live up to the original, however. But now we'll get a new perspective on the character.
A Fletch reboot has long been in movie purgatory. Over the years, many big names have been attached, including Jason Lee, Kevin Smith, Zach Braff and Bill Lawrence. The comedy franchise also got bounced around from studio to studio, like Miramax, Warner Bros. and Relativity. Now, it seems, Miramax will be the one to produce the Jon Hamm version of Fletch.
A big part of Fletch's comedy is watching the titular character wear multiple disguises to get to the bottom of a story. It's similar to a degree to Dana Carvey's The Master of Disguise, except nowhere near as silly. Chevy Chase played Fletch with his typical deadpan, sarcastic wit that one might expect from the actor.
With that in mind, it'll be interesting to see what Jon Hamm does to bring that character to life. I think it's fair to say Jon Hamm is probably still best known as Don Draper, but he's done a decent amount of comedy in the past, too. For instance, he's probably been one of the best Saturday Night Live hosts for some time now and also has roles in movies like Bridesmaids.
On top of that, the directing talent for Fletch is promising. Most know Greg Mottola from his hit comedy movies Superbad and Adventureland, but he's also been a director on HBO TV show The Newsroom. His sense of cinematic style and a knack for humor should be an awesome asset to the project.
Of course, this assumes that this time around the Fletch reboot won't once again get stuck in development hell. As always, we'll keep you updated on the latest when it lands.
Your Daily Blend of Entertainment News