Saturday Night Live: The 10 Best SNL Hosts, Ranked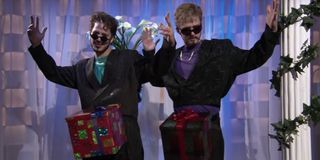 (Image credit: NBC)
For decades, many of the most important and often celebrated moments in comedy have had one thing in common: Saturday Night Live. NBC's 90-minute, live variety show has become such a cultural staple that most celebrities gauge their success on landing the coveted role of the SNL host.
Many have filled the position with glorious results, often getting invited back -- such as Christopher Walken, Robert DeNiro, or former cast member Tina Fey. Some have hosted Saturday Night Live with less than impressive results, but we won't talk about them here.
We will talk about the artists who have who have helped define Saturday Night Live sometimes better than the cast members. Live from CinemaBlend, it's the top 10 best SNL hosts of all time.
10. Emma Stone
Before she was the Academy Award-winning star of La La Land or The Favourite, Emma Stone showed remarkable comedic talents in her earlier roles in Superbad and Easy A. Those gifts effortlessly carried over when she first hosted Saturday Night Live in 2010.
She has since returned to Studio 8H three times and has starred as a couple of recurring characters, one that has received praise (Wallace, the worst gift giver at bridal showers) and another that wastes Emma Stone's talents (a ditzy hot blonde on a bedroom poster brought to life). Stone also made an appearance at SNL's 40th anniversary special, giving a spot-on impersonation of Gilda Radner's Roseanne Roseannadanna.
9. Jon Hamm
No one could have predicted that the star of one of TV's most intense dramas, Mad Men, would be such dynamic comedy tour de force. Jon Hamm first hosted Saturday Night Live in a 2008 episode that practically saved the show's 34th season from a complete dry spell, parodying his role as Don Draper and even his own name as a spokesman for "Jon Hamm's John Ham": lunch meat you eat on the toilet.
The Golden Globe-winning actor has returned to host SNL only two more times, but has made frequent cameos as either himself or for a recurring appearance of one his original characters, like mystical saxophonist Sergio. One of his most unexpected, yet decidedly fitting, appearances was a live action portrayal of Ace from Robert Smigel's animated Ambiguously Gay Duo, alongside Jimmy Fallon as Gary.
8. Melissa McCarthy
She may have been a fan favorite on Gilmore Girls and won an Emmy for the CBS sitcom Mike & Molly, but Melissa McCarthy's true television home is on the stage of Saturday Night Live. The two-time Academy Award-nominee has hosted the sketch comedy program five times and always with something memorable to show for it.
Melissa McCarthy has been the driving force of many uproarious sketches throughout her time as a host, including professional pizza eater Barb Kelner or monstrously abusive college basketball coach Sheila Kelly. Yet, her most famous SNL work thus far would have to be her outlandishly exaggerated take on former White House Press Secretary Sean Spicer, whose only comment in response to the impression was that she needed to "slow down on the gum chewing."
7. Candice Bergen
As the first woman to ever host Saturday Night Live, legendary television icon Candice Bergen took the show by storm on the series' fourth episode. Many would even credit the Murphy Brown star as the first to set the tone for the definitive SNL host, with her confident onscreen presence.
Candice Bergen easily could have been a Not Ready For Primetime Player if she had not already been made for primetime stardom. This must be why she also became the first host to be asked back for a second gig, eventually holding a personal record of seven episodes.
6. Betty White
Betty White has only hosted Saturday Night Live once, but her sole episode as host is the stuff of legend. Thanks to a successful Facebook campaign, the actress and comedian took the stage as the oldest SNL host in the show's history at 88 years old.
She had already gained newfound attention from her role as Ryan Reynolds' spunky grandmother in The Proposal, but Betty White's surprisingly uproarious hosting gig showed a fearless side of the actress few had expected. That side came out on full blast when she appeared on SNL's 40th anniversary special, during which she made out with Bradley Cooper.
5. Richard Pryor
It may sound hard to believe, but late, legendary comedian Richard Pryor only hosted Saturday Night Live once in his career, too. It only seems hard to believe because so many classic moments came out of his episode alone.
As the first black actor to host the show, Richard Pryor brought his signature, and often controversial, comedy style to Saturday Night Live. From his outrageous opening monologue to his risque "Word Association" test sketch opposite Chevy Chase, facing off against John Belushi's Samurai, and a reimagining of The Exorcist from the point of view of black priests, his episode is a whole season's worth of iconic moments all rolled into 90 minutes.
4. Tom Hanks
He is one of the most beloved and respected actors of all time. Some would say Tom Hanks has earned his street cred from playing Forrest Gump or voicing Woody in Toy Story, but I think we can thank Saturday Night Live.
Tom Hanks starred in the original Five-Timers club for his fifth hosting gig in 1990 and has returned four times as host since, and in several cameos as exaggerated versions of himself and recurring characters he originated on the show. Younger viewers probably know him best as everyone's favorite Halloween party guest, David S. Pumpkins.
3. Alec Baldwin
He is the current holder of the record for hosting Saturday Night Live the most at 17 times. Never has Alec Baldwin disappointed from the Studio 8H stage.
Sometimes it is hard to believe that Alec Baldwin has never been an official SNL cast member, especially with his unbelievable talent for impersonations, such as Tony Bennett, and brimming commitment to every sketch. Now, he shows up nearly every single week as the show's in-house Donald Trump.
2. Justin Timberlake
Saturday Night Live has had a few big "events" in its time, from its anniversary specials to its annual holiday sketch compilations. However, no SNL event is bigger than when Justin Timberlake is in the house.
The pop star and actor is the star of multiple recurring sketches that never fail to get a laugh, such as "Barry Gibb Talk Show" or "Omeletteville" and his many subsequent follow-ups, or anything he's teamed up with Andy Samberg for. Justin Timberlake has cemented himself as Saturday Night Live's definitive host for the current generation.
1. Steve Martin
No matter what generation it is, no Saturday Night Live host is as timeless as Steve Martin. Since his first time in 1976, he has practically made it his lifetime goal to be the ultimate SNL host, despite not returning since 2009, and has never let that promise down.
It is impossible to discuss the most celebrated moments of Saturday Night Live without mentioning Steve Martin, from his performance as one half of the Festrunk Brothers (the "Wild and Crazy guys") with Dan Aykroyd, donning pharaoh's robes for a musical tribute to King Tut, and a tongue-in-cheek, decades-long battle for SNL dominance against Alec Baldwin. He may never have been a cast member (also surprisingly), but he is one of the program's biggest names.
This poll is no longer available.
Your Daily Blend of Entertainment News
Jason has been writing since he was able to pick up a washable marker, with which he wrote his debut illustrated children's story, later transitioning to a short-lived comic book series and (very) amateur filmmaking before finally settling on pursuing a career in writing about movies in lieu of making them. Look for his name in just about any article related to Batman.
Your Daily Blend of Entertainment News
Thank you for signing up to CinemaBlend. You will receive a verification email shortly.
There was a problem. Please refresh the page and try again.