The Incredible Amount Of Money Tenet Needs To Make To Break Even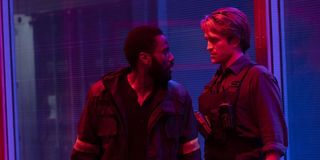 Had things gone according to plan, Christopher Nolan's latest movie, Tenet, would be opening in theaters this month. Alas, with the health crisis still raging, Tenet has been pushed to next month, and assuming it's able to open at this new time, it'll be one of the first major releases to play in a traditional theatrical setting in months. However, in order for Tenet to simply break even at the box office, it'll apparently need to pull in around $800 million.
This information comes from IndieWire, which reports that Warner Bros poured around $400 million into Tenet's production and marketing costs. So Tenet will need to make double that if the studio wants to recoup those spent dollars at the bare minimum, and only when Tenet comes close to the $1 billion milestone and beyond will the movie start to make a profit. Even in normal times, that'd be quite the uphill battle.
But these are most certainly not normal times, and there are other factors to consider regarding Tenet. The longer a movie goes unreleased, the higher the interest rates on the money a studio borrowed to make said movie go up. Furthermore, while theater chains like AMC and Regal are looking to reopen, considering that the pandemic is still going strong, particularly in the United States, it's looking increasingly unlikely that'll happen anytime soon, at least on a widespread level.
So Warner Bros finds itself in quite the dilemma, as it obviously needs Tenet to be financially successful, but also has to account for the continuing precarious situation with theaters. Let's also not forget that Tenet is currently slotted in its third release date. It was settled in July 17 for a long time, then got pushed to July 31 in mid-June, and now it rests in mid-August. That's not to say another delay might be forthcoming, but it certainly shouldn't be discounted.
Still, if Warner Bros is looking for Tenet to make the big bucks, then staying the course with a theatrical release is still the best option, whether that's next month as planned or being pushed back yet again. Who knows, maybe Tenet could even open in certain international territories on time, but its domestic release is held back. There's also a VOD/streaming release as an option, but considering how much Christopher Nolan loves the big screen experience, that seems improbably.
In any case, considering the scale of most of Christopher Nolan's movies, not to mention the fact that an actual plane was blown up for a major stunt, it's not surprising to hear that Tenet was so expensive simply on the production level. So one can't be blamed for worrying about Tenet's commercial performance, and we'll just have to wait and see how things ultimately play out.
Tenet follows a secret agent and his allies trying to prevent World War III from happening, with a strange phenomena called time inversion factoring into the proceedings. Its main cast includes John David Washington, Robert Pattinson, Elizabeth Debicki and Kenneth Branagh, among others.
As things stand now, Tenet is slated to arrive in theaters on August 12, and we here at CinemaBlend will keep you apprised of more updates concerning the movie as they come in. For now, look through our 2020 release schedule to learn what other movies are expected to come out later this year.
Connoisseur of Marvel, DC, Star Wars, John Wick, MonsterVerse and Doctor Who lore. He's aware he looks like Harry Potter and Clark Kent.
Your Daily Blend of Entertainment News
Thank you for signing up to CinemaBlend. You will receive a verification email shortly.
There was a problem. Please refresh the page and try again.