The Hardest Hamilton Song To Write, According To Lin-Manuel Miranda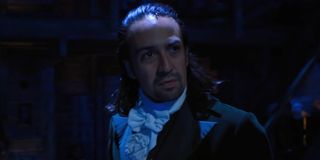 This story contains spoilers for major plot points in the musical Hamilton! Tread lightly if you don't want to know what happens.
If you've watched Hamilton, either on a stage or on Disney+, then you know there is not a second of the entire musical that could be deemed "easy." At over three hours long, and packed with dozens of songs that combine history and hip hop in a way that's as clever as it is emotional, it's a tour de force. However, according to Lin-Manuel Miranda, there was one song from his Tony-winning epic that was especially hard to write.
Lin-Manuel Miranda's Hamilton does more than just tell the story of America's first treasury secretary -- but it does follow the events of his life very closely, offering an intimate idea of what it may have been like to be the one Founding Father who died in a duel, long before his time was up. In the penultimate scene, Alexander Hamilton meets his long-time rival, Vice President Aaron Burr, on the dueling ground at dawn. In the Disney+ documentary Hamilton: History Has Its Eyes On You, Lin-Manuel Miranda explains that moment was the hardest to get right and that inspiration hit him unexpectedly:
Hamilton begins with Aaron Burr telling us he shot Alexander Hamilton. So even if you've never cracked open an American history book, the scene in question is undeniably tense because we've been waiting for it the whole play. Basically, it's the moment the entire musical has built to, so it makes sense why Lin-Manuel Miranda felt so much pressure to get it right.
However, his instinct to utilize quiet paid off. Before Alexander Hamilton meets his untimely fate in Hamilton, time seemingly stops as a bullet moves toward him in slow motion. Alexander Hamilton reflects on his life and how he's gotten to this point before aiming his pistol at the sky, giving up his shot at taking Aaron Burr's life.
While some of Lin-Manuel Miranda's creative choices for Hamilton have come under scrutiny, few would question the musical's ability to pack a devastating punch in its most emotional moments. While the finale of Hamilton has rightfully earned a lot of attention for tying the story up -- and paying homage to his wife, Eliza Hamilton, his death scene needed to strike the perfect note, too. Making it less of a song and more of a quiet reflection was a bold choice, but it's safe to say it was the right one.
Hamilton is still available to stream on Disney+, along with Hamilton: History Has Its Eyes On You.
Your Daily Blend of Entertainment News