What The Shrek Cast Is Doing Now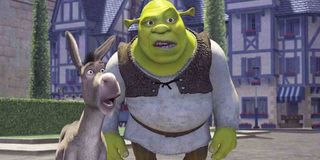 Can you believe it's almost been 20 years since Shrek came out? Because I can't. DreamWorks Animation's 2001 CG-animated comedy made a huge, sloppy splash upon release, and we're still feeling its reverberating waves throughout pop culture today. Would we have Despicable Me without Shrek, for instance? The satirical take on the familiar fairytale tropes provided hearty laughs for audiences of all ages, while its winning romanticism and heartfelt message provided an emotional sincerity that allowed the movie to become the animated hit we know it as today.
While it spawned a few sequels that didn't capture the same critical appeal, the Shrek franchise was a very lucrative property, complete with a spin-off, several specials, and a potential fifth film looming forward. Though the movie features many famous voices, the main cast all saw their profiles rise thanks to this Oscar-winning hit. Here's what Shrek's voice cast is doing now.
Mike Myers (Shrek)
As the titular ogre, Mike Myers brought Shrek to life and helped the character become an unlikely household name. Once set to star Chris Farley before the actor's tragic and untimely death, Myers became more-than-a-suitable replacement, bringing heart, humor, warmth, and passion to the role of this eventually smitten social outcast with a great deal of irreverence for fairytale lore. As an actor, the Saturday Night Live veteran was previously best known for his work in Wayne's World and the Austin Powers trilogy, both of which he helped write. Following his portrayal of the green character, in addition to the sequels that followed, Myers starred in The Cat in the Hat, Inglorious Basterds, and The Love Guru, the latter of which he also wrote and produced. Additionally, he recently starred in Bohemian Rhapsody and Terminal in minor roles, the former as a tribute to Wayne's World.
Recently, Mike Myers played Tommy Maitland, a gregarious English emcee, in ABC's short-lived two-season revival of The Gong Show. It was played as a secret in the first season, though the promotions were open about it before the second. Additionally, Myers served as a producer, though he was credited as his character. Outside of his acting work, Myers directed the 2013 documentary Supermensch: The Legend of Shep Gordon, and in 2016, he published his first book, Canada.
Next, Myers has signed on to star and executive produce a currently untitled comedy series for Netflix, which will last six episodes and feature Myers playing a variety of characters. Details are slim otherwise, and it's unknown if the show is still in development and when we can expect it to premiere. There's also the lingering promise of Austin Powers 4, though the tragic death of Verne Troyer puts those possibilities in doubt.
Cameron Diaz (Princess Fiona)
As Princess Fiona, the young woman locked away in a castle who finds an unlikely suitor in Shrek, Cameron Diaz played the most transformative role in Shrek, it's safe to say. Originally set to be played by Janeane Garofalo, Diaz became another late addition to the cast, though she certainly provided a memorable voice-only performance in the animated hit.
In the years since Shrek's release, Diaz has notably been seen in Gangs of New York, In Her Shoes, The Holiday, Bad Teacher, My Sister's Keeper, Knight and Day, The Box, The Green Hornet, and The Other Woman, to name a few titles. After she appeared in 2014's Annie remake, Diaz stepped away from acting and this film remains her last title. Diaz married musician Benji Madden in 2015, and the married couple welcomed their first child, Raddix Chloe Wildflower Madden, on December 30th, 2019.
Outside of acting, Cameron Diaz published The Body Book: Feed, Move, Understand, and Love Your Amazing Body in 2013. The former actress also recently published The Longevity Book: The Science of Aging, the Biology of Strength, and the Privilege of Time. Additionally, with Katherine Power, Diaz launched an organic wine brand called Avaline earlier this year.
Eddie Murphy (Donkey)
As the fast-talking, wise-cracking Donkey, Eddie Murphy turned this little creature with a big heart into one of the most beloved animated characters of the early 21st century. It also gave Murphy's career a fallback after his career was threatening to stall. The Saturday Night Live veteran is one of the most acclaimed stand-up performers ever, and his film work in 48 Hours, Trading Places, Coming to America, The Nutty Professor, Doctor Dolittle, and the Beverly Hills Cop movies made him one of the most bankable comedy stars of the '80s and '90s.
As a voice actor, outside of Shrek, Murphy also lent his talents to Mulan and the animated series, The PJs. He also earned an Oscar nomination (and almost a win) for his acclaimed supporting turn in Dreamgirls. It's believed that his acting work in Norbit might've prevented him from getting his much-expected Oscar glory.
After an unremarkable string of movies, including Meet Dave, Imagine That, Tower Heist, and A Thousand Words, Eddie Murphy made a triumphant comeback in 2019's biopic, Dolemite is My Name, based on the life of Rudy Ray Moore. He received a Golden Globe nomination for this performance. Up next, Murphy will reprise his role of Prince Akeem in Coming 2 America, which is expected to come out later this year. There's also development on Beverly Hills Cop 4 currently in the works, which is expected to be released via Netflix. Additionally, last year, Murphy returned to host Saturday Night Live for the first time in decades.
John Lithgow (Lord Farquaad)
As Lord Farquaad, the tyrannical ruler of Duloc, John Lithgow gave a booming voice to an antagonistic character of short stature. A well-versed veteran of the stage and screen, Lithgow has lent his talents to numerous projects over the years, including 3rd Rock from the Sun, for which he won three Emmys, Dexter, for which he won another Emmy, The Crown, for which he won another Emmy, Terms of Endearment, Harry and the Hendersons, Dreamgirls, Footloose, The World According to Garp, and, most recently, Pet Sematary (2019) and Bombshell.
Some other recent acting credits include Rise of the Planet of the Apes, This is 40, Love is Strange, Interstellar, Pitch Perfect 3, Daddy's Home Two, and Late Night. In addition to his screen work, Lithgow has won two Tony Awards for 1973's The Changing Room and 2002's Sweet Smell of Success.
In addition to this acting work, John Lithgow also published Dumpty: The Age of Trump in Verse, a book of poems and illustrations, with a follow-up, Trumpty Dumpty Wanted a Crown, expected to be released in September. Lithgow can currently be seen in HBO's Perry Mason. He's also expected to star in the new FX series, The Old Man.
Conrad Vernon (Gingerbread Man)
As Gingerbread Man, better known by his loving nickname "Gingy," Conrad Vernon played an endearing voice throughout the Shrek series. His likable supporting role in this DreamWorks Animation franchise is a scene-stealer, as the wailing high-pitch squeak of this edible persona is always quick for hearty laughs. While this performance is a winner, voice acting isn't his claim-to-fame.
Vernon works primarily behind-the-scenes, notably serving as a story artist and additional dialogue on Shrek before he got a big boost with the sequel. Specifically, he became a co-director on Shrek 2, paving the way for him to helm/co-helm Monsters vs. Aliens, Madagascar 3: Europe's Most Wanted, Sausage Party, and 2019's The Addams Family. He also did story artistry for Trolls and The Emoji Movie, the latter of which he directed in select sequences. Next, Vernon is expected to call the shots on the upcoming Addams Family sequel.
Vincent Cassel (Robin Hood)
As "Monsieur" Robin Hood, Vincent Cassel provided a uniquely arrogant and slimy version of Robin Hood, one who proved to be more antagonistic than past iterations of the character. A French actor who rose to prominence with his acclaimed performance in 1995's La Haine, Cassel is also well-known for his performances in Eastern Promises, Ocean's Twelve and Thirteen, Black Swan, and Jason Bourne.
Most recently, Cassel was seen in this January's Underwater. He also appeared in the newest season of HBO's Westworld. While Shrek is the only time Cassel has notably done voice-only work in an American film, Cassel has done the French-language versions of other prominent American films, including all the Ice Age movies, where he voiced Diego, as well as Robots and Lascars.
Cody Cameron (Pinocchio/Three Little Pigs)
As both Pinocchio and The Three Little Pigs, Cody Cameron's voice work in Shrek gave life to four of the funniest standout characters in the animated hit, and he'd get more time to play them in the sequels to follow. Outside of his voice work, Cameron was also a story artist and dialogue writer for the film, and he would continue to expand his resume behind the scenes. He was also a story artist on Shrek 2, Madagascar, Shrek the Third, Surf's Up, Cloudy with a Chance of Meatballs, and, most recently, Spider-Man: Into the Spider-Verse. He would go on to direct Open Season 3, Cloudy with a Chance of Meatballs 2, and several episodes of Netflix's new animated series, Green Eggs and Ham, based on the Dr. Seuss book of the same name.
Chris Miller (Magic Mirror/Geppetto)
As the charismatic voice behind Magic Mirror, as well as the briefly-heard Geppetto, Chris Miller gave life to a memorable new take on the reflective character — in more ways than one. As a voice actor, Miller continued to play different characters throughout the Shrek franchise, though he worked primarily behind-the-scenes at DreamWorks Animation. He was a story artist and dialogue writer for Shrek, and he was head of story on Shrek 2. He also did story artist work on Antz, Madagascar, Monsters vs. Aliens, and, most recently, The Addams Family. Miller later went on to co-write/co-direct Shrek the Third and he directed the 2011 Shrek spin-off, Puss in Boots.
Beyond providing the voice of Magic Mirror, Miller is also known as the voice of Kowalski in the Madagascar movies.
Aron Warner (Big Bad Wolf)
Though he played a very limited role in the first Shrek movie (he's not even credited for it on IMDb), Aron Warner's voice performance as Big Bad Wolf became a growing part of the Shrek sequels, notably with Shrek 2's cold opening. Outside of his voice portrayal, Warner served as a producer on the first three Shrek films and he was an executive producer on Shrek Forever After. Warner previously produced Antz and he became an executive produce Free Birds, The Book of Life, and, most recently, last year's The Angry Birds Movie 2. He was also one of the writers behind Shrek the Third.
Christopher Knights (Thelonius/Blind Mouse)
As Thelonius, Lord Farquaad's henchman who is always wearing a cloaked hood over his head, Christopher Knights played one of the best, most scene-stealing characters in Shrek, and it's a deep shame that the character didn't play an active role in the sequels. Nevertheless, as one of the blind mice, Knights continued to be heard throughout the franchise, and he also lent his voice to other DreamWorks Animation projects, notably as the voice of Private in the Madagascar movies and The Penguins of Madagascar spin-off.
Outside of his voice work, Knights was the first assistant film editor on the first Shrek, and he remained an associate editor on the sequels to follow. He was also an associate editor on Shrek 4-D, Megamind, and Abominable. He was also the editor on 2014's rom-com, Lust for Love.
Who is your favorite Shrek character? Which voice do you like the most in this animation sensation? Let us know in the comment section below!
Your Daily Blend of Entertainment News
Will is an entertainment writer based in Pittsburgh, PA. His writing can also be found in The Playlist, Cut Print Film, We Got This Covered, The Young Folks, Slate and other outlets. He also co-hosts the weekly film/TV podcast Cinemaholics with Jon Negroni and he likes to think he's a professional Garfield enthusiast.