Denzel Washington And Julia Roberts Are Reteaming For Their First Movie In Decades And It Sounds Awesome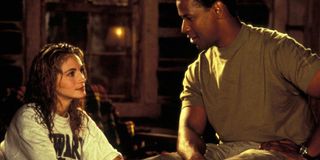 It's been almost 30 years since Denzel Washington and Julia Roberts have been in a movie together. They famously teamed up in John Grisham's The Pelican Brief back in 1993. Now, they're finally reteaming for an awesome new high-profile movie, which will be directed by Mr. Robot's Sam Esmail.
According to Deadline, Denzel Washington and Julia Roberts will reunite for a movie adapted from the upcoming novel by Rumaam Alam entitled Leave The World Behind. With Sam Esmail helming, this will also mark him and Julia Roberts reuniting, with the having previously worked on the Amazon TV show Homecoming.
The novel Leave The World Behind has been in high demand among studios. Netflix, Apple, MGM and other studios unleashed a massive bidding war to obtain the rights to the movie, but ultimately Netflix won out.
The amazing thing is that the novel hasn't even been published yet. It will end up hitting bookstands this fall on October 6 under Ecco, a publishing imprint of HarperCollins. Still, from the sound of it, the premise of the novel is both exciting and prescient.
The story is about Amanda and Clay's vacation with their teenage children in a remote part of Long Island. This reprieve becomes interrupted by Ruth and G.H., the owners of the holiday home Amanda and Clay are staying at, who tell them that there's been a blackout in the city, cutting off internet, television and radio. When more unusual things begin happening, like sonic booms and strange animal migrations, the families begin to fall apart.
To a degree, Leave The World Behind sounds awfully familiar to It Comes At Night, another paranoid psychological thriller about a family in a secluded house that has to deal with whether or not to trust interlopers. Despite that, It Comes At Night had flaws that Leave The World Behind might overcome.
Also, the book's paranoid premise seems right up Sam Esmail's alley, as he's a writer and director who does a good job crafting psychological thrillers and making his audience play guessing games. I can only imagine what he'll do with a post-apocalyptic story like this.
It can't be said enough how smart it is to bring Denzel Washington and Julia Roberts back together after such a long time. It really heightens the anticipation and gives this movie a bit of star power. Their chemistry in The Pelican Brief is now the stuff of legend, so I can only imagine they'll be able to bring that back a second time.
At least from what we know now, Denzel Washington will play the homeowner and Julia Roberts will play the renter. Unlike The Pelican Brief, where the two were partners, this movie seems to pit them against each other. Stay tuned to Cinema Blend for more news on Leave The World Behind and more.
Your Daily Blend of Entertainment News