Jenny Slate: 6 Cool Things To Know About The Sunlit Night Star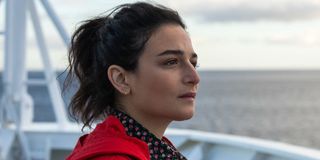 I will never forget the time I first saw Jenny Slate on an episode of the underrated and underloved HBO detective comedy series Bored to Death where she appeared as an organic co-op member and short-lived lover of the Jonathan Ames (Jason Schwartzman). It was around the time the comedian first showed up as a featured player on Saturday Night Live, and I just had a feeling that big things were coming her way.
More than a decade later and Jenny Slate is a relatively big name in show business with a Netflix comedy special, a spot on the New York Times Best Sellers list, and appearances in some of the most popular and successful animated film franchises of the 21st Century, the star of films like Obvious Child and most recently The Sunlit Night has had one hell of a career since getting her big break in television all those years ago. But as more and more people begin to hear about Jenny Slate they may not know what she is, what she has done, and what she aspires to be. Let's take care of that…
Jenny Slate Getting Hired On SNL Is A Beautiful Story And Sometimes Even She Forgets It
When people say Jenny Slate and Saturday Night Live in the same sentence, they usually start talking about the "F-Bomb" gaffe that some believe led to her 2010 dismissal, but there is so much more to the comedian's experience on the sketch comedy show than that fateful moment. During a 2014 appearance on the WTF with Marc Maron Podcast, Slate shared a touching story about the day Lorne Michaels offered her spot on the show, stating:
Earlier in the interview, Jenny Slate explained that working on Saturday Night Live was a childhood dream of hers and something she had always wanted to do. Getting the chance of a lifetime was something that she'll never forget, even if things didn't turn out as expected.
The Comedian Doesn't Blame Her "F-Bomb" Gaffe For Getting Fired From SNL
Jenny Slate's dismissal from Saturday Night Live, the one mentioned just above, is often thought to be a result of the former featured player dropping a hard F-bomb on the episode of the 2009-2010 season, but there's much more to the story than that. Slate, who has been hearing about it for well over a decade now explained the situation to InStyle in 2019 where she set the record straight:
Getting fired from Saturday Night Live wasn't the worst thing to happen to Jenny Slate as her career seemed to take off in the years following the F-bomb heard around the world. And during that time she has carved out her own place in the world with her distinct style of humor and those amazing Marcel the Shell with Shoes on children's books. Speaking of which…
The Marcel The Shell With Shoes On Creator Once Wrote A Looney Tunes Script
Between her stint on Saturday Night Live and breakout with the 2014 romantic comedy Obvious Child, Jenny Slate was quite busy working on the Marcel the Shell with Shoes On viral videos and even two books, as well as appearances on shows like House of Lies and Parks and Recreation. If that wasn't enough for one person to handle, she was even brought on to write a script for a Looney Tunes movie for Warner Bros. In a 2014 interview with Yahoo Movies, Slate explained why she thinks the movie will never get made:
And even though the Looney Tunes script didn't work out, Jenny Slate would go on to have roles in a number of different children's shows and movies like Zootopia, The Secret Life of Pets, Despicable Me 3, and Muppet Babies, where she is the voice of Miss Nanny.
Jenny Slate Wrote Her Book Little Weirds As A Way Of Getting Back To The Person She Once Was
In November 2019, Jenny Slate released her first book of non-Marcel material titled Little Weirds. Not the traditional memoir, Slates' first go at a collection of essays and small musings included some pretty engaging material about the actress and comedian's hopes, fears, and lessons learned throughout her life up to that point. Shortly after the book was released, Slate sat down with Sam Jones on his Off Camera Show where she explained that she came up with the idea of writing the book after she stopped tweeting so much due to being attacked in random online encounters, stating:
A lot of the topics Jenny Slate discusses in her non-fiction book also appear in her Netflix special Stage Fright, which dropped shortly before the release of Little Weirds in October 2019.
Jenny Slate Initially Felt Hesitant About Producing A Stand-Up Special, But Found A Way To Make It Her Own
Anyone who was watched Jenny Slate's Netflix special Stage Fright knows that it's not a normal stand-up routine. In fact, it's full of improvised bits, small stories, and most of all, fascinating documentary footage of the comedian at home with her parents and grandmothers, who honestly steal the show. Shortly after the special debuted, Slate sat down for an interview on The Daily Show with Trevor Noah to provide some insight into how it all came together:
Slate went on to explain that she wanted to show the world where she came from and the different storytellers that helped raise her and help her grow into the comedian she is today. The special, which admittedly takes a few minutes to get going, is one of the most unique of its kind.
Jenny Slate Left Big Mouth After Four Seasons Because She Thought A Biracial Character Should Be Voiced By A Person Of Color
Jenny Slate has been a major fixture on the Netflix animated series Big Mouth since the show's beginning where she has voiced the character of Missy Foreman-Greenwald. But just a few months before the Season 4 premiere, the actress announced that she would no longer voice the biracial character because she thought that role should go to a person of color. In an Instagram post dated June 24, 2020, Slate stated:
The actress went on to admit that she can't change her past but she can take some accountability for the choices she made throughout her career before pledging to continue to engage in anti-racist action moving forward.
See, Jenny Slate is more than just the comedian who got fired from Saturday Night Live after dropping an F-bomb on live television. I hope that all of this helps you all better understand and appreciate the talented, clever, and unique actress and comedian. You can catch Jenny Slate in The Sunlit Night, which is available to rent or purchase (opens in new tab).
Philip grew up in Louisiana (not New Orleans) before moving to St. Louis after graduating from Louisiana State University-Shreveport. When he's not writing about movies or television, Philip can be found being chased by his three kids, telling his dogs to stop yelling at the mailman, or yelling about professional wrestling to his wife. If the stars properly align, he will talk about For Love Of The Game being the best baseball movie of all time.
Your Daily Blend of Entertainment News
Thank you for signing up to CinemaBlend. You will receive a verification email shortly.
There was a problem. Please refresh the page and try again.