Jenny Slate Wrote A Looney Tunes Movie That We'll Never See, Here's Why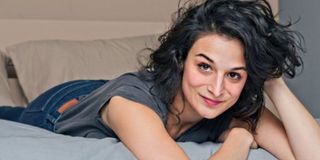 After just one season on Saturday Night Live, Jenny Slate was cut loose. But it turns out that stepping away from the big fat sketch show was a great career move, whether or not it was by choice. Since then, Slate has been popping up on a slew of comedy shows, from Bored to Death, Hello Ladies and Girls to Parks and Recreation, Bob's Burgers, Married and Kroll Show. But the small screen is not the only place she's thriving. Studios are tapping this sharp comedy mind for screenplays, including the Looney Tunes.
With Jenny Slate's buzzed-about comedy feature Obvious Child coming out on DVD and Blu-ray, she sat down with Yahoo Movies. Amid talk of this daring rom-com and Slate's viral vids "Marcel the Shell with Shoes On," they discussed her attempt at penning a Looney Tunes movie for Warner Bros. Mind you, it's a movie Slate believes will never be made, at least not from her script. She explains:
Considering Slate's brand of humor has a healthy dose of wackiness and physical comedy, I can see why Warner Bros. went to her with a Looney Tunes property. While a lot of Slate's comedy has been aimed squarely at adults--including Obvious Child -- her "Marcel the Shell with Shoes On," which she voiced and created with her husband Dean Fleischer-Camp, showed a more family-friendly side of her comedy stylings.
Check out the cute and quirky wonder of Marcel the Shell with Shoes On below:
It's thrilling to think that a studio like Warner Bros. took notice of Slate, as they damn well should. And yet, it's a bit of a bummer to hear that her Looney Tunes screenplay has been shelved indefinitely. But Jenny Slate is hopeful that this won't be her last brush with studio big wigs. "I want to write a studio movie," Slate offers, "but probably one that's for me to be in."
To that end (perhaps), Slate and Fleischer-Camp have big plans for their Marcel the Shell with Shoes character. They are developing a movie about the sneaker-wearing shell, though no firm plans on when that might roll into production are being shared at present. But Slate's "in the future" assurance makes us happy as a clam…shell.
Staff writer at CinemaBlend.
Your Daily Blend of Entertainment News
Thank you for signing up to CinemaBlend. You will receive a verification email shortly.
There was a problem. Please refresh the page and try again.