No, Jenny Slate Did Not Get Fired For Dropping F-Bomb On SNL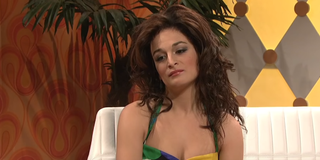 When it comes to actress and comedian Jenny Slate's brief stint on Saturday Night Live, many believed that she was fired because she used the word fuck during a skit. The thought was that SNL's creator and executive producer, Lorne Michaels, didn't appreciate cursing on live television and that's the reason she got the boot. However, Slate is here to set the record straight once and for all.
Jenny Slate had just landed a spot on Saturday Night Live in 2009, but the actress only lasted for one season before Lorne Michaels let her go. During her very first episode, Slate played a biker in a sketch she wrote and starred in opposite Kristen Wiig, and let the offending word fly on live TV. Slate has always stood by the fact that the cursing was an accident, but the damage was done. The line in question was this:
It was one of the only times a curse word had made its way onto Saturday Night Live and the sketch and subsequent firing are still a topic of conversation a decade later. In an interview with InStyle, Jenny Slate cleared the air about the incident.
Although it's frustrating that the actress continues to be questioned about the incident, Jenny Slate's cursing on Saturday Night Live was recently trotted back out for public discussion. Many claimed her firing was unfair in light of SNL's hiring of controversial comedian Shane Gillis. Gillis was quickly fired from SNL after outcry from online fans who believed his stand-up was offensive, but the fact that he was hired in the first place rubbed people the wrong way.
Despite her post-SNL success, Jenny Slate still wonders if things had been different had she been a man.
Despite her firing, Jenny Slate didn't let that one incident keep her down, though she'll be the first to admit how hard she is on herself and her work. Since her days on SNL, Slate has appeared in several TV shows (Bob's Burgers) and movies (Landline). She had a memorable recurring role as Mona-Lisa Saperstein on NBC's Parks and Recreation and received critical acclaim for her turn as Donna Stern in the indie flick, Obvious Child.
Jenny Slate's next project is an animated TV series called The Great North, which is about a single dad living in Alaska with his family. The actress will be providing the voice work for one of the characters.
Until we hear more about Jenny Slate's new series, be sure to check out our complete guide to every new and returning show set to premiere through November.
Your Daily Blend of Entertainment News