Jenny Slate: 7 Great Movie Performances, Including The Sunlit Night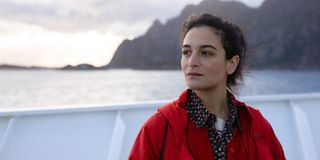 In recent years, Jenny Slate has propelled herself into a dependable comedic talent and an indie darling, on screens both big and small. Notably with the release of this month's The Sunlit Night, Slate only continues to demonstrate her expendable and trustworthy star talents while also showcasing her dramatic range. When it comes to her growing film career, Slate is constantly establishing herself and making a name for herself through a variety of likable, enjoyable new film roles. With that said, let's celebrate just a few great Jenny Slate movie performances from the multi-talented actress/comedian.
The Sunlit Night (2020)
The Sunlit Night is a prime example of when a leading performance outshines a movie. Please pardon the pun. Though it's bolstered by nice cinematography and lovely Norwegian landscapes, this Sundance indie falls into too many tropes and cliches, while also suffering from several oddly wavering subplots and diverting attentiveness to side characters who don't add much focus. As a result, it becomes yet another coming-of-age story about a character finding themselves that ironically never finds itself. Yet, Jenny Slate's vulnerable, and, yes, radiant screen presence lifts this movie up and brings some emotional sincerity that isn't found in its paint-by-numbers narrative.
It's such a gently captivating performance that it almost makes the movie work. Slate's clear star power cannot be dismissed; it's a shame that she brings such vibrant engagement to this lacking and noticeably edited-down misfire. But she burns bright.
My Blind Brother (2016)
While it doesn't land on sure footing, My Blind Brother is nicely elevated by its central trio of performances from Nick Kroll, Adam Scott, and Jenny Slate. The easy, enjoyable chemistry shared between the former and the latter, especially, helps the movie work past its tonal inconsistencies and its insecurities regarding its darkly comedic subject matter.
Centered around an unaccomplished brother (Kroll) who must constantly live in the shadow of his arrogant, demanding, overachieving blind brother (Scott), particularly when they compete for the same woman (Slate), My Blind Brother takes a premise that could've easily landed sideways and finds some nice, winning moments of humanity and surprising laughs — notably through its charming turn from Slate, who brings dynamism to a character who might've been two dimensional from a less talented performer. Particularly when the actress shares the screen with Kroll, this movie sparks.
The Secret Life Of Pets (2016) & The Secret Life Of Pets 2 (2019)
As the lovable personality behind Marcel the Shell with Shoes On, it became apparent early into Jenny Slate's career that, in addition to all her other talents, she's also a great, extremely funny voice actress. She has continued to prove her vocal talents in a number of movies and shows, but The Secret Life of Pets 1 & 2 remains one of her most recognizable roles.
As the voice of Gidget, the fluffy white Pomeranian with a big heart and a sunny disposition, Slate is a lot of fun in this spunky, outspoken character, providing a sweet, infectiously charming energy to this good-hearted pet. Though the movies themselves don't necessarily reach the top tiers of CG animation, Slate's vocal performance remains a highlight, and her high-pitch voice matches the character well.
Zootopia (2016)
Likewise, Jenny Slate found a great avenue for her versatile voice talents with Disney's acclaimed Zootopia. As the literally sheepish Assistant Mayor Bellwether, Slate was able to play the character's seemingly good-natured sweet side only to later unveil the character's true dark side to great effect.
In this multi-layered role, Slate allowed audiences to believe both the character's harmless demeanor and her calculating interior without ever making it too jarring, forced, or unbelievable. That's certainly a great credit to this burgeoning voice star, one who only continues to impress inside the voice booth. It helps to sell the Oscar-winning Disney film's thematically dense second half, and this lucrative hit ultimately contains one of Slate's finest vocal performances.
Joshy (2016)
In an ensemble that includes Thomas Middleditch, Adam Pally, Alex Ross Perry, Nick Kroll, Brett Gelman, Aubrey Plaza, Alison Brie, and more, Jenny Slate is only one piece in the finely-casted 2016's sleeper, Joshy, though she is certainly a highlight. As Jodi, a bachelorette who joins along for an extremely unconventional bachelor party, Slate takes what might've been an unremarkable role in a weaker performer's hands and brings her usual brand of sweet sincerity and gentle warmth, bringing out the likable emotional side of this darkly probing dramedy.
It's a performance that ultimately helps the movie reach its goal rather than fully stands out on its own, but Slate brings her own individual charms anyway, making for another likable, appealing performance from the dependable comedic/dramatic star. Even in a cast this stacked, Slate is a bright spot.
Landline (2017)
Reuniting with her Obvious Child collaborator Gillian Robespierre, Landline is a sophomore feature that doesn't exactly reach the same heights as its predecessor but it recaptures a lot of its appealing comfortable, and believable sensibilities. Focused on the interconnected lives of a multi-generational family (John Turturro, Edie Falco, Jenny Slate, Abby Quinn) and the two sisters who find themselves connected whenever they suspect that their dad might be having an affair, this familiar-but-easygoing '90s period piece doesn't break too many new grounds when it comes to Sundance dramedies, but the cast helps it shine, particularly with Slate providing another star-worthy turn.
As the eldest sister, Slate brings her typical brand of emotional searching and mature instability to good effect, providing another winning, enjoyable performance in this emotional, potentially autobiographical tale.
Obvious Child (2014)
Though Jenny Slate found fame through Saturday Night Live and the aforementioned Marcel the Shell with Shoes On, 2014's off-kilter rom-com, Obvious Child, truly became the star's breakout role. Based on the short film of the same name, Gillian Robespierre's first feature was an exceptional star vehicle for Slate, who brings her typical heart and sincerity to this personal and authentic feature.
Plus, as a film that's made with the intention of removing the stigma surrounding abortion, there is a purposefulness to the movie's punchy presentation that gives it weight and clear focus. But Slate is the key to the introductory movie's success, particularly through her relatable humor and sparkling personality which feels unabashedly true to her voice and character. This is also accomplished by incorporating Slate's actual stand-up, which blends realism and believable fiction to this personable directorial debut.
Do you love Jenny Slate? What's your favorite performance? Please let us know in the comment section below!
Your Daily Blend of Entertainment News
Will is an entertainment writer based in Pittsburgh, PA. His writing can also be found in The Playlist, Cut Print Film, We Got This Covered, The Young Folks, Slate and other outlets. He also co-hosts the weekly film/TV podcast Cinemaholics with Jon Negroni and he likes to think he's a professional Garfield enthusiast.