12 Cool It: Chapter Two Behind-The-Scenes Facts You Might Not Know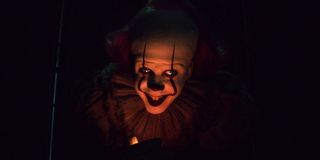 It's nearly been a year since we saw IT: Chapter Two, the second and presumably final installment in Warner Bros' expansive blockbuster adaptation of Stephen King's beloved, best-selling horror epic. With its $80 million budget and its epic expectations, this is one of the biggest horror movie events of the past few years, and it provided a spectacle that, for many King fans, proved fairly satisfying in terms of scale and scares. It's never easy to make a movie this massive, and there are many fun, interesting behind-the-scenes facts to be mined. Here are just a few of our favorites from the blockbuster.
The Filmmakers De-Aged The Child Actors From The First Movie
Whether it's The Irishman, Gemini Man, or any number of recent high-budget blockbusters, de-aging is turning into the new Hollywood craze, with its opportunity to provide some flexibility for filmmakers to film A-list actors performing as their younger selves (or, at least, a variation of their younger selves).
In an odd turn-of-events, IT: Chapter Two opted to use de-aging technology on their child protagonists for a few flashback sequences. Since the children obviously aged between filming the first movie and the second, the filmmakers used a number of techniques to make them look as young as they did before (including leg shaving and eyebrow plucking), but it was primarily thanks to de-aging technology that they kept the kids looking somewhat as young as they did before. It's reportedly the first horror film to use this technology.
Bill Skarsgard Would Skype His Brothers Dressed Up As Pennywise
If you spend your days dressed up as a giant clown — even a freaky, menacing one like Pennywise — there's a good chance you're going to get into a few antics along the way. Sure enough, Bill Skarsgard had some good fun in his elaborate white make-up and costume — including at least a few Skype sessions with his brothers. They apparently were fans of their brother's portrayal (and understandably so) and they'd reportedly always get a kick out of seeing their younger sibling dressed to the nines in this extravagant display. So much so that Skype calls became a regular thing.
The Bathroom Scene Had 4,500+ Gallons of Fake Blood
When you make a horror movie, it's nearly a given that loads of fake blood will factor in at some point. When you make a movie that's as big as IT: Chapter Two, one of the most expensive horror movies in cinematic history, you're gonna need a hell of a lot of fake blood. Sure enough, as it was revealed by Jessica Chastain, IT: Chapter Two apparently holds a record-breaking 4,500+ gallons of fake blood during the bathroom scene, where they literally paint the walls with blood (yet again) with a tidal wave of internal fluids.
As you can imagine, it wasn't a pretty sight on-set, but it makes for an appropriately grisly sight on the screen. Plus, Chastain claims she actively pushed for more blood, knowing audiences would want it.
Bill Hader And James Ransone Improvised The Pomeranian Scene
Although he's a well-established comedic actor and improviser, Bill Hader didn't get too many chances to flex his quick wit in IT: Chapter Two, sticking to the script more often than not. But the actor did get a couple of chances to riff, as he noted in an interview with ScreenCrush, and one opportunity came from an unlikely source.
Pretty late into the three-hour blockbuster, Hader's Richie and James Ransone's Eddie find themselves in the unlikely company of a Pomeranian. The baffled reactions of the characters weren't insincere. According to Hader, he improvised this whole scene with his screen partner, producing an odd moment of levity in this midst of this intense, extra-long horror movie. Rather ironic, though, that in a movie with a giant murderous clown, Hader didn't get too many opportunities to clown around himself. But time wasn't a luxury here.
Stephen King Asked For The Paul Bunyan Scene To Be Added Into The Film
It'd be an understatement to say that Stephen King played a huge influence on this two-part horror movie extravaganza. The films were adapted from his 1138-page tome of a novel, and they pay their respects to his book and several other adaptations throughout the course of their runtimes.
It should be noted that quite a few liberties were taken with the source material, particularly in the second chapter, but there are a few sequences that were practically ripped straight out of the book. That includes the Paul Bunyan set piece during the middle chunk of the movie. Both the idea and the imagery came from King's words, and King made a point to ask the filmmakers to include it inside this much-anticipated sequel. It came as no surprise, then, that the filmmakers obliged.
The Only Time Both Losers Clubs Were Together Was During The Table Read
Even after years and distance tears them apart, the Loser Gang stays connected or becomes reconnected through their shared bond and collective need to defeat Pennywise once-and-for-all. While the young Loser Gang and the adult Loser Gang each spend ample time together in one or both of these movies, these two bands of leading actors only ended up meeting once during the process of making this second, final installment.
Indeed, their only shared interaction came from the table read for IT: Chapter Two, as THR reported, which certainly proved to be a very surreal experience for everyone involved. Alas, while it's a shame they couldn't interact more, it makes sense why they didn't collectively share any screen time together.
The Actress Who Played Eddie's Mom Also Played His Wife
Casting is often key to the success of many movies, and it's one of the most important, underappreciated jobs in Hollywood. There are so many options when it comes to any given role, and audiences will only end up seeing the person who was picked — for better or worse.
When it comes to IT and IT: Chapter Two, the casting department found a way to bring Molly Atkinson on-board for not one, but two key roles for one of our central characters. In the first movie, Molly Atkinson played Sonia Kaspbrak, the demanding, very controlling mother of Eddie (Jack Dylan Grazer). In addition to briefly reprising this role in the sequel, Atkinson was also cast as Myra, Eddie's equally controlling wife. Some folks say men marry their mothers, but the casting department took that adage to a whole other level.
Director Andy Muschietti Made A Cameo During The Pharmacy Scene
Some of my favorite easter eggs are director cameos. Especially if you're familiar with the director, their work, and, in this case, their appearance, there is an exhilarating thrill that can come from catching even a brief glimpse of the respective moviemaker in front of the screen. If you're not in the know, it shouldn't interrupt the movie experience. If you are in the know, it gives you a quick little jolt of excitement.
Whether or not people recognized him, director Andy Muschietti decided to make his own quick cameo in IT: Chapter Two. He can be seen perusing the aisles whenever Eddie stops by the pharmacy. If you didn't recognize Muschietti, you likely thought nothing of this cameo. But if you're a fan and know him, this was a fun surprise.
The Vomit Scene Almost Made James Ransone Pass Out
While there were a number of creepy, slimy, icky, and flat-out gross moments to be found in both IT movies, one of the nasty scenes in IT: Chapter Two was the moment where Eddie, played by James Ransone, gets a face full of puke from a deranged leper-like figure he battles. It's a sickly scene, and it had quite an effect on the actor during production.
As James Ransone admitted in an interview with CinemaBlend, this moment was so disgustingly intense that Ransone nearly passed out. If you thought it was gross just watching it, imagine how gross it was filming it! Here's what Ransone told us:
Bill Hader Ruined Several Takes By Smiling Too Much
Bill Hader is a funny man, and he likes to laugh. Especially if you have ever watched an interview or a late-night talk show segment with the actor, it's clear that he likes to joke around and have a good time. That's always a nice source of entertainment, to be sure, but it can ultimately be inconvenient when you're shooting a big, multi-million dollar blockbuster. Alas, Hader admitted during the promotional rounds for this horror mega-blockbuster that he botched several takes by smiling too much, thus ruining the illusion of appearing, you know, petrified.
Ironically, Hader says whenever he gets scared, he smiles, which isn't helpful when you're starring in a horror movie. It resulted in several discarded takes, a frustrated director, and an embarrassed Hader. Nevertheless, the Barry actor/creator eventually figured it out, as his supporting performance was ultimately well-acclaimed.
It Took Half The Time To Put On Pennywise's Make-Up For The Sequel Compared To The First IT
The longer you do something, the easier it becomes. Or, at least, that's how it would seem. But that was ultimately the case for the make-up crew who worked on Bill Skarsgard's make-up for IT and, eventually, IT: Chapter Two. According to Skarsgard, the initial process of putting on the make-up took a whopping five hours during production on the first IT film, but the crew brought it down to the more agreeable two-and-a-half hours for this newest movie. That's literally half the time it originally took. Plus, it's also a little shorter than the extended three-hour runtime for this extra-long horror sequel.
The Fortune Cookie Scene Was Done (At Least Partly) With Practical Effects
There was a whole lot of CG in both IT and IT: Chapter Two. These movies were genuine blockbusters, and they were afforded the luxury of many CG-fueled luxuries. But while both movies included many different computer-enhanced special effects, including the aforementioned de-aging for our kid protagonists, it appears that the fortune cookie scene was, at least in part, done with practical effects.
In an interview with make-up designer Sean Sampson, he claims that there were a lot of practical effects included throughout this horror sequel, including in the fortune cookie scene. As revealed more in-depth in the book, The World of IT, the shots of the fortune cookies rattling and shaking inside the bowl were actually done practically using a number of watch batteries, according to special effects set supervisor Shuba Gupta.
In addition to these fun facts, there are a few more that we didn't get a chance to discuss, including (but not limited to) the decision by the actors to do their own stunts (and getting hurt a couple of times in the process), Finn Wolfhard's process of getting Bill Hader involved in this sequel, the day Hader found out the hard way that Bill Skarsgard's eye trick wasn't CG, and the Guillermo Del Toro cameo that we almost got. But considering the bulky size of this endeavor, it shouldn't come as a surprise that there's a treasure trove of behind-the-scenes factoids to unveil about this humongous film event.
Your Daily Blend of Entertainment News
Will is an entertainment writer based in Pittsburgh, PA. His writing can also be found in The Playlist, Cut Print Film, We Got This Covered, The Young Folks, Slate and other outlets. He also co-hosts the weekly film/TV podcast Cinemaholics with Jon Negroni and he likes to think he's a professional Garfield enthusiast.