Doctor Strange And 8 Other Marvel Characters Who Should Make Up The MCU's Illuminati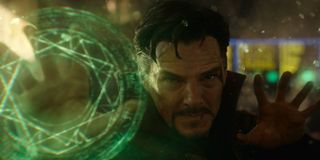 In what once seemed like a fantasy for Kevin Feige, it's recently been rumored that the MCU is interested in bringing the Illuminati superhero team to the big screen. This should be exciting news for all fans of superhero movies, as Marvel's Illuminati is a team that consists of some of the most powerful heroes in Marvel we haven't seen rub shoulders yet.
Some of the heroes involved haven't even premiered in the MCU yet, and some may be a challenge to bring in the fold for various issues. For that reason, I think there will have to be some tweaks to the founding lineup of Marvel's Illuminati (save Doctor Strange), and the following heroes should be used in the chance that a movie is in the works.
Doctor Strange
You know him, you love him, and he's the only relevant character from the founding members of Marvel's Illuminati who exists and is alive in the MCU. If there is a project in the works, it only makes sense that Stephen Strange leads the supergroup as its most senior member. Plus, by the time an Illuminati movie would come around, Dr. Strange should be a veteran in the franchise, making his role as a leader all the more justified.
Mr. Fantastic
Mr. Fantastic is another founding member of Marvel's Illuminati, and one with a sizable amount of recognition in the mainstream. Of course, he isn't a part of the MCU yet, but plans are in place to bring The Fantastic Four into the franchise. Richards' genius would be vital to a group that thinks it's working in the best interests of the world at large, and with Tony Stark gone, hero geniuses are in short supply. Mr. Fantastic is a vital addition in my opinion, especially as one of the greatest geniuses in the Marvel universe.
Black Panther
There's no denying T'Challa is one of the biggest marketable heroes the MCU can call on at the moment, and as the ruler of the most technologically advanced nation on Earth, he certainly deserves a seat at the table. There is some problem with that in regards to Marvel lore, as T'Challa initially was against the idea of the Illuminati to begin with. His fear was that disaster would come from events in which the team could not unanimously agree on issues, though that's a role that could easily be filled by some other Marvel character. T'Challa's a ruler, so surely he has to believe he could operate in the best interests of the world!
Professor X
Much like Reed Richards, Professor X is another founding member of Marvel's Illuminati who has a good deal of name recognition amongst mainstream audiences. There's no timetable for when the X-Men will make their MCU debut, though I'd say giving Professor X another team to lend his skills to would be great. As someone who thinks it's time for another mutant to lead the school, setting up Professor X in some adventure with the Illuminati would be a perfect way for him to hand over control as a decision-maker for the X-Men, if only temporarily.
Hulk
In Marvel lore, it was the idea of Marvel's Illuminati to banish Hulk from Earth. It was a storyline somewhat mimicked in Avengers: Age of Ultron, and with Hulk now in a more zen state, he would be a good addition to the MCU iteration of the Illuminati. Hulk's another brilliant mind for a genius like Reed Richards (assuming he'd be in tow as well) to bounce ideas off of, not to mention he has some muscle for whenever changing the world requires some otherworldly strength. Considering it still seems like we'll never get another solo Hulk film as long as Universal is involved, I'll never turn my nose up at an opportunity to use him as a character in an ensemble movie!
Namor
There have been rumors swirling for the past year that the MCU has been planning to introduce Namor, but so far there's nothing official. In the chance that it does happen, Namor is a must for Marvel's Illuminati, not just to represent a perspective different than the average humans, but also as a person who certainly has an anti-hero mindset. The Marvel world has its anti-heroes, but within the MCU, they're a bit thin. Namor is the perfect fit for a group like this, as well as a founding member, so I think if he does come to the MCU and the Illuminati project happened, he should be included.
Black Bolt
Remember Marvel's Inhumans? Maybe not, because the MCU hasn't tried to remind audiences of one of its few failed franchises of the past decade, which is a shame because the Inhumans need some sort of presence in this world. I don't see the problem in bringing in Anson Mount's Black Bolt as a member of the team, especially given the actor's acclaim in the Star Trek universe as of late. Marvel's Illuminati could use Black Bolt as a re-introduction to the franchise, and to give audiences a second chance to get to know the Inhumans without re-living the series.
Captain Britain
The MCU has done a lot in its first decade, but I will say I was hoping to see Marvel Studios make more efforts to put international heroes on the map. For example, Captain Britain would be a great addition, if only because we already hire so many British actors to play our American heroes in Hollywood. It's also worth mentioning Captain Britain was a recruit to Marvel's Illuminati at one stage, but only as a fill-in once Namor was expunged from the group. Still, it's hard to argue being invited to the party late isn't nearly as bad as never being invited at all!
Captain America
Hear me out, Captain America is in Marvel's Illuminati, but it's not Steve Rogers. That guy's out to pasture in the MCU, and assuming The Falcon and The Winter Soldier doesn't mix up things immensely by its end, Captain America will be either Sam Wilson or Bucky Barnes. Either man is a great representative of speaking to the interests of people who don't have powers, even though each of them is certainly super in ways now. Plus, I see Sebastian Stan and Anthony Mackie's respective characters being major faces in the MCU going forward, so why not put one of them in the mix with such an influential group?
Do you have any other suggestions for Marvel's Illuminati? Share all thoughts in the comments, and continue to stick with CinemaBlend for more on Marvel and the latest happening in movies and television.
Your Daily Blend of Entertainment News
Mick likes good television, but also reality television. He grew up on Star Wars, DC, Marvel, and pro wrestling and loves to discuss and dissect most of it. He's been writing online for over a decade and never dreamed he'd be in the position he is today.
Your Daily Blend of Entertainment News
Thank you for signing up to CinemaBlend. You will receive a verification email shortly.
There was a problem. Please refresh the page and try again.