Jordan Peele's New Movie With Issa Rae Sounds Wild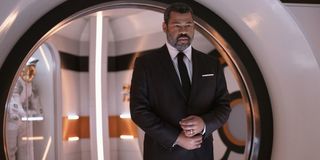 Jordan Peele, who was once primarily known for his hilarious comedy sketch show Key and Peele, has turned a bit of a corner in his career by directing genre horror films Get Out and Us, and hosting the CBS TV show The Twilight Zone. Now, he's leaning even further into more genre movies by teaming up with Issa Rae on a new movie. And it sounds wild.
According to EW, Jordan Peele and Issa Rae will produce a movie based on a short story by Leyna Krow. It's uncertain if Issa Rae will star but, at the very least, she'll be producing under her company banner Issa Rae Productions. Jordan Peele, for his part, will also produce under Monkeypaw Productions. There's no word if he'll be stepping into the director's chair or not.
Leyna Krow's short story Sinkhole was the subject of a bidding war between several studios, with Universal Pictures and Monkeypaw Productions winning in the end. Sinkhole is about a family reluctant to purchase a home because it has a sinkhole in the backyard, but go through with it anyway because of the price. They discover that anything broken they throw into the sinkhole comes back perfect. So, what happens if a person falls in?
Securing the rights to Sinkhole is more big news for Issa Rae, whose Insecure just received 11 Emmy nominations, including one for Issa Rae herself with Outstanding Lead Actress in a Comedy Series. On top of all that, her Netflix comedy The Lovebirds released earlier this year and was warmly received by critics.
Jordan Peele has been equally as busy with a slew of projects, many focusing on horror and science fiction. He has teamed up with J.J. Abrams to produce the HBO series Lovecraft Country. Based on the novel of the same name, Lovecraft Country is about Atticus Freeman, his friend Letitia, and Atticus' uncle in search of Atticus's dad in the 1950's Jim Crow South, and they find more than they bargained for.
Jordan Peele also has lent a hand producing the remake of the horror classic Candyman. Since Candyman also seems like a solid project for the director, many wondered why he wouldn't direct that film as well. He responded that he was busy tackling Us at the time, but also didn't feel too fit for it anyway, afraid the old stories would get in the way of an original vision.
But after reading Sinkhole's story synopsis, I hope Jordan Peele will take this project on as a director; it sounds like a concept right up his alley. After seeing his directorial prowess with Get Out and Us, Jordan Peele could likely do wonders with a story like this. Stay tuned for more movies news at Cinema Blend.
Your Daily Blend of Entertainment News