Captain America: Civil War Concept Art Gives Baron Zemo Some Sweet Armor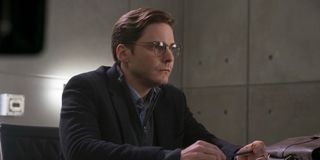 While Captain America: Civil War is certainly one of the more successful Marvel Cinematic Universe entries, both critically and commercially, the movie did take its fair share of creative liberties. For instance, Daniel Brühl's Helmut Zemo differed significantly from his comic book counterpart, which included him not wearing any kind of colorful costume.
That's not to say it was never considered to have the MCU's Zemo wear an outfit similar to the one he wears on the printed page. In fact, check out the below piece of concept art that depicting a more traditional-looking Zemo for Captain America: Civil War, albeit with an armored spin.
Andy Park, Marvel Studios' Director of Visual Development, went on Instagram to share this alternate design of Zemo he came up with for Captain America: Civil War. The mask looks quite similar to the one the character wears in the comics, while otherwise Zemo has appropriate covered himself in armor and is ready for battle. This would have been a good mix of calling back to Zemo's traditional design and delivering something fresh.
Still, considering how much Zemo's backstory was altered for Captain America: Civil War, it's not surprising he didn't wear any kind of costume. Rather than being the son of a Nazi supervillain who embarked on his own nefarious path, the MCU's Zemo is a former Sokovian general whose family was killed during the Avengers' battle with Ultron in Sokovia, which saw the country's capital city, Novi Grad, being destroyed. Blaming Earth's Mightiest Heroes for the death of his wife, son and father, Zemo initiated a plan to turn the protagonists against one another, which included framing Bucky Barnes for his attack on the United Nations.
Ultimately Zemo's scheme was uncovered and he was imprisoned after being taken into custody by Black Panther, but he was nonetheless successful in driving a wedge between the Avengers. Plenty of superpowered menaces have come and gone in the MCU and failed in their missions, but Zemo managed to win in the end without the use of any special abilities, making him stand out among the lineup of this franchise's main antagonists.
For those of you who were disappointed that Daniel Brühl's Helmut Zemo didn't dress like he did in the comics, you're in luck. Brühl reprised Zemo for the upcoming Disney+ series The Falcon and the Winter Soldier, and while it's still unclear how the villain specifically fits into the story, he will wear his traditional purple mask, as seen below.
Back in June, Daniel Brühl talked about how he learned he'd get to play Zemo again for The Falcon and the Winter Soldier while filming The Alienist: Angel of Darkness, making this the second time the actor's revisited a character. Alas, given how Steve Rogers' story ended in Avengers: Endgame, we won't see Zemo clash with the original Captain America in the MCU again, but it looks like he'll be causing plenty of trouble for Steve's allies, Sam Wilson and Bucky Barnes.
The Falcon and the Winter Soldier was originally supposed to premiere on Disney+ in August, but due to the current health crisis interfering with the show's production, it's now expected to drop on the Mouse House's streaming service towards the end of the year. As for what MCU movies coming up, you can learn what those are in our detailed guide.
Your Daily Blend of Entertainment News
Connoisseur of Marvel, DC, Star Wars, John Wick, MonsterVerse and Doctor Who lore. He's aware he looks like Harry Potter and Clark Kent.
Your Daily Blend of Entertainment News
Thank you for signing up to CinemaBlend. You will receive a verification email shortly.
There was a problem. Please refresh the page and try again.