How Marvel Star Daniel Bruhl Found Out He'd Be Returning As Baron Zemo In The Falcon And The Winter Soldier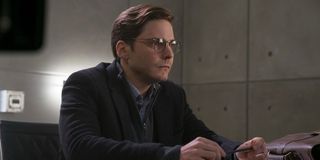 The Falcon and the Winter Soldier will be the first Marvel series to debut on Disney+, and it's bringing back Daniel Brühl's Baron Zemo, the villain who was first introduced in Captain America: Civil War. Details about the six-episode series are still scarce, but Brühl recently revealed how he found out he'd be returning to the MCU as Zemo in the upcoming Disney+ show.
Baron Zemo was a villain who wanted nothing more than revenge against the Avengers for inadvertently killing his family during the Battle of Sokovia in Avengers: Age of Ultron. Zemo then orchestrated an entire plan that included framing the Winter Soldier, a.k.a. Bucky Barnes, for the murder of King T'Chaka, Black Panther's father, in an attack during Captain America: Civil War.
Zemo was eventually captured, but the damage was done. Now, the antagonist will be back, presumably to wreak even more havoc in The Falcon and the Winter Soldier. Speaking with Collider, Daniel Brühl, who will next be seen in Season 2 of TNT's The Alienist: Angel of Darkness, recalled the moment he got word that he'd be back to play Baron Zemo. Here's what he said:
It's rather exciting to have the actor back as Baron Zemo. I don't think he got enough screen time in Captain America: Civil War. That's understandable though, considering how much the film had going on already, but The Falcon and the Winter Soldier can hopefully expand on his backstory and relationships with both Sebastian Stan's Bucky and Anthony Mackie's Sam Wilson.
As it turns out, what Daniel Brühl wound up "recording" was the first look teaser announcement for The Falcon and the Winter Soldier that debuted at last year's San Diego Comic-Con. Seeing Zemo's iconic purple mask was one of the best parts, and I'm glad the actor was "enthusiastic" about seeing the mask as well.
Finding out what Baron Zemo has been up to in the years since Captain America: Civil War will be interesting, and I'm mostly looking forward to how his interactions with Sam and Bucky play out. Unfortunately, the Disney+ series had to shut down its production in March before it was able to wrap filming. The good news is that the cast and crew are getting ready to resume production in Czech Republic. That likely means the show will get back to filming sooner rather than later.
Stay tuned to CinemaBlend for updates on The Falcon and the Winter Soldier. For more on what to watch in the meantime, be sure to check out our 2020 summer TV premiere guide, as well as what's an up-to-date guide to what's streaming on Disney+.
Your Daily Blend of Entertainment News