Trust Me, Watch Shudder's Host On Your Computer Instead Of Your TV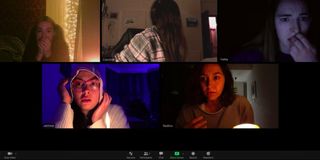 As a lifelong supporter of movie theater industry, and ensuring the best film viewing experience in any situation, I detest the idea of resorting to your computer monitor or laptop screen to watch a film. However, when I logged into my Shudder account on my 55" smart TV to watch the horror-based streaming platform's latest original film, Host, it took less than 60 seconds for me to realize that this was a mistake.
Conceived and shot during the UK lockdown amid the COVID-19 outbreak, the story follows a group of friends who decide their quarantined activity for the week will be a virtual seance which, inevitably (and horrifically), does not go as planned. The film is framed entirely as a video call between the morbidly curious friends over Zoom and presented in real time. Thus, the best way to watch Host is not on your smart TV, your Roku device, or by hooking your laptop or desktop to the TV via HDMI, but straight from your own personal computer.
Now, believe me, with the exclusion of a handful of films of a similar theme (i.e. The Den, Searching, and the Unfriended movies) this is the kind of viewing recommendation I would never give any other movie (don't even get me started on people who watch movies on their phones). However, I strongly believe that fans owe it to themselves to put down the remote and pick up their laptop to watch (or rewatch) one of the greatest surprises in the horror genre this year. In case you are not yet convinced, I have four reasons to prove it.
Host Was Filmed With Computers, So Watching It On A Computer Would Make The Most Sense
As previously mentioned, the idea for Host sparked from co-writer and director Rob Savage and his UK-based actor friends being out of work as COVID-19 put film and TV production at a standstill. After testing out the concept with a Zoom call that turned out to be Savage's frightening prank on his friends, those same victims of the joke agreed to be the cast, and technically the crew, of the film, having shot their scenes via webcam and through the video chat platform from the "comfort" of their own quarantined homes. Based on the limitations that webcams generally offer and my own experience attempting to watch the film on a TV, I believe a computer screen guarantees a better picture.
Not only does watching a low definition video in a higher aspect ratio have greater potential for comparatively shoddy quality, but considering that low quality is already to be expected over video chat, watching the film on the same device you would use to call your friends or coworkers (unless you have a webcam installed on your big screen, perhaps) grandly lends to the aesthetic. Plus, it would more accurately reflect, and respect, what Rob Savage and everyone else involved with Host envisioned for the experience. That goes beyond just what you see.
It Creates A More Authentic, Immersive Atmosphere When Watching Host
I recall a time when audiences claimed that, despite its impressive box office returns, 2009's Paranormal Activity was even scarier to watch at home. Supposedly, a smaller TV screen is the most appropriate venue for the found footage horror favorite's amateur, "homemade" appeal to guarantee a more believable and, therefore, creepier, experience. The same philosophy applies to Host, but with an even smaller screen, of course.
Watching the film on a computer screen creates the illusion that you are more than an audience member, but actually part of the Zoom call which takes place and, therefore, in just as much danger as your friends (the characters) are.
While the film does not welcome any interactivity a la Black Mirror: Bandersnatch, you may even be surprised to find yourself wanting to participate in the story, which I can personally vouch for by how often I would holler, scream, and grip my laptop for dear life, or the moment I caught myself subconsciously adjusting my speaker volume as the characters were doing the same thing. I imagine that legendary producer William Castle would have been so proud of Host for unwittingly continuing his influence toward immersive, theatrical gimmicks of a similar nature even beyond the silver screen, and quite effectively, too.
For Best Results, Find A Dark, Quiet Place To Watch Host
Of course, a viewer can take even further steps to provide themselves with the ultimate Host experience. For instance, if you can brave watching a horror movie alone, the better the frights will be since loneliness and isolation both are essential to the film thematically and for preventing outside auditory distractions. In fact, using headphones could be a plus, not only for the sound quality, but as another way to deepen a connection with the characters, many of which are wearing headphones throughout.
Speaking of which, darkness is also an important element of the plot, as the characters surround themselves in it both voluntarily and involuntarily at certain moments. While I would hope that turning down the lights is already part of your horror movie (or any movie) viewing routine, it is especially important to preserving the right atmosphere when watching Host. That being said, if you do not own a laptop which you can take to the darkest location of your home with a good wi-fi connection, do your best to keep light out from where your desktop resides.
A Spoiler-Free General Takeaway From Host
Without going too deep into the details, for me, Host is nothing short of a modern horror masterpiece for its remarkable, guerrilla-style ambition and first-rate execution of an idea so simple and produced so quickly after conception. I would call it one of the finest films to come from Shudder's original catalog, possibly the crown jewel of the slowly emerging "video call" sub-genre, and, quite frankly, a movie of great importance in such trying times.
With the future of the film industry is in such disarray amid the pandemic, Rob Savage and company prove with Host that creating entertainment of exceptional production value and storytelling quality can be made possible even without the cast and crew in the same room. While it may be at risk of becoming a product of its time (and, essentially, it already is), for its time, it acts as a symbol of hope, ambition, and perseverance despite its frightening intensity and indelibly disturbing effects. Let's just hope filmmaking under such circumstances does not become the norm.
What do you think? Are you excited to watch Host for the first time on your computer, have you seen it on TV already and are considering rewatching it that way soon, or have you watched it both ways do not think it makes any difference? Let us know in the comments and be sure to check back for additional information and updates on the Shudder original, as well as other films released during quarantine, here on CinemaBlend.
Jason has been writing since he was able to pick up a washable marker, with which he wrote his debut illustrated children's story, later transitioning to a short-lived comic book series and (very) amateur filmmaking before finally settling on pursuing a career in writing about movies in lieu of making them. Look for his name in just about any article related to Batman.
Your Daily Blend of Entertainment News
Thank you for signing up to CinemaBlend. You will receive a verification email shortly.
There was a problem. Please refresh the page and try again.