Jason Momoa And Lisa Bonet Have Gotten Married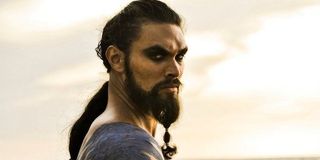 Wow, Jason Momoa and Lisa Bonet (actually were not married all this time and) finally tied the knot sometime in October of this year. The Aquaman actor and the former Cosby Show actress have been together since 2005, and they share children-- so there has been no doubt Bonet and Momoa were happy in love. Still, they made their union official last month in the legal sense by saying "I do" in a private ceremony in Topanga, California.
According to US Weekly, Jason Momoa and Lisa Bonet went to the Los Angeles County Registrar-Recorder and County Clerk's office on October 2 and picked up a marriage license. And the pair said their vows a week after that. From the sounds of it, the wedding guests include Bonet and Momoa's children, 10-year-old Lola and 8-year-old Nakoa-Wolf, in addition to Zoe Kravitz, Bonet's 28-year-old actress daughter from her past relationship with Lenny Kravitz. Plus, actors Michael Fassbender and Alicia Vikander made it onto the guest list, as did rocker Chris Sharma and some of Momoa's past co-stars from projects over the years.
Over the past decade, the Game of Thrones actor and Lisa Bonet have spoken about each other in ways that made it seem like they were already married. For example, Momoa has posted Instagram photos of himself with Bonet and called her his "wifey" in the captions, so it is evident Jason Momoa and Lisa Bonet absolutely adore each other and have long wanted to build their life together. Similarly, the Justice League actor made it clear how much he loves Bonet by uploading pictures and attaching other loving captions, like post one from November of last year:
Similarly, in an interview from way back in 2013, Momoa made it seem like he and Bonet were hitched. He said,
Previously Momoa gave HuffPo the dish about how he and Bonet first met back in 2005. Momoa made it sound like it was love at first sight when he met the former A Different World star. He explained,
What a happy story. This news has us beaming from ear to ear, and it just goes to show that the legally binding aspect of a relationship takes a different priority for different people. Congratulations, Jason and Lisa!
Your Daily Blend of Entertainment News