Seth Rogen Reveals The Studio Knew Robert Downey Jr. Flop Dolittle Had Some Problems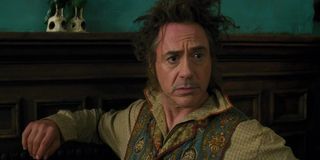 Off the heels of Avengers: Endgame, Robert Downey Jr. changed gears and decided to star in Dolittle, a family-friendly movie about a physician who can speak with animals. Unfortunately, Dolittle flopped critically and at the box office. Now, Seth Rogen says the studio knew beforehand that Dolittle had some problems.
To promote his latest movie, HBO Max's An American Pickle, Seth Rogen appeared on The Howard Stern Show and spoke on a wide range of topics, from a Pineapple Express sequel to coming on board the Dolittle project to help with script doctoring. Seth Rogen compared selling a movie to buying a blueprint that looks good in theory, but when actually built, it doesn't hold up. He seemed to think that was the case with Dolittle. Here's what Rogen said:
This certainly sheds a little more light on Dolittle's poor performance. Back in January, we heard that the studio saw the original cut of Dolittle back in 2018 and wasn't happy with the result; it wasn't the family-friendly movie the executives thought it was supposed to be, it didn't involve many special effects, and it had a sad ending.
Of course, that's when Seth Rogen and Neighbors co-writer Brendan O'Brien were brought on board by Universal to help fix the script and make it funnier. So it sounds like Seth Rogen did what he could for the film, but also realized there might just be structural problems that are tough to remedy. Here's what he said later about being a script doctor:
Seth Rogen eventually had to leave the project. Later on, more filmmakers, like Chris McKay and Jonathan Liebesman, were brought on board to assuage Dolittle's problems. However, the end result seemed to be a case of too many cooks in the kitchen to save a movie the studio didn't like.
Be sure read CinemaBlend's review of Dolittle and keep checking back for all the latest movie news.
Your Daily Blend of Entertainment News
Thank you for signing up to CinemaBlend. You will receive a verification email shortly.
There was a problem. Please refresh the page and try again.