Seth Rogen And Zac Efron Have A Crazy Idea For Neighbors 3, And We're So On Board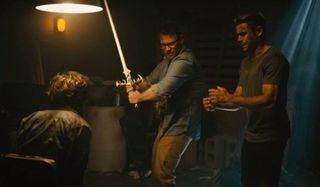 Neighbors 2: Sorority Rising hasn't even been released into cinemas, yet, but its leading duo Seth Rogen and Zac Efron are already looking ahead to a third installment. Rather than simply pitting the pair against another sorority, this time round the comedy will instead (if the duo gets its wish) see them tackling zombies. ZOMBIES! Zac Efron and Seth Rogen are so serious about Neighbors 3 that they've already created a trailer for it, which you can take a look at below.
Yep, I'm all in for the above. I think I could watch Zac Efron and Seth Rogen arguing over, and then struggling to kill, a hoard of zombies all afternoon long. While I'm going to guess that pop culture's favorite stoner has almost sat on or actually killed a hamster on several occasions.
Even though the potential Neighbors 3 immediately evokes comparisons to Seth Rogen's riotous 2013 comedy This Is The End, I'm willing to forgive this treading of old ground because of the fact that it includes Zac Efron. You see, I've always been an advocate of the ridiculously handsome 28-year-old actor. And even though That Awkward Moment and We Are Your Friends have proven that he doesn't quite have the presence to be a leading man, the likes of 17 Again, Liberal Arts, Neighbors, and now Neighbors 2: Sorority Rising prove that he is an adept character and supporting actor.
Neighbors 2: Sorority Rising continues that trend, as Efron mixes it well alongside a strong and established comedic ensemble, especially when he's on-screen with Seth Rogen. But while I'm a big fan of both comedies, the trailer for the proposed third Neighbors film strikes me as an admission that they've probably stretched the plot and its characters about as far as possible.
However, if Neighbors 2: Sorority Rising manages to match or eclipse the $270 million gross of its predecessor then you can rest assure that Universal Pictures will quickly be asking for another sequel, even if there's clearly no room to expand the franchise even further.
You'll be able to see if there's room for further Neighbors films after you've watched Neighbors 2: Sorority Rising for yourself, which you'll be able to do from this coming Friday.
Your Daily Blend of Entertainment News