Why Dune's Timothee Chalamet Needed To Play The Lead, According To Denis Villenueve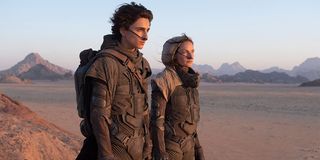 Picking a movie's lead can be a tough choice. After all, they're the center of the story; if they can't carry their own weight, things will go downhill fast. But with Dune, director Denis Villeneuve didn't seem to struggle with this choice and already had Timothee Chalamet in mind when approaching the project.
On the Secrets of Dune YouTube channel, Denis Villeneuve spoke with Tanya Lapointe at the Shanghai International Film Festival to discuss his upcoming movie. They went into Villeneuve's casting process, which he said was both a stressful and exciting part of the moviemaking process due to the fact that he likes to pick actors that can spark his creativity. When it came to Timothee Chalamet though, things seemed pretty painless. Here's what Villeneuve said about casting him for Dune:
Timothee Chalamet's skill as an actor has certainly skyrocketed him to fame in a short time. On top of appearing in several major movies, including Call Me By Your Name, Lady Bird and Little Women, he's also one of the youngest actors to be nominated for Best Actor in Oscar history. I'd say his role as the young king in Netflix's The King, though, really highlights what Denis Villeneuve is getting at with an old soul in a young body.
Denis Villeneuve also talked about how Timothee Chalamet (24) looks younger than he is, saying he's actually very mature for his age. However, other than his youth, Denis Villeneuve wanted another wow-factor for Paul Atreides, saying later:
Since Dune is a science fiction epic on a grand scale, it certainly needs all of the things Denis Villeneuve mentioned. In Dune, Paul Atreides is on a coming-of-age journey, training and following in the footsteps of his powerful father, Duke Leto Atreides. However, his journey will not be everything he expects.
For his part, Timothee Chalamet wanted to sign on to Dune for this very reason, saying he was drawn to Paul's story being more of an "anti-hero journey." Dune is expected to release on December 18. For more movie news, stay tuned to CinemaBlend.
Your Daily Blend of Entertainment News